Sports > WSU basketball
Five impressions: How Robert Franks, Marvin Cannon and strong perimeter D helped Washington State stun Arizona State in Tempe
UPDATED: Fri., Feb. 8, 2019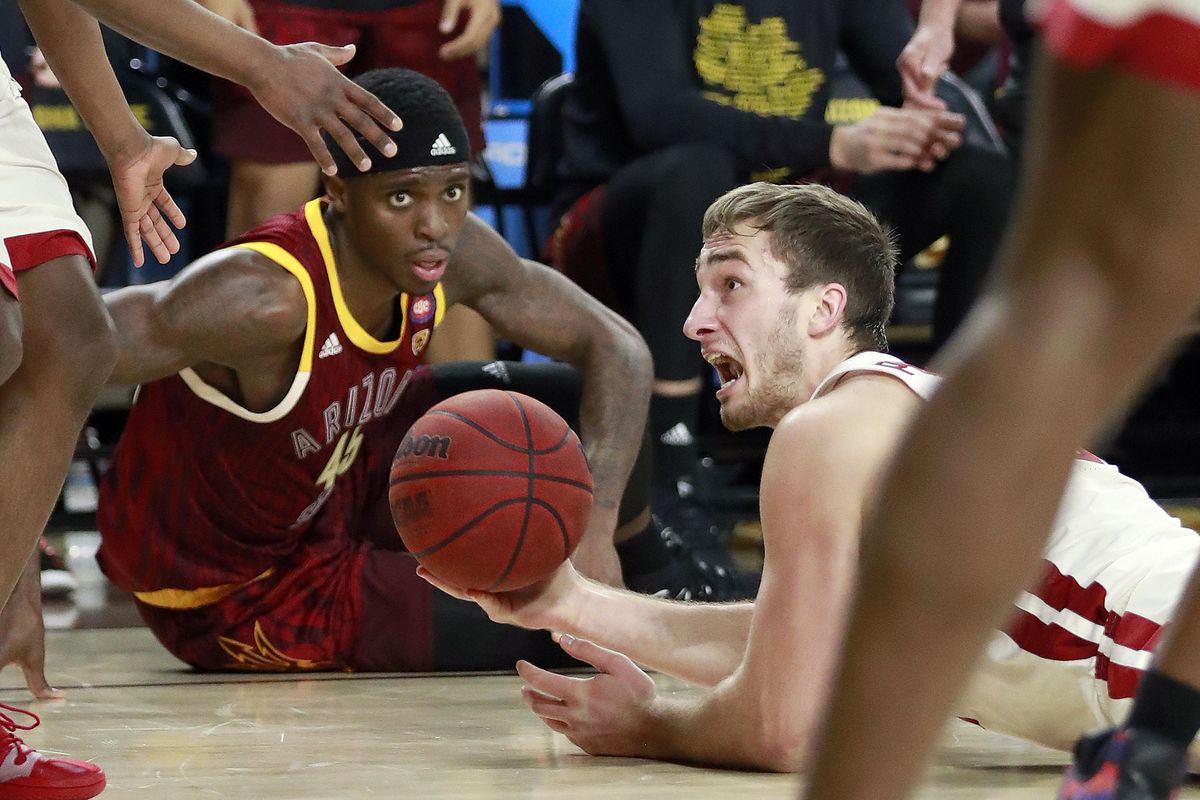 Washington State forward CJ Elleby looks to pass after recovering a turnover as Arizona State forward Zylan Cheatham looks on during the second half Thursday in Tempe, Ariz. (Matt York / AP)
It was a game they'd been projected to lose by 15.
Instead, the Washington State Cougars stunned the oddsmakers in Vegas – and just about everyone else – Thursday night at Wells Fargo Arena in Tempe, trampling Arizona State 91-70 for easily their best win of the 2018-19 campaign.
Even if the result doesn't change the course of their season, it gave the Cougars their first win outside of Beasley Coliseum and broke up a stretch that had seen them lose 11 of their previous 12 games. WSU sits at 9-14 overall and 2-8 in the Pac-12 going into Saturday's game against Arizona (14-9, 5-5) at the McKale Center (4:30 p.m., Pac-12 Networks).
Before the Cougars and Wildcats tip off in Tucson, we take a look back at Thursday's game in Tempe and try to make sense of an improbable 21-point win against the Sun Devils.
Franks' finest hour
Robert Franks may lament only one miss from this game. With less than 2 minutes left, the senior lined up an elbow 3-pointer that would've allowed him to fully surpass the career-high 34 points he scored last season against Cal. It ricocheted off the back of the rim and Franks finished with 34, on 11-of-17 shooting from the field, hitting 5 of 9 from distance and 7 of 7 from the free throw line.
Scoring comes easy for the 6-foot-8 forward, who's seen his t3-point percentages balloon during his time in Pullman. But last offseason, while Franks was mulling an early departure to the NBA, pro scouts challenged him to adopt a more aggressive and assertive offensive game. His first step won't always be the quickest on the floor, but Franks still has enough power and size to penetrate to the basket, and a long wingspan gives him the ability to finish easily once he gets there.
Franks shoots…
And drives….
Plus, Franks is as sure as sure gets from the free-throw line, leading the league with 25 made on 25 attempts. He made it to the stripe seven times on Thursday – more than he has in nearly two months – and even as he commands more double teams, Franks should continue to keep defenses guessing with an arsenal of offensive tools that's as deep as any in the Pac-12.
Franks entered the game with the Pac-12's top scoring average (21.4 ppg) and bumped it to 22.1 afterward.
Asked by WSU radio broadcaster Matt Chazanow if he's played a better game for the Cougars, Franks replied, "No, I don't think so. All around. My mindset coming into the game was, they play very hard and they play their tails off. For us to win, as a leader I felt like I needed to lead these guys."
Franks played a well-rounded game, adding 13 rebounds, four blocks, four steals and a pair of assists.
"Robo played perfect tonight, in terms of what I needed him to do," Kent said. "He handled the ball like a point guard, he defended, he blocked shots, he rebounded, he shot it from the outside. We posted him up on the inside, he made his free throws, he was a tremendous on-court leader of these guys."
Rebound hounds
The Sun Devils had been the Pac-12's best rebounding team this season, with more than 41 boards per game. The Cougars had been one of the worst at 33 per game – second to last, just ahead of Cal.
But the visitors won that column 48-41 and didn't give ASU many second-chance opportunities on a night they weren't making much anyway. Coach Bobby Hurley's group had been one of the nation's premier offensive rebounding teams and held a 15-9 edge on the offensive glass, but WSU managed to clean up 39 of ASU's misses, 13 more than the Sun Devils.
Rebounding has to be effort-driven for WSU, because the Cougars don't have the length, power or athleticism to match their Pac-12 opponents. WSU looked much more inclined to crash the glass in Tempe, given the sheer number of boards it snatched and the balance on the scoresheet.
Franks matched a career high with 13 rebounds and he'll typically lead the Cougars in that vein. But the Cougars had six other players work for at least three rebounds apiece, including CJ Elleby with 10 and Isaiah Wade with six.
"I just think they were playing aggressive," Hurley said. "They played hard. They played harder than we did. We didn't have the right approach."
Shoot the 3, defend the 3
As accurate as the Cougars have been shooting the 3-pointer this year, they've been spotty defending it.
WSU has made 35 percent of its long-range attempts this year, but the Cougars are giving up 38 percent in conference games. Only two Pac-12 teams – Washington and Utah – are shooting that well on a nightly basis.
WSU kicked on its perimeter defense in time ASU, however, and forced a 34 percent shooting team to make just 5 of 33 attempts (15 percent) from deep. The Sun Devils didn't see a 3-pointer fall until Luguentz Dort connected near the top of the key with 9:36 to play. By that point, they'd missed on 17 straight tries.
The Sun Devils might contest the Cougars caught them on an off night, and it's at least partly true given that ASU has shot less than 20 percent only one other time this season. But Hurley also praised WSU for its defensive activity. The Cougars challenged the vast majority of ASU's deep shots, which threw the Sun Devils out of whack, making the open looks that much harder.
"At the beginning of the year, we talked about this team being long enough and athletic enough and playing hard that they could determine the outcome of the game with their defense," Kent said. "And we got away from it. … Tonight they played a 40-minute game and they defended for 40 minutes. It has nothing to do with our schemes or anything, it has to do with mental toughness, physical toughness."
Shot from a Cannon
Small forward Marvin Cannon provided the rim-rocking dunks for WSU and put a bow on the win when he launched from 4 feet in front of the hoop and flushed with both hands to restore a 20-point Cougars lead with about a minute left.
Cannon closes it out…
Another rim-rocker…
And on a night when he finished 3 of 9 from the field, Cannon still found a way to reach double figures because he constantly willed his way to the basket. That led to foul whistles, free throws and another excellent night for the junior college transfer from the line. Cannon made 7 of 8 attempts and wound up with 13 points – his second-highest total in a Pac-12 game this season.
Before logging 26 minutes Thursday, Cannon had averaged just 12.2 per game over his last five and only played 28 combined minutes in the last three against Oregon, UCLA and USC. Kent may not be done shuffling his rotation, but as the coach continues to phase out players like Viont'e Daniels and Carter Skaggs, Cannon's role could, and should, expand down the stretch of the Pac-12 season.
The 6-5, 170-pound sophomore isn't a premier defender, though he has the tools to become one. Without a real defensive guru in the frontcourt, the Cougars aren't sacrificing much on that end when they bring Cannon into the game.
Cannon doesn't have a glowing 3-point percentage, but he's capable of knifing to the rim. If Kent surrounds him with four capable shooters, Cannon can get defenses to collapse on him and dish out to the perimeter, or draw fouls and cash in at the free-throw line.
Cannon has the second-best free-throw percentage in the Pac-12 at 89.6. His 69 made free throws match Franks for the most on the team – an impressive number considering Cannon's 18.3 minutes per game rank fifth.
Building block
It can be easy to get lost in the moment.
While this was a monumental result for the Cougars – and probably one of the best of Kent's tenure – it isn't something they can rest on with eight regular-season games and a conference tournament to go. WSU would probably need to win at least half of those to challenge for 10th place, but as long as it can fend off Cal in Berkeley later this month, the Cougars should do no worse than 11th.
The win still did a few things for the Cougars, who learned what can happen when you play strong perimeter defense, move the ball efficiently and crash the glass for rebounds. Those things need to become habitual for WSU if the Cougars hope to get something out of the final month of the season.
Learning what it takes to win is typically the first step to doing it consistently. It isn't imperative that the Cougars beat Arizona in Tucson, and they certainly won't be favored to win the next game against first-place Washington. But keeping either or both of those games competitive would be another step forward for a team that gets to play five of its final seven games at Beasley Coliseum.
"It's not over, it's not over," Franks said. "We're going into this trying to have a road sweep and this was a very good start. This was something we could always go back and predicate our win off, and say we've got to play like this for 40 minutes and now we know we can. We've got the blueprint to keep doing it over and over."
Local journalism is essential.
Give directly to The Spokesman-Review's Northwest Passages community forums series -- which helps to offset the costs of several reporter and editor positions at the newspaper -- by using the easy options below. Gifts processed in this system are not tax deductible, but are predominately used to help meet the local financial requirements needed to receive national matching-grant funds.
Subscribe to the sports newsletter
Get the day's top sports headlines and breaking news delivered to your inbox by subscribing here.
---