News > Spokane
Spokane Mayor David Condon keeps focus on the future in his final State of the City address
UPDATED: Fri., Feb. 8, 2019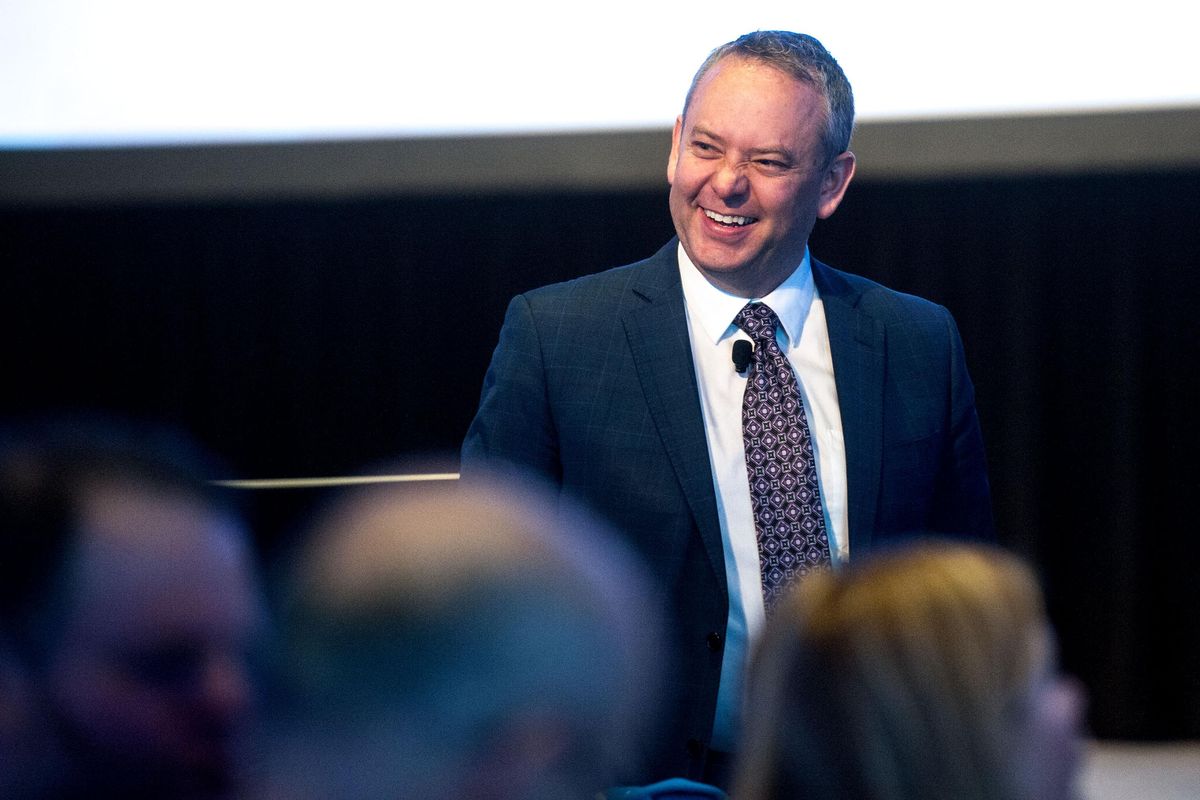 Mayor David Condon smiles toward the crowd Friday before he delivers his final state of the city address. (Kathy Plonka / The Spokesman-Review)
Spokane Mayor David Condon told the assembled crowd for his final State of the City address as head of municipal government that he didn't want to dwell on the past.
"For me, this year isn't about looking back," said the city's first two-term mayor in four decades, addressing a crowd of roughly 500 business and municipal leaders at the Spokane Convention Center on Friday morning. "Mostly, I'm looking ahead."
Condon used his last State of the City address, televised and broadcast through the city's various social media channels, to highlight downtown building projects, efforts to revitalize neighborhoods and his administration's focus on efforts to clean up the Spokane River and improve public safety.
In sticking to priorities Condon has identified along with city lawmakers, the mayor avoided philosophical differences with City Council members. The strife has partially gummed the working relationship between the two branches of government, leading one unnamed city employee to tell an independent investigator late last year that at times it felt like being a "child caught in the middle of divorced parents."
The mayor touted the success of several policies put into place in 2018 that he hoped would last beyond his administration. Among those mentioned were the decision to allow free entry to the city's swimming pools last spring, a move Condon said had led to a 61 percent increase in attendance last y ear. He also lauded a program that grants residents credit toward their utility bills for replacing their lawns with hardier plant life, an effort intended to reduce the city's use of water in the summer.
"The response was great," Condon said. "Hundreds of people attended education sessions, dozens applied for the credits and 22 projects have been completed."
City-produced videos interspersed throughout the presentation told the stories of businesses and individuals assisted by municipal investments. They included Michael Brown's efforts to open the Southern homestyle cooking and mentoring restaurant Fresh Soul in the East Central neighborhood as well as the recruitment of a water department worker, Rex Resihus, who had previously been homeless, through a partnership with Union Gospel Mission.
Condon addressed the homelessness issue, which led to a camping protest outside City Hall in December. He said the city would soon open a social services center and a permanent housing shelter later this year and had dedicated more than $9 million to addressing the issue after closing the 24/7 shelter at the House of Charity last summer.
"We ultimately ended up with too many people in a small area, causing secondary impacts to surrounding businesses and residents along with safety and health concerns for those we were working to serve," Condon said.
The city's approach to the issue has drawn a vocal rebuke from Councilwoman Kate Burke, who joined the protest of the city's policies toward camping. She also was the lone vote against dedicating some real estate taxes toward construction of the Sportsplex project near Spokane Veterans Memorial Arena, a project Condon said Friday was part of "a continuing renaissance" in that area of town.
The whole City Council remains concerned with Condon's plans for so-called "integration" of the city's emergency dispatch system, but on Friday the mayor focused on the common ground of keeping an eye on repeat offenders on city streets.
Condon pointed to the reduction in property crime within the city, citing the work of the police department and the additional 52 officers hired since his first year in office in 2012. He said he and the City Council are presenting a unified front on providing supervision for property crime offenders in the city, a priority of Spokane Police Chief Craig Meidl, City Councilwoman Candace Mumm and state Sen. Andy Billig, D-Spokane, whom Condon thanked in a show of bipartisan support for the measure.
"We have been actively engaging our community on ways that they can help avoid being a victim of property crime, giving away auto theft prevention devices to owners of often-stolen cars and providing tips for residents and business owners," Condon said.
Condon is scheduled to give the address once more before the City Council at its weekly meeting Monday night at City Hall. The State of the City event was sponsored by Greater Spokane Incorporated.
Local journalism is essential.
Give directly to The Spokesman-Review's Northwest Passages community forums series -- which helps to offset the costs of several reporter and editor positions at the newspaper -- by using the easy options below. Gifts processed in this system are not tax deductible, but are predominately used to help meet the local financial requirements needed to receive national matching-grant funds.
Subscribe now to get breaking news alerts in your email inbox
Get breaking news delivered to your inbox as it happens.
---