Sports > Gonzaga basketball
John Blanchette: Killian Tillie's latest injury setback adds fuel to Gonzaga's already red-hot fire
Feb. 9, 2019 Updated Sat., Feb. 9, 2019 at 11:37 p.m. There are rulebooks, and coin flips to decide who kicks off, and the once-a-game center jump to, well, keep things fair. But in the bigger sense, there's no fairness doctrine in sports.
And whatever the Gonzaga Bulldogs go on to achieve this basketball season, there will be one lingering regret.
Killian Tillie was not in uniform – again – Saturday night for the not-so-grudgy-anymore rendezvous with Saint Mary's at the Kennel. He was not even at the Kennel, though chalk that up to the cold-and-flu season and not the dismay of the moment.
Two nights earlier, in the second half of Gonzaga's dissection of San Francisco, the tall Frenchman muscled for a layup and dropped a jump hook over a Dons defender on consecutive touches, both tough buckets closely checked. After missing the first two months of the season recovering from a stress fracture in his right foot, Tillie had struggled to regain the feel and dimensions of his game – limiting himself, too often, to the 3-point line. So this was a ray of hope.
Until it wasn't.
After the second basket, Tillie came up limping and struggled to the Gonzaga locker room – the pain revealed in his expression, the slump of his shoulders, a towel draped over his head when he returned.
Clarity – of a sort – came on Saturday: a partially torn ligament, also in the right foot. No surgery required, but an indeterminate recovery time. Coach Mark Few's best fingers-crossed prognosis was that his junior forward might return for the postseason.
Which is a tough circumstance to start a season for the third time.
Not fair.
"Heartbreaking," Few corrected.
But this is the game. On the Saint Mary's roster is a forward named Kyle Clark – a capable hand and solid defender, if not tournament MVP material – who has played fewer than 100 minutes in two seasons because of knee injuries.
Not fair.
And while we're on the subject: Gonzaga 94, Gaels 46.
Not. Fair. At. All.
Never in the Randy Bennett era at Saint Mary's have the Gaels been so rudely and ruthlessly undressed by anyone. Never, in fact, had they lost by even 30 points, and on this night the Zags led by 33 … at halftime.
Now, yes, the Bulldogs have been doing this routinely to West Coast Conference opposition, and in eye-opening fashion to the likes of BYU, San Diego and USF – the best of the rest – in the run-up to facing the Gaels. These are not department store mannequins. If the Gaels aren't the Gaels of the last couple of years, they were still 45th in the NET rankings Saturday morning, and 12th in the nation in offensive efficiency.
What seemed clear is that however motivated the Zags were against their old Cold War antagonists, there was some extra juice squeezed from Tillie's disappointment.
"This game was for him," forward Brandon Clarke said.
And maybe the next, and the next, and so on.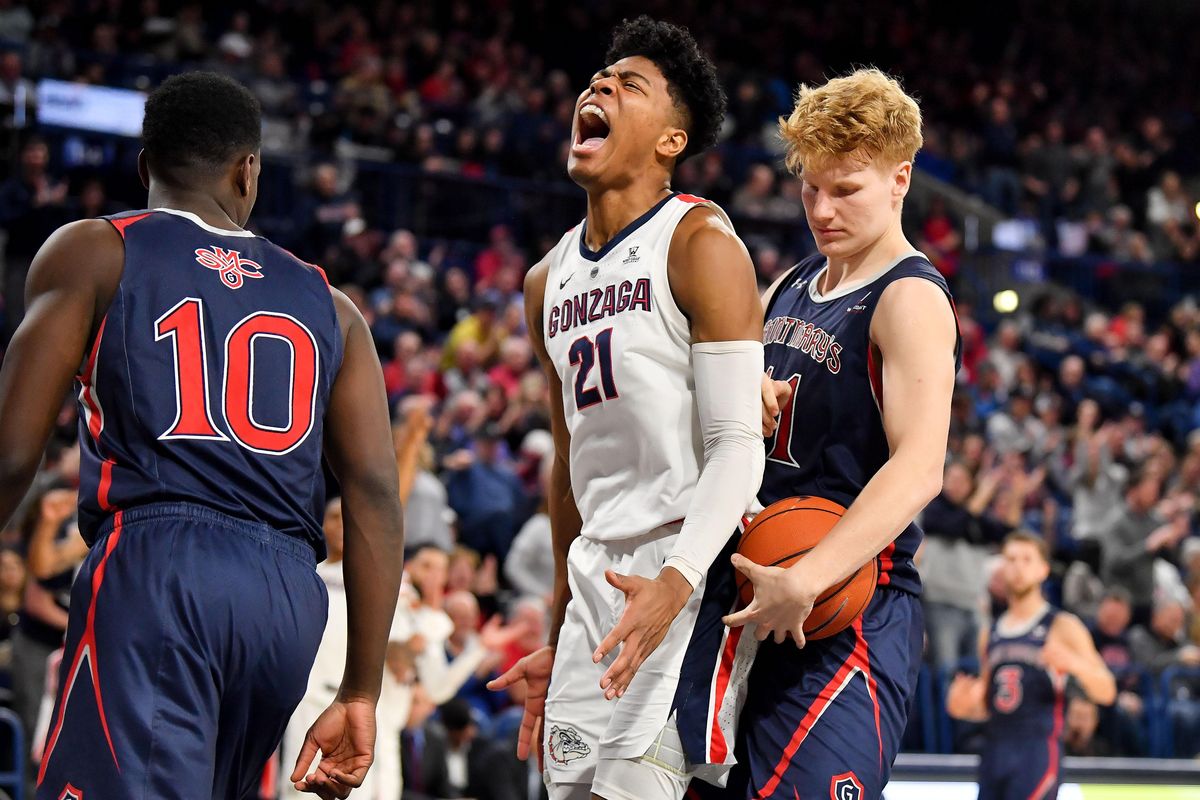 Gonzaga Bulldogs forward Rui Hachimura (21) reacts after he dunked on an alley-oop from guard Geno Crandall (0) during the second half of a college basketball game on Saturday, February 9, 2019, at McCarthey Athletic Center in Spokane, Wash. Gonzaga won the game 94-46. (Tyler Tjomsland / The Spokesman-Review)
When Tillie was out in November and December – and the Zags responded with a number of strong efforts, notably the Maui thriller over then-No. 1 Duke – the buzz was how even more potent they'd be once he returned. Now, given the unpredictability of the latest injury, Gonzaga has to operate on the possibility he won't return – at least not at his fittest and best.
Suddenly, freshman Filip Petrusev – whose role diminished drastically when Tillie came back – figures prominently again in the rotation. And Saturday night was a good start: 15 points in 21 minutes, and signs of more assurance than before.
Petrusev himself senses the difference.
"I didn't know as much what to expect when it was early in the season," he said. "When (Tillie) came back, I watched and practiced harder, and now I'm more prepared. More experienced."
Echoed Few, "He's made nice strides in practice toughening up and being more physical. I can really see the difference from the last time he got an extended run to this."
And yet neither those contributions nor the utter domination of the Gaels could splash quite enough sun on the day. It was a time for lament, too.
"It was tough on us, but I think it gave us even more of an edge and attitude," guard Geno Crandall said. "We've got a guy who loves this game and loves this team and will do anything to help us, and suddenly he's not able to physically do that on the court. We said before the game we're going to perform for Killian – play as hard as he would. Because you never know when it's going to be your last shot, your last chance."
Tillie sent a group text to his teammates before the game and weighed in after, too – and Crandall said, "Coach Few mentioned he's probably laughing and enjoying the heck out of beating Saint Mary's like that."
Maybe that's as fair as it was going to get.
Local journalism is essential.
Give directly to The Spokesman-Review's Northwest Passages community forums series -- which helps to offset the costs of several reporter and editor positions at the newspaper -- by using the easy options below. Gifts processed in this system are not tax deductible, but are predominately used to help meet the local financial requirements needed to receive national matching-grant funds.
Follow along with the Zags
Subscribe to our Gonzaga Basketball newsletter to stay up with the latest news.
---