News > Spokane
Forecasters: As much as 12 inches of new snow could fall in Spokane area
Feb. 11, 2019 Updated Tue., Feb. 12, 2019 at 6:14 a.m.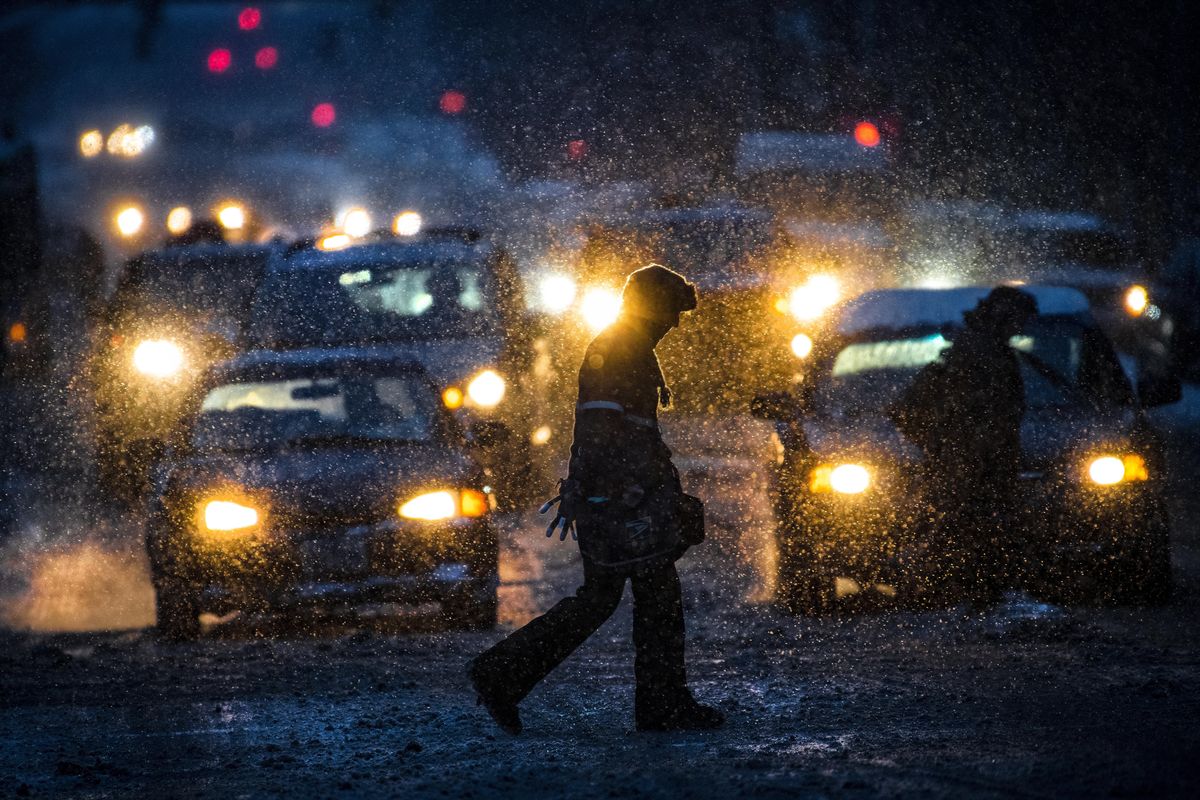 As the next wave of snow begins to fall, a pedestrian makes his way across Sprague Avenue at Lincoln Street in downtown Spokane, Wash., Monday, Feb. 11, 2019. (Colin Mulvany / The Spokesman-Review)
Light snow started falling in Spokane again on Monday, with up to an additional foot expected in some parts of the region through the end of Tuesday.
Snow had stopped falling around Spokane on Monday morning after 3 1/2 inches fell at the Spokane International Airport overnight. Snowfall resumed Monday afternoon in southern portions of Spokane County, with a fresh round of snow hitting the metro area right around the beginning of the evening commute.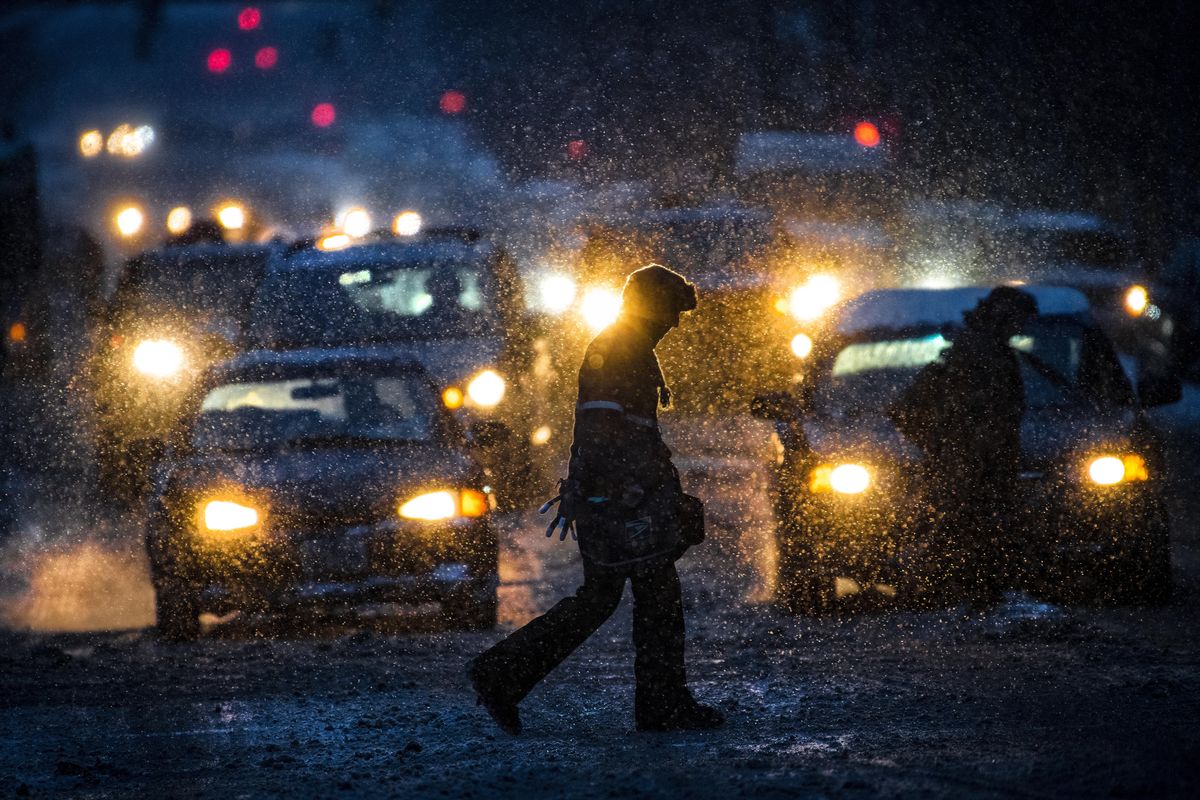 As the next wave of snow begins to fall, a pedestrian makes his way across Sprague Avenue at Lincoln Street in downtown Spokane, Wash., Monday, Feb. 11, 2019. (Colin Mulvany / The Spokesman-Review)
Schools throughout the region announced delays and closures for Tuesday. In Spokane County, the Cheney School District and the Freeman School District said classes would start two hours late, though school officials told parents and media that they would re-evaluate conditions by 7 a.m. and could change plans.
(An updated list of school closures and delays is available here.)
There was no word as of press time on several of the larger school districts, including Spokane, Mead, Central Valley, East Valley and West Valley.
The city of Spokane announced Monday it was restarting its full-city plow that began Friday evening. Crews were working around the clock and prioritizing arterials, hills, bridges and routes to school on Monday morning. All streets are plowed during a full-city snow event, but the process takes about three days.
Plows were expected to roll through downtown Monday night. On-street parking was prohibited beginning at midnight and ending at 6 a.m.
"It's not really until Wednesday, afternoon to later evening, that the threat shifts farther south of the Spokane area," said Jeffrey Cote, a meteorologist for the National Weather Service in Spokane.
The overnight snow Monday delayed classes at Spokane Public Schools and shuttered several area universities Monday.
The late start in Spokane allowed city plows to make a second pass around schools, said Gary Kaesemeyer, director of the city's streets department.
"It really helps out," Kaesemeyer said. "It really helps out with not only the buses, but parents who are parked around the schools, too."
Monday was the first morning the school district instituted a delayed start after bringing the practice back last year, said Brian Coddington, a spokesman for the school district. Officials began discussing Sunday night whether to cancel or delay class start times, and drivers monitored sidewalk and road conditions overnight.
"Our commitment is to let families know by 6 o'clock, but that process started much much earlier this morning, and will again tomorrow morning," Coddington said.
The district weighs safety along with the need to provide a warm place and meals for students, Coddington said. If classes were canceled, the district has two built-in snow days left during the school year. After that, students would be required to attend classes into the summer vacation.
Washington State University's alert system tweeted Monday that officials would make a decision when to begin Tuesday's classes and would announce it to students and faculty via text message by 6 a.m. The university's student newspaper, the Daily Evergreen, said it would not publish a print edition for Tuesday so as not to endanger drivers who usually deliver the paper to racks on the Pullman campus.
Four inches of snow fell at the Spokane International Airport on Sunday, a record for the day, the National Weather Service reported. A new round of snow starting Monday evening was expected to bring another 6 to 8 inches in Spokane. Cote said additional local snowfall totals could reach a foot by Tuesday evening, with heavier snowfall totals predicted east of Spokane in the Idaho panhandle.
Most locations around the Inland Northwest reported snowfall totals between 4 inches and 8 inches for the 24-hour period ending Monday morning. In addition to the 7 1/2 inches measured at Spokane International Airport during that time frame, 6.3 inches were measured in Coeur d'Alene, 5.8 inches in north Spokane and 6 1/2 inches south of Cheney.
In Western Washington, snow totals were slightly more modest this weekend. Downtown Seattle reported 4 inches, as did Olympia. Cle Elum, on the east side of Snoqualmie Pass, reported 10 inches of snowfall.
The region will be hit with multiple small systems that will bring waves of snowfall, Cote said. Washington has been hit hard with snow over the past several days, with a rare heavy snowfall in Seattle snarling traffic and leading to some good-natured ribbing from Eastern Washington residents on social media.
"It's a similar pattern," Cote said. "What they got, we sort of got at the same time. This is a bunch of systems coming through the areas that we've been seeing."
Many planes have been leaving and arriving on time at Spokane International Airport, but some flights have been delayed or canceled. Those flights were primarily coming from or headed to Seattle, according to flight data provided by Todd Woodard, a spokesman for the airport.
At least seven flights to Seattle on Monday afternoon were canceled, as were seven departures. Two flights scheduled to land in Seattle were instead diverted to Spokane, but most of the travel into and out of the West Plains was not affected, Woodard said.
The snow closed several area roads Sunday and was being blamed for several car collisions. Washington State Patrol Trooper Jeff Sevigney said Monday afternoon the agency had responded to 129 crashes in Spokane County since noon on Saturday.
Interstate 90 was closed shortly after 5 p.m. in both directions on either side of Snoqualmie Pass due to multiple spinouts and crashes, according to the Washington Department of Transportation.
Spokane Transit Authority buses were generally running on time, Brandon Rapez-Beatty, a spokesman for the agency, said in an email Monday afternoon. Officials will monitor conditions Tuesday and have the option of detouring to pre-determined snow routes if conditions worsen. Riders can text 99689 with their stop number for real-time arrival and departure times.
Temperatures were expected to rise over the next 48 hours, with highs on Tuesday expected to climb above freezing. That'll make the falling snow wetter, but shouldn't lead to a substantial snowmelt during the week, Cote said.
"We've been having this light, fluffy snow with it being this cold," he said. "It'll still be a little bit fluffy, but as we warm up a bit it will become a little bit wetter and heavier, especially as we go into the day tomorrow and tomorrow night."
Spokane residents can track the progress of snow plows on the city's website. Residents in outlying areas of Spokane County can monitor plow progress on the county public works department's website.
A winter storm warning for the area is in effect until 4 p.m. Tuesday.
Local journalism is essential.
Give directly to The Spokesman-Review's Northwest Passages community forums series -- which helps to offset the costs of several reporter and editor positions at the newspaper -- by using the easy options below. Gifts processed in this system are not tax deductible, but are predominately used to help meet the local financial requirements needed to receive national matching-grant funds.
Subscribe now to get breaking news alerts in your email inbox
Get breaking news delivered to your inbox as it happens.
---