A&E > Food
Survive the snow with these soul-satisfying soups
Mon., Feb. 11, 2019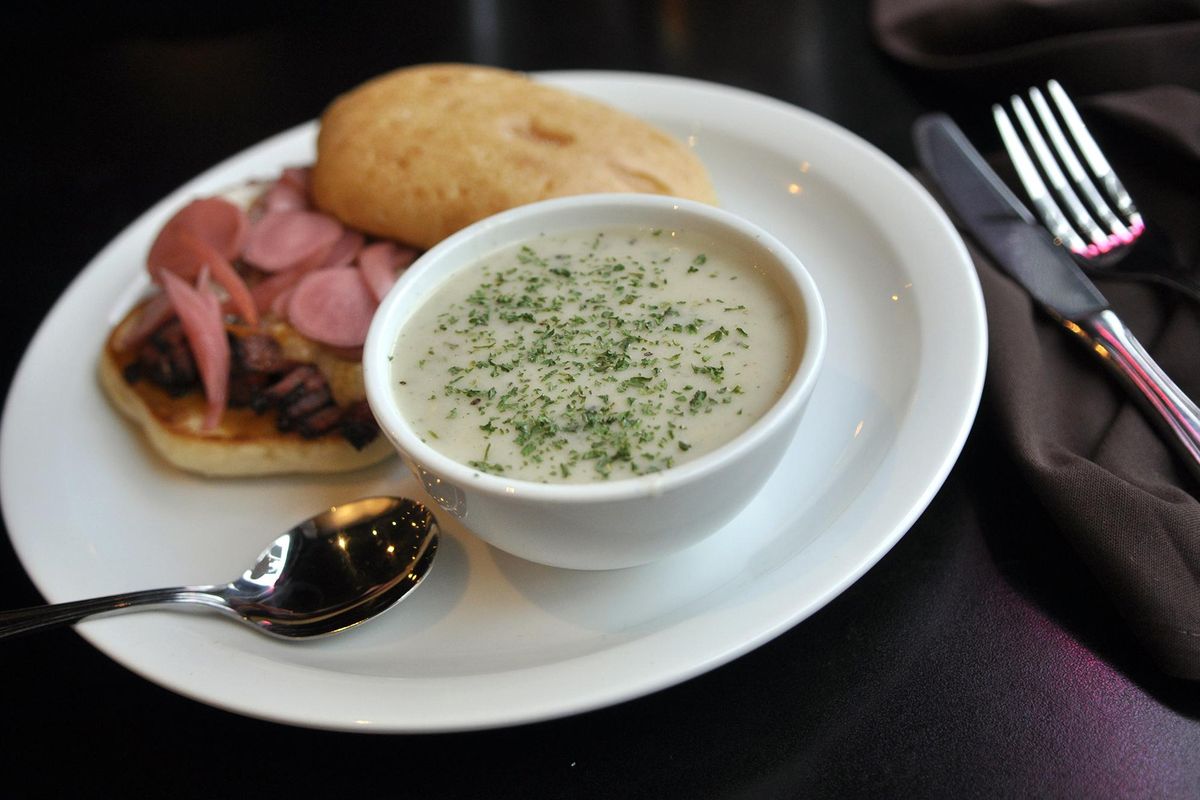 Clam chowder is the soup staple at Wiley's Downtown Bistro. (Adriana Janovich / The Spokesman-Review)Buy a print of this photo
It's soup weather.
The current snowpacolypse calls for big heaping bowls of warm, rich broth or velvety purees to heat and fill our bellies.
And, as long as it's cold and dark and dreary and wet or worse, soup is appropriate. Hot soup, that is. Gazpacho and other cold soups are for different weather altogether.
Hot soup is the dish we instinctively yearn for when we're sick. It nourishes and hydrates, satisfies and strengthens. So, while the lasting darkness and bone-chilling temperatures have us collectively longing for the hope and warmth of spring, we can comfort ourselves with soup.
There should be time to try them all. It's been known to snow around these parts as late as early April.
Here are a few spots to go for soup while Spokane resembles the inside of a snow globe.
Vien Dong
Don't come here expecting white table linens. Do come here hungry. The big bowls are just that. Vien Dong – or simply, the Dong, as some affectionately refer to it – offers no fewer than 11 kinds of pho: brisket, tendon, beef ball and rare beef – or a combination of all or some of those components – shrimp and chicken. The broth of this long-simmered Vietnamese soup is rich but bright and clear – and studded with rice noodles and green onion. Fresh bean sprouts, basil, chilies and lime wedges are served on the side. Doctor up your portion as you please. Or, opt for something spicier, such as the spicy beef noodle soup. 3435 E. Trent Ave. (509) 536-6073. viendongspokane.com.
Clover
It feels ceremonial, the way the soup is poured, tableside, from a gravy boat into your bowl – over a scoop of chevre-and-wild-mushroom duxelles and rounds of truffle creme fraiche. You'll want a bowl, not a cup. The pomp and circumstance of the tableside service comes with the larger portion, not the smaller. So go big. And, actually, it's not really that big of a bowl. It's meant as a starter rather than an entree. Still, it feels special. And it should. This isn't the cream of mushroom soup your mom made from a can. The cream of mushroom soup on the winter menu at Clover is rich and velvety, nutty, earthy and made from scratch. Clover, tucked into a turn-of-the-century Craftsman-style bungalow near Gonzaga University, offers some of Spokane's finest dining. The restaurant is intimate, homey and approachable, sophisticated without being stuffy. Start with the cream of mushroom winter soup – French onion is also on the menu – before moving onto a casually elegant main. Or, maybe, just opt for another bowl of soup. 913 E. Sharp Ave. (509) 487-2937. cloverspokane.com.
Mizuna
There are usually two soup offerings at this longtime, casually elegant downtown restaurant. Expect one to be vegan. Expect both to rotate. And expect each to be satisfying – especially the well-balanced, super-smooth signature carrot-ginger soup. It's vegan, and it's velvety. That creamy texture is complemented – but not overpowered – by the zesty zing of ginger, perfect for warming and brightening a soggy, gray January day. Look, also, for the flavorful and hearty pork coconut curry soup. 214 N. Howard St. (509) 747-2004. mizuna.com
Mason Jar
The motto at this charming corner cafe and coffee shop in downtown Cheney is "local, seasonal, sustainable" – and the same applies to its soups, which are scratch-made and come in a cup or bowl or in a soup-and-sandwich combo. The soup of the day is served with toasted baguette in a highly Instagrammable space. This time of year, look for tomato-basil bisque, spicy vegan lentil chili and potato-leek soup. (In summer, you just might find gazpacho.) Rounding out the menu are assorted sandwiches and espresso drinks. Don't forget to peruse the pastry case, which typically is stockpiled with a variety of buttery baked goods. 101. F St., Cheney. (509) 359-8052. www.facebook.com/themasonjar101.
Ruins
Chef Tony Brown doesn't bother coring or skinning the tomatoes for his signature tomato-basil soup. He tosses them in whole. He doesn't add stock or water, either. So, to prevent burning, he cooks them down in a double boiler covered with a few layers of plastic wrap. As the tomatoes cook, the plastic wrap expands and the contraption looks "like a little space ship." This method might be non-traditional, but the flavor comes out super fresh-tasting. This tomato-basil soup was a staple at Stella's, a beloved sandwich shop on West Broadway Avenue that Brown owned and operated for five years before shuttering it just more than a year ago. Today, sandwiches from Stella's menu – including the popular banh mi – can be found for lunch at Brown's other eatery, Ruins, located not far from the old Stella's spot, on North Monroe Street. The tomato-basil soup is offered as a side. Plan to get a cup along with a sandwich. 825 N. Monroe St. (509) 443-5606. www.facebook.com/ruins.spokane.
Wiley's Downtown Bistro
The chicken-cheddar-jalapeño soup at this intimate eatery, open for lunch and dinner, is a hold-over from when the place used to be called Herbal Essence Cafe and had a different owner. New chef-owner Michael Wiley – he took the helm about a year ago – put his own twist on it, namely using fresh jalapeños instead of canned slices in the soup. It gives the rich and creamy soup quite a spicy kick. So does a splash of juice from canned jalapeño slices, which Wiley uses in other menu items, such as certain sandwiches, and a bit of pepperjack cheese. Look for it as a rotating specialty soup "every week or two," Wiley said, noting sometimes he makes a variation with beef. Regular soups are, like many spots, tomato-basil, as well as clam chowder. The clam chowder here is nice and creamy but not overly thick. It features an herb blend from Spokane's Spiceology as well as potato, canned clams, canned-clam juice, chicken stock and "massive amounts of cream." It's thickened with gluten-free flour and can be found for dinner daily. 115 N. Washington St., Suite 1. (509) 838-4600. www.wileysbistro.com.
Tomato Street
Minestrone and tomato-basil are the two soup staples at this trio of local Italian-American restaurants. The substantial minestrone – chock full of vegetables, Northern beans and macaroni – is hearty, rich, flavorful and meaty. Much of its flavor comes from its beef-and-chicken stock as well as the addition of bacon. It's topped with walnut pesto and served with garlicky bread on the side. The tomato-basil soup is a creamy mixture of tomatoes, carrots, celery, onion and seasonings. Like the minestrone, it's not vegetarian; it contains chicken stock. Tomato Street has three locations. Find them at tomatostreet.com.
High Nooner
This longtime unpretentious sandwich shop usually offers several soups as part of its gluten-free menu. They come in two sizes: 8 or 12 ounces. And they're perfect to take to go. Soups – even for eat-in orders – are handed to customers in lidded cups, tucked into a brown paper lunch bag with a napkin, plastic spoon and packet of two saltines. Rotating staples include chili, cream of potato, chicken pot pie filling, cheddar cauliflower, cream of broccoli with cheese and creamy tomato bisque. On a recent January afternoon, the trio of offerings were Normandy vegetable cheddar along with garden vegetable and tortilla soup with chicken. Founded in 1992, the High Nooner has four locations. Find them at highnooner.com.
Pilgrim's Market
The self-serve hot soup bar at this locally owned Coeur d'Alene grocery store offers four – often vegan or vegetarian and gluten-free or dairy-free – rotating soups du jour. They're made from scratch in house. Tomato bisque is a staple. Recent selections have included beef chili, Greek lemon-chicken, French onion, Thai pork chowder, chicken flauta, Asian mushroom, tofu curry and New England clam chowder. Founded in 1999, Pilgrim's specializes in organic and natural foods. 1316 N. Fourth St., Coeur d'Alene. (208) 676-9730. www.facebook.com/PilgrimsMarket.
A version of this story originally appeared in The Spokesman-Review on Jan. 31, 2018.
Local journalism is essential.
Give directly to The Spokesman-Review's Northwest Passages community forums series -- which helps to offset the costs of several reporter and editor positions at the newspaper -- by using the easy options below. Gifts processed in this system are not tax deductible, but are predominately used to help meet the local financial requirements needed to receive national matching-grant funds.
Subscribe to the Spokane7 email newsletter
Get the day's top entertainment headlines delivered to your inbox every morning.
---