A&E > Food
Dorothy Dean presents: Strawberry cream puffs are simply divine
Tue., Feb. 12, 2019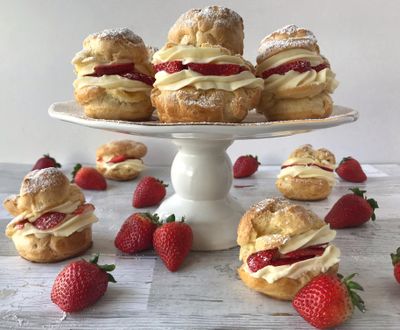 With a golden airy shell, luscious creamy filling and sweet fresh berries, these cream puffs are hard to resist.
And I find myself making them more than I like to admit. Especially for celebrations like Valentine's Day, Easter, bridal or baby showers and Mother's Day. But with their ease, deliciousness and endless options for fillings, it's easy to see why.
Cream puffs are made using the classic French dough, pâte á choux (pronounced pat-a-shoe). This light pastry dough is also used to make eclairs, profiteroles, churros and my favorite doughnut, the French cruller.
The process is quite simple. Water, butter, salt, sugar and vanilla are brought to a boil. Then flour is stirred in until the mixture is combined and slightly cooled. Next, eggs are added, one at time, and mixed until a smooth, shiny, thick dough forms. Small mounds of dough are then piped or spooned on to a lined baking sheet, brushed with egg wash, and baked till puffed and golden.
When you take them out to cool, be sure to prick a little hole or slit in them to let the steam escape. This will prevent them from getting soggy.
Now, here comes the fun part. (Well, I guess eating them would be that, but filling them also is.) Once your cream puffs have cooled, cut them in half and either pipe or spoon in your filling. This recipe uses a mixture of heavy cream, milk and pudding. But anything sweet and creamy would work, from pudding to creams, and ice cream to cheesecake.
These are finished with berries and a dusting of powdered sugar, but a drizzle of chocolate or caramel wouldn't hurt either.
And with Valentine's Day approaching, this dreamy dessert is a perfect way to spoil your loved one, or impress one your hoping to land.
Cream Puffs with Strawberries
Adapted from allrecipes.com
1 cup water
1/2 cup unsalted butter
1/4 teaspoon salt
1 tablespoon sugar
1 teaspoon vanilla
1 cup flour
4 eggs
1 egg yolk, beaten with 1/2 tablespoon of water
For the cream filling:
2 cups heavy cream
1 cup milk
2 (3.4 ounce) packages instant vanilla or white chocolate pudding mix
Fresh strawberries, cut into slices
Powdered sugar, for dusting
Preheat oven to 425 degrees. Line a baking sheet with parchment paper or a silicone baking mat.
In a sauce pan, combine the water, butter, salt, sugar and vanilla over medium heat until butter is melted. Bring to a boil and remove from heat, then add the flour and stir, using a wooden spoon, until fully incorporated. Return to heat and stir constantly until the dough pulls away from the sides of the pan and forms a thick smooth ball, about a minute or two. Transfer the dough into the bowl of your electric mixer fitted with a paddle attachment and beat on low speed to release the steam from the dough, 1 to 2 minutes. Once the dough has cooled, add the eggs, one at a time, beating well after each addition. The dough should be smooth and glossy. (Alternatively, this can be done by hand.)
Using a cookie scoop, spoon or piping bag, place heaping tablespoon size mounds of dough onto the baking sheet, spacing them a couple of inches apart. Brush mounds with egg yolk-water mixture.
Bake for 20 to 25 minutes in preheated oven, until puffed and golden brown.
Transfer puffs to wire rack to cool and prick with knife or toothpick to allow steam to escape.
While they're cooling, make the filling by combining the heavy cream, milk and the two pudding packages in a large bowl. Beat until thickened and chill until ready to use.
To assemble, slice cooled cream puffs in half and, using a spoon or piping bag, fill the bottom halves with the cream mixture, a few strawberry slices, and more cream mixture. Place on top puffs, dust with powdered sugar (using a sifter or mesh strainer) and serve.
Local journalism is essential.
Give directly to The Spokesman-Review's Northwest Passages community forums series -- which helps to offset the costs of several reporter and editor positions at the newspaper -- by using the easy options below. Gifts processed in this system are not tax deductible, but are predominately used to help meet the local financial requirements needed to receive national matching-grant funds.
Subscribe to the Spokane7 email newsletter
Get the day's top entertainment headlines delivered to your inbox every morning.
---