News > Spokane
Almost all public schools closed in Spokane County as snow piles up
Feb. 12, 2019 Updated Wed., Feb. 20, 2019 at 9:13 a.m.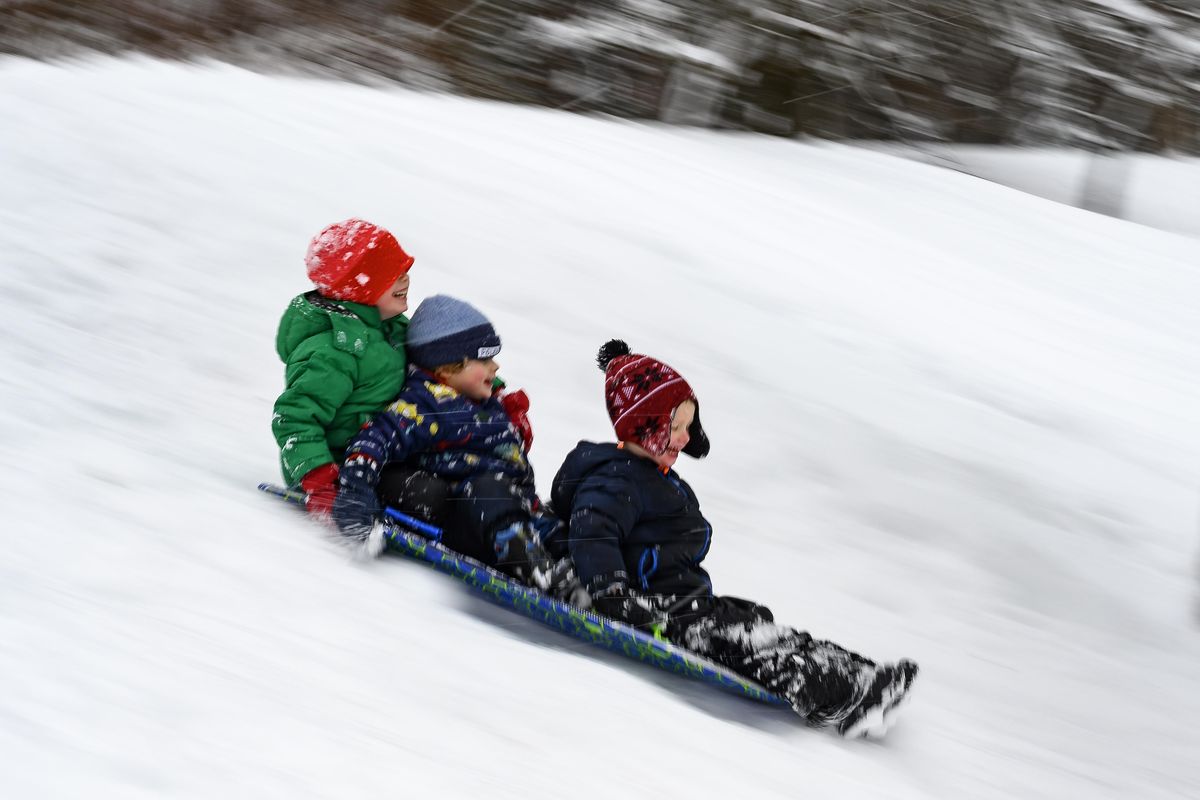 Left to right, Henry Betts, 8, Charlie Betts, 4, and Brody Theriault, 4, head down the sledding hill at Cannon Hill Park, Mon., Feb. 12, 2019. (Colin Mulvany / The Spokesman-Review)
After two days of record snowfall, numerous schools and universities in the Inland Northwest are closed Tuesday.
In Spokane County, the Central Valley, Cheney, Deer Park, East Valley, Great Northern, Liberty, Mead, Medical Lake, Nine Mile Falls, Orchard Prairie, Reardan-Edwall, Riverside, Spokane and West Valley school districts are closed.
Spokane Public Schools will make up Tuesday's snow day on Monday, March 11, which had previously been scheduled as a day off for students and teachers.
The Freeman district announced a two-hour delay.
Eastern Washington University, Gonzaga University, Whitworth University, Spokane Community College, Spokane Falls Community College and North Idaho College are closed, as is Washington State University's Spokane campus, but WSU in Pullman is open.
Students at Gonzaga University took the unexpected day off to play around in the powder, which measured about 11 inches deep near the St. Ignatius statue in front of the university's administration building Tuesday morning.
Friends Caleb Keller, Alex Collie, Reid Benson and Dawson Phillips stood at the crest of a hill next to the Charlotte Y. Martin Centre, decked in snow gear and readying makeshift "sleds" shredded from carboard boxes found in their dorm's dumpster.
"What is the best way that you've found?" Keller, a freshman history major from San Francisco, asked Collie.
"My most successful way is just belly-diving," Collie responded, and the friends took turns sliding penguin-style to the bottom of the hill, while Phillips strapped on a pair of skis.
The underclassmen all saw an online petition Tuesday morning pleading with the administration to cancel classes. While EWU and WSU were closed Monday, Gonzaga remained open.
"People were just sending it to eachother," Benson said. "I don't really know if that made any difference, but supposedly University President Thayne (McCullough) signed off on it, but I think some kid just put 'Thayne McCullough.'"
The petition began as a joke between Emma Winkelman, a senior communications major, and her friends. Winkelman said she looked around and saw other schools closed, and was hoping her institution would follow suit.
"Honestly, I did not expect anyone to sign it," Winkelman said.
The petition had gathered 2,554 signatures as of Friday morning. Gonzaga's enrollment is 7,566 students.
Pete Tormey, a university spokesman, said the petition did not have an impact on the decision to cancel classes, citing road and weather conditions instead. McCullough acknowledged the petition in a tweet Monday night, writing, "The only thing more impressive than this petition are the reasons people give for signing it!!"
Winkelman said she screamed in her room when she saw the tweet, which tagged her account.
"I was just really excited, knowing that the president who has the most power actually saw it, and I thought it was a a little closer to actually happening," she said.
Gonzaga last canceled classes two years ago, on Feb. 9, 2017, according to the university, when a quarter inch of ice quickly blanketed the region.
Winkelman said she planned to spend her snow day relaxing, and maybe sledding with some friends on Spokane's South Hill. But she didn't have plans to double down on her luck and launch another petition.
"I don't know, that might be pushing it a little bit," she said.
On the other side of campus, some students had piled in to the new John J. Hemmingson Center to grab a coffee and study. Friends Daniel and Maeve, who declined to give their last names, took a break to "face-plant" in the freshly fallen snow on a nearby soccer field as a break from their studies.
"We just looked outside and decided we needed a wake-up," said Maeve.
Many other districts in Eastern Washington and North Idaho closed Tuesday, including Coeur d'Alene, Lakeland and Post Falls.
The National Weather Service reported that 5.4 inches of snow fell at Spokane International Airport starting around 3:30 p.m. Monday through around 6 a.m. Tuesday.
Total snowfall on Monday was 7.2 inches, a record for the day, toppling one set in 1897. The 4 inches that fell on Sunday also was a daily record for Spokane.
Monday's snowfall brought February's total at Spokane International Airport to 16.7 inches, and 36.6 inches so far this winter. With 16 days left to go and additional snow in the forecast throughout the week, this February is already the third snowiest since 1996, according to National Weather Service records.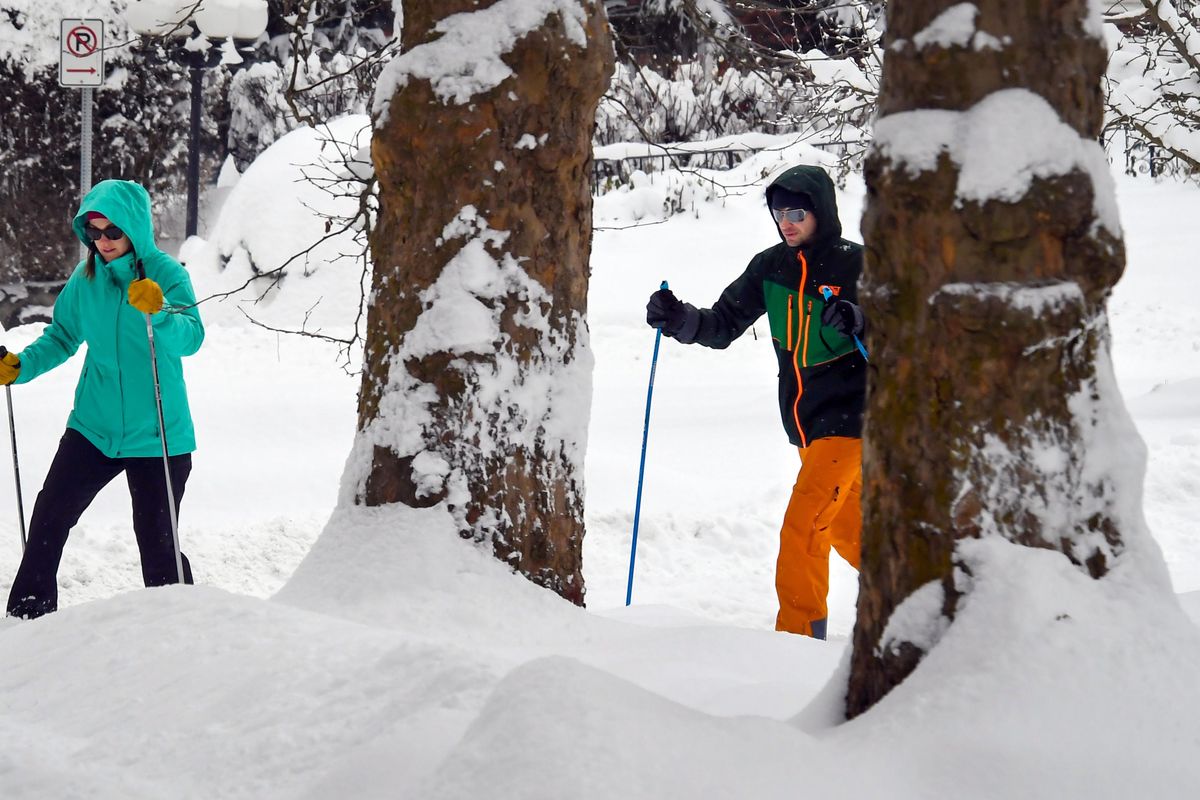 Becky Parrill. left, and Kellen Probert use cross country skis to get from 18th Avenue and Lincoln Street to the Rockwood Bakery near Manito Park, Tuesday, Feb. 12, 2019, in Spokane, Wash. Parrill is a principal assistant at Adams Elementary and was off because of a snow day. (Dan Pelle / The Spokesman-Review)
Snow showers are expected during the day Tuesday as high temperatures peak in the mid 30s and low 40s – about 15 degrees above our average temperature range so far this year.
The next round of snow arrives around 3 p.m., bringing another 2 to 4 inches in Spokane and 6 to 8 inches in Sandpoint, said Mark Turner, weather service meteorologist.
A few flights were canceled Tuesday morning at Spokane International Airport, but most flights appear to be leaving on time.
The city of Spokane's street crews are focused mostly on arterials, but some plows remained on residential streets, the city reported on social media. Overnight, some downtown streets were plowed with center berms. After intense snowfall, city crews resort to creating center berms to avoid burying street parking.
The city will once again plow downtown streets overnight Tuesday. Parked cars should be moved off downtown streets between midnight and 6 a.m. to allow equipment to roll through.
Some residential streets, however, remained covered in snow after the city's previous full-city plow began Monday following Sunday's storm. Officials estimate it could take several days before all streets are plowed.
Spokane's trash and recycling collection proceeded as scheduled Tuesday, said city spokeswoman Marlene Feist.
Along region highways and Interstate 90, multiple weather-related crashes and slide-offs were reported, though traffic was moving smoothly, said Trooper Jeff Sevigney, spokesman for the Washington Patrol.
On I-90 near Spokane, the roadway appeared to have compact snow and ice. No major collisions were reported.
Farther west, Snoqualmie Pass on I-90 was closed at about 4 a.m. due to "severe weather conditions." Westbound lanes were closed at milepost 106 near Ellensburg, and eastbound lanes near North Bend.
The Washington State Department of Transportation did not have an estimated time for reopening. As of 7:30 a.m., the pass appeared blanketed in snow as temperatures hovered around 15 degrees.
On U.S. Highway 2, Stevens Pass is open, but chains are required due to compact snow and ice on the roadway.
North Cascades Highway is closed.
Spokane, Whitman, Kootenai and portions of both Stevens and Bonner counties remain in a winter storm warning. The warning will expire in Washington at 4 p.m. Tuesday and in Idaho until 7 a.m. Wednesday.
This story is developing.
Local journalism is essential.
Give directly to The Spokesman-Review's Northwest Passages community forums series -- which helps to offset the costs of several reporter and editor positions at the newspaper -- by using the easy options below. Gifts processed in this system are not tax deductible, but are predominately used to help meet the local financial requirements needed to receive national matching-grant funds.
Subscribe now to get breaking news alerts in your email inbox
Get breaking news delivered to your inbox as it happens.
---