Sports
Grip on Sports: With latest revelations, Larry Scott's won/loss record is starting to tilt heavily the wrong way
Thu., Feb. 14, 2019 A GRIP ON SPORTS • Will there be a change in management at the Pac-12 Conference in the near future? Only if money matters to those who run the place. Read on.
••••••••••
• If conference commissioner – and chief executive of the Pac-12 Networks – Larry Scott was a football coach, he certainly would be on the hottest of hot seats. And it wouldn't matter if he were at Colorado or USC. The results are not reaching expectations.
The most damning loss the conference has taken in the past few years doesn't have anything to do with football or basketball or water polo. It's financial, as Pac-12 members fall further and further behind the other Power 5 conferences in their bank accounts.
Money translates directly into success in the two major sports, football and basketball.
And the Pac-12 isn't keeping up. That falls directly on Scott and his management team. (Well, actually, it falls on the 12 folks who employ Scott, the presidents and chancellors of the 12 universities, but like professional sports owners, no one can fire them.)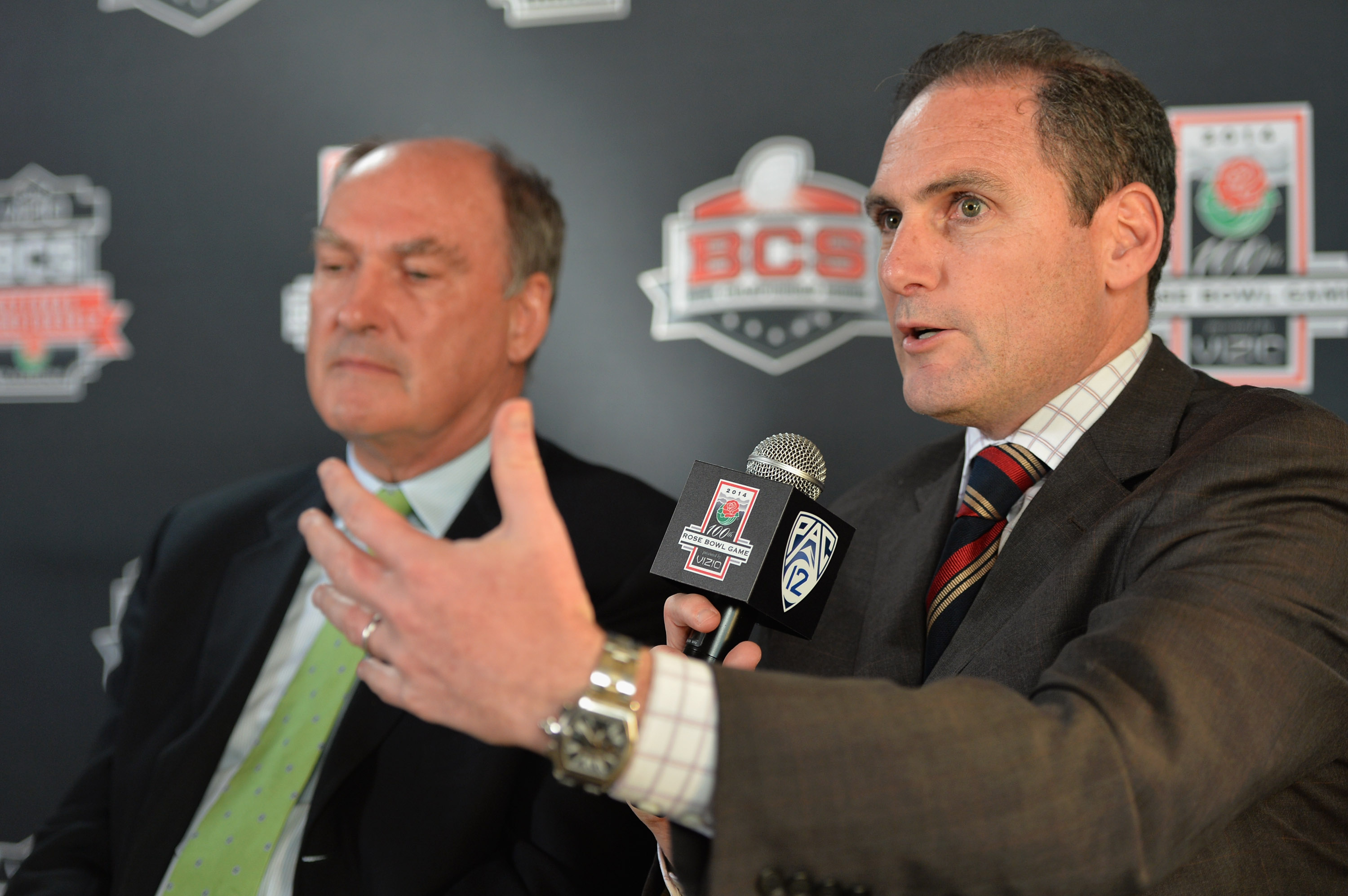 Surprisingly, the Pac-12 CEOs, as Scott as termed his bosses, have been lenient with him, allowing the former WTA leader to take the conference in new directions. Some of those directions have worked, some haven't. The most important one in the latter category concerns the conference's media plan and the idea to build for a future that may never arrive.
Or, if it does, it may come too late to save the Pac-12's spot in college sports hierarchy.
By controlling 100 percent of the Pac-12 Networks, and not partnering with an established sports broadcast entity like ESPN or Fox, Scott gambled future earnings would overshadow present problems.
There would be a shiny pot of gold at the end of the rainbow someday.
But since the Pac-12 Networks came into existence, all the conference schools have seen is clouds, fog and torrential rain.
Don't believe me? Read Jon Wilner's reporting on the true financial return the schools have seen from the conference's media arm. When you subtract costs of programming and ownership, the schools are receiving a fraction of what they expected – and a pittance compared to what their peers receive from the SEC Network or the Big Ten's broadcast arm.
Money matters. At least it does in Bohler Gym and Heritage Hall. The Pac-12's athletic departments are all dealing with some sort of financial pressure – it could be termed a crisis in Pullman when you consider Cougar athletics are more than $50 million in debt and that number is growing – that was supposed to be alleviated in some regard by a $3-to-$10 million yearly windfall from the Pac-12 Networks.
Instead of that nebulous number – the wide-ranging estimates came from Scott himself, but they can be excused somewhat due to the ground-breaking way the conference was handling media rights – some schools are actually realizing less than a million dollars a year in revenue from the San Francisco-based network. That will certainly screw up your budget.
Think about this. If the Pac-12 Networks were realizing the highest end of Scott's pre-launch estimates, even the Cougars would be operating in the black. Instead, a sea of red ink flows from the financial offices.
And ends up at Scott's door, like something out of "The Shining."
Will it drown him? It hasn't thus far and though this is the first the average Pac-12 fan is hearing of the depth of the financial undertow, the conference's CEOs have been aware of it for some time. And no change has been made.
It boggles the mind.
Guys like Jim Mora and Mark Helfrich and Rich Rodriguez must be thinking it's pretty unfair. After all, they had better records than Scott and still lost their jobs. Then again, their won/loss records are out there for everyone to see. Thanks to the Pentagon-level security concerning the Networks' financial numbers, the average person is just beginning to discover the hole the conference members find themselves in.
If the digging continues much longer, it may end up too deep to ever overcome.
•••
Gonzaga: The Zags and their record-breaking offense hit the road again tonight, facing Loyola Marymount out by LAX. Jim Meehan will be there and he has a preview as well as a look at the Lions' top player. … The women return to the Kennel tonight and return back alone in first place. Jim Allen has a preview. … If you looked outside you may find it hard to believe college baseball begins tomorrow. Justin Reed has a preview of GU's first tournament. … Back to basketball, Brandon Clarke wasn't overlooked by the Naismith Trophy folks. Neither was Rui Hachimura. Jim Meehan has that story. … Around the WCC, every starting lineup needs one guy who plays like BYU's McKay Cannon.
WSU: Larry Weir and I talked a bit yesterday about the Cougars' recent basketball success and a story I had about CJ Elleby. It's part of the Press Box pod. … When the Huskies come to town to face the WSU women, Jenna Moser will be making her last visit. Ryan Collingwood has more in his women's basketball notebook. … Elsewhere in the Pac-12, we already linked the money issues. So we will switch gears and head down to Oregon, where there is a major change coming in the football coaching staff. Jim Leavitt is out as defensive coordinator. … The Ducks have also hired another new assistant coach. … Arizona State is still in spring practice. … Oregon State is trying to build up its roster. … In basketball news, there were a few games last night, including Colorado taking down Arizona State in Boulder. … Stanford won at home against USC. … UCLA had to go overtime but it defeated cellar-dwelling California. … Utah plays better on the road but is at home this weekend. … Arizona is still trying to get back on the winning track. … Oregon wants to improve its schedule. … Washington is the answer to the Pac-12's questions this season.
Idaho: The Vandals are well represented on the Salt Lake City team in the new Alliance of American Football league. Ryan examines the league's Inland Northwest connections. … Around the Big Sky, the level of sadness Montana State coach Brian Fish must be carrying has to be overpowering. … Idaho State will try to derail the Idaho schools. … Weber State didn't host Montana last season. … In football, Northern Colorado has an unusual recruiting class.
NIC: The Cardinals swept visiting Wenatchee Valley last night.
Preps: Stormy weather is expected to return tonight in advance of the Presidents' Day weekend. Hopefully, it won't add any more problems to the scheduling of state basketball playoffs. Dave Nichols has been running down the revised plans due to all the snow. … There was some basketball last night and we have roundups from boys and girls play. … The Idaho girls state tournaments are this weekend and we have this preview. … Steve Christilaw has a story on an East Valley wrestler who is more than just what he shows on the mat.
Mariners: One important pitcher is getting used to pitching in the States. Another is coming back from surgery.
Seahawks: Frank Clark may be designated as the franchise's key player. … The Hawks are better at running back and receiver than most thought going into last season.
•••
• I went this far without mentioning Valentine's Day. I'm pretty proud of myself. I had made these over-the-top romantic plans for tonight and had everything ready. It was going to be a perfect evening. Then I realized the Zags play at 8 and I have to write a TV Take. So it's another night at home with hot dogs and chips. Kim will understand, right? Your significant other would, wouldn't they? It's the thought that counts. … I'm toast, aren't I? … Until later …
Subscribe to the sports newsletter
Get the day's top sports headlines and breaking news delivered to your inbox by subscribing here.
---