News > Spokane
Picking raspberries and fighting cancer takes love
Thu., Feb. 14, 2019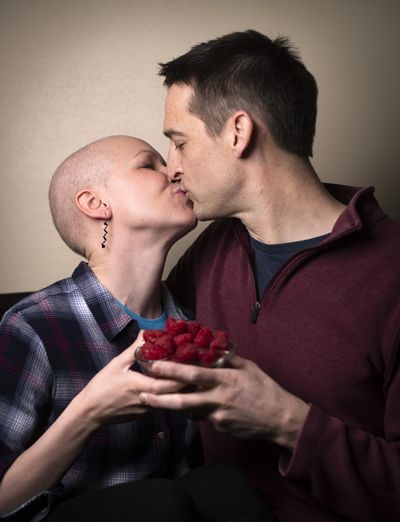 When I (Kim) was in college, I started an engineering internship at a computer company called Itronix because another intern took off several weeks over Christmas break to go ski with his family.
When he (Keith) returned, he was surprised to see they had hired a girl to work in the lab, and that the women's restroom was no longer filled with empty boxes.
We became work friends and ate lunch together often. At some point, he told me he only dated tall girls who were 5-foot-8 or taller (I'm 5-foot-7). One day at lunch in summer, we noticed people had left behind large blocks of ice at the base of the hill at Woldson Park. We decided to go ice-blocking that day and slide down the hill on the blocks of ice. We had a great time even though we both had wet pants all afternoon.
After that day, I noticed Keith seemed more flirtatious which, for an engineer, takes a lot of effort.
He invited me over to his place to pick raspberries and I dutifully agreed for the sake of the raspberries. However, we confirmed to each other we were interested in way more than raspberries that day.
We began dating secretly, telling no one at work for over a year. Our relationship was revealed when we kissed each other goodbye at Keith's going-away party.
Over the years together, we've had many adventures, including raising our three children, ages 5, 4, and 1.
Our biggest challenge came in October 2018, when I was diagnosed with breast cancer at age 35 and immediately began chemo. This Valentine's Day, I will wake up in the hospital recovering from a mastectomy. Cancer has strengthened our marriage, our faith and our bonds with our friends and family.
Make no mistake, though, we are ready for the cancer to go away for good! I will have ongoing treatment that will end about when the raspberry bushes we planted in our garden bloom. By the time it's time to pick, I should feel good again, and the five of us will be out there enjoying a sweet treat that reminds Keith and I of how it all started.
Local journalism is essential.
Give directly to The Spokesman-Review's Northwest Passages community forums series -- which helps to offset the costs of several reporter and editor positions at the newspaper -- by using the easy options below. Gifts processed in this system are not tax deductible, but are predominately used to help meet the local financial requirements needed to receive national matching-grant funds.
Subscribe to the Coronavirus newsletter
Get the day's latest Coronavirus news delivered to your inbox by subscribing to our newsletter.
---