Sports > High school sports
District 8 3A girls: Defense wins as No. 2 Mt. Spokane edges No. 3 Kamiakin on block at buzzer
UPDATED: Sat., Feb. 16, 2019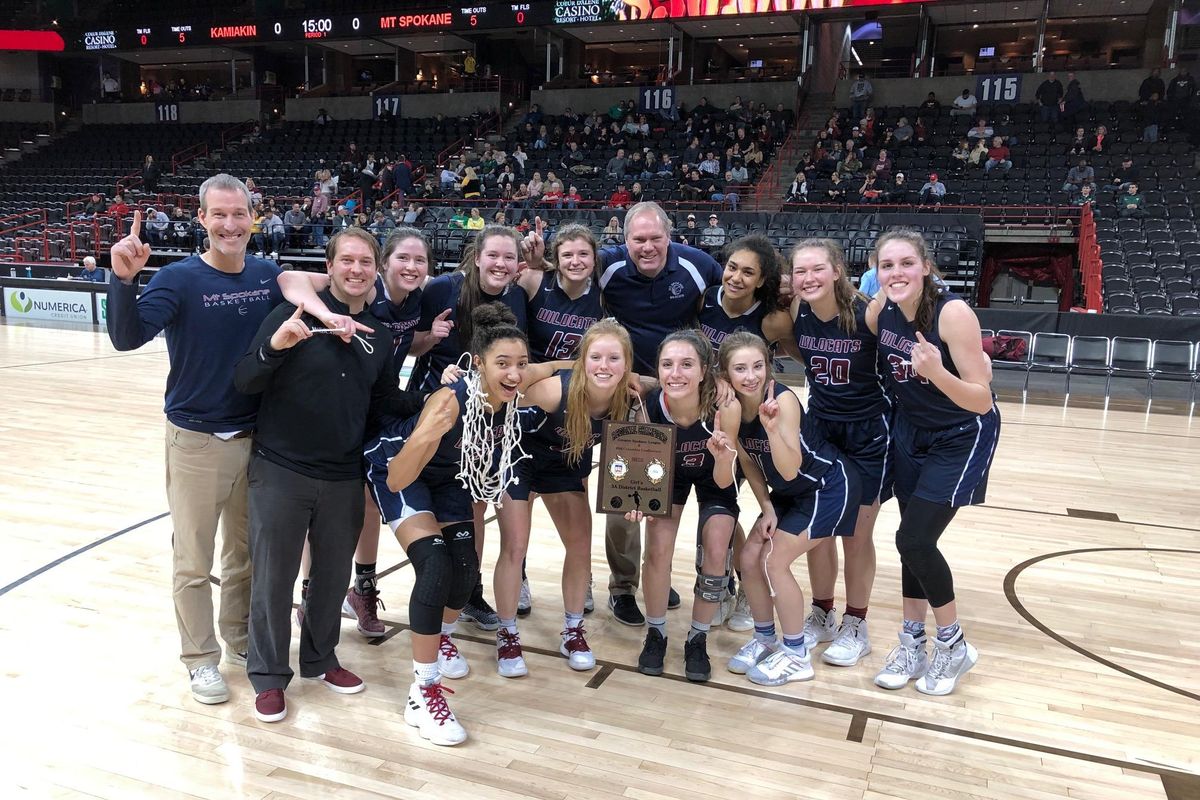 Mt. Spokane poses with the District 8 3A girls championship plaque after knocking off Kamiakin 46-45 at the Spokane Arena on Feb. 16, 2019. (Dave Nichols / The Spokesman-Review)
It came down, as it often does, to the last play.
Emily Nelson blocked Oumou Toure's layup attempt at the buzzer and Mt. Spokane escaped with a 46-45 win over Kamiakin to take the District 8 3A title at the Spokane Arena on Saturday and punch a ticket to the state tournament.
The Wildcats entered play ranked No. 2 in state 3A by the WIAA's RPI system. The Braves were No. 3.
Kamiakin, the Mid-Columbia Conference champ, will host the district second-place game on Monday and try to join the Wildcats in the field of 16.
"Two great teams," Mt. Spokane coach David Pratt said. "Both highly-rated, we've done our jobs. To come out and battle that way, awesome."
The game featured at least three Division I players: Mt. Spokane's Aspyn Adams (Loyola Marymount) and Jayda Noble (Washington), and Toure – Kamiakin's all-time leading scorer who is headed to Butler in the fall.
Adams led Mt. Spokane with 13 points while Noble and Nelson added 10 apiece.
Toure led all scorers with 20 points.
The defense on Toure at the end was a team effort.
"We couldn't give Oumou another easy bucket, she's such a phenomenal player," Nelson said. "I came over to help with Jayda and it just happened to go off my hand."
"Today was about defense," Noble said. "I never worried about my points. I did my best to shut (Toure) down."
Adams hit a floater in traffic for a nine-point lead early in the fourth.
Toure went hard to the hoop to cut Kamiakin's deficit to six with 3 minutes left. She added a steal and fastbreak layup to make it 45-40 with 1:25 left.
Noble was called for over-the-back on an offensive rebound and Toure made 1 of 2 from the line for a two-point game with 42.8 seconds left.
Adams made a spin move to get to the line and after a free throw Mt. Spokane led 46-43 with 18.4 seconds left.
Kamiakin's Regan Clark hit both ends of a 1-and-1 with 8 seconds left and the Braves put Adams back on the line. She missed the first and the Braves hustled the ball down the court and got it to Toure inside.
Her shot never reached the rim.
"We told our kids we knew who was going to get it," Pratt said. "We did our job and walled up just fine.
"Emily did a great job, all night long. And played a lot of minutes too."
Adams popped a 3 to give Mt. Spokane an early 10-4 lead and the Wildcats led 14-8 after one. Noble picked up two quick fouls guarding Toure and headed to the bench.
Niveya Henley scored a couple of baskets on the inside and with Toure off with her second foul, Nelson made a pair of free throws and the Wildcats led 25-22 at intermission.
Noble picked up her third early in the third, but Nelson scored on a follow-up to put the Cats up by five.
Toure gathered her third fouling Adams – who made both from the line – and Alyssa Powell's putback at the horn put Mt. Spokane up 35-30 after three.
Local journalism is essential.
Give directly to The Spokesman-Review's Northwest Passages community forums series -- which helps to offset the costs of several reporter and editor positions at the newspaper -- by using the easy options below. Gifts processed in this system are not tax deductible, but are predominately used to help meet the local financial requirements needed to receive national matching-grant funds.
Subscribe to the sports newsletter
Get the day's top sports headlines and breaking news delivered to your inbox by subscribing here.
---