Sports > High school sports
District 8 4A boys: Gonzaga Prep downs Richland again to claim district crown
UPDATED: Sat., Feb. 16, 2019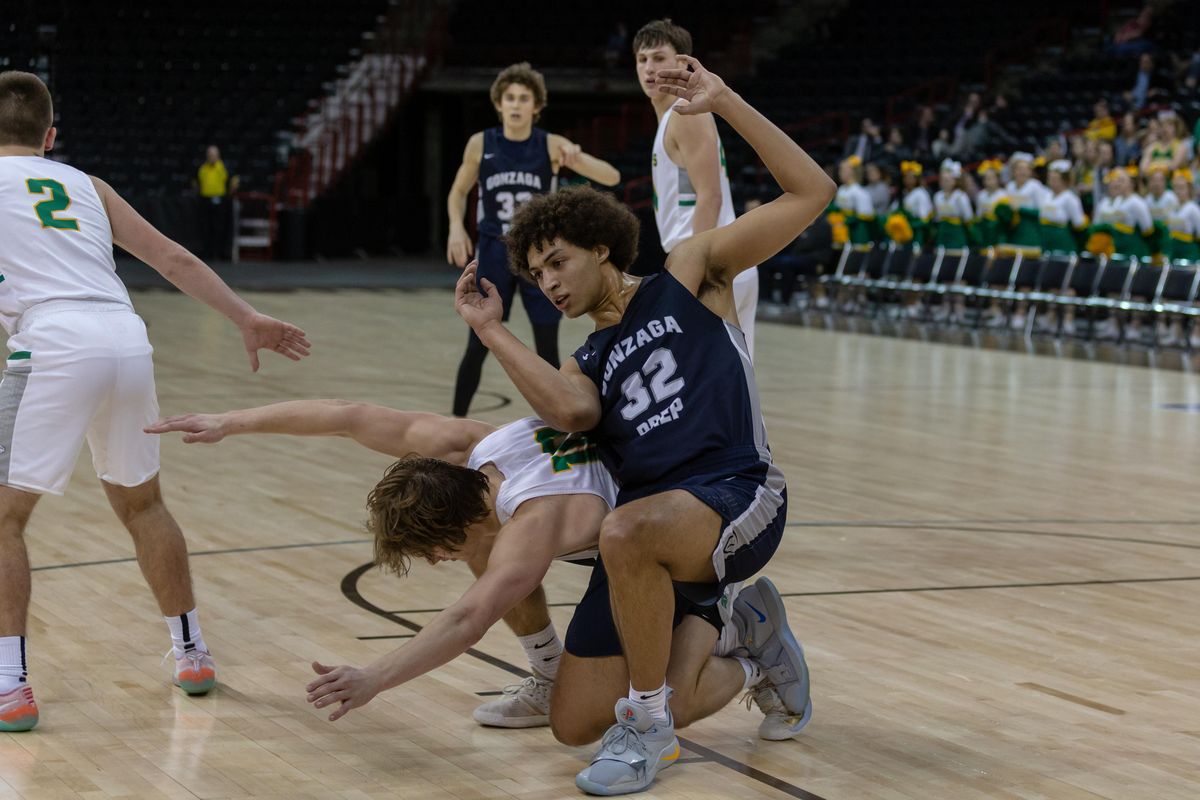 Anton Watson, right, gets tangled up with Cody Sanderson in Gonzaga Prep's 64-47 win over Richland in the District 8 4A boys championship game at the Spokane Arena on Feb. 16, 2019. (Cheryl Nichols / For The Spokesman-Review)
Gonzaga Prep meeting Richland has become a tradition this time of year, always with big stakes on the line.
Last season the two met in the District 8 title game, and then again in the state semifinals – both close games won by Gonzaga Prep en route to an undefeated season and state 4A championship.
This time it wasn't close.
Sheadon Byrd scored 18 points and Gonzaga Prep won its third straight District 8 4A championship, beating Richland each time, 64-47 on Saturday at the Spokane Arena.
Carter Sonneborn had 11 points and Liam Lloyd added 10 for G-Prep.
Gonzaga-bound Anton Watson had just nine points for the Pups, while Richland's leading scorer Colton Northrop was held to 11.
"Anyone that thinks this is a one-man show is badly mistaken," Gonzaga Prep coach Matty McIntyre said. "We've got guys that can score when they're attacking them in the right mindset. When there's slack to be picked up, everyone on the team has full confidence for somebody to shoot the ball."
The Bullpups (21-2) now own a seven-game winning streak against the Bombers (20-3).
Richland's previous low score this season was 50 points in one of its two losses.
"I don't think we've lost to Richland since out freshman year," Byrd said. "It's nice to kind of have that this streak over them."
It's a big win, but Gonzaga Prep has more work to be done.
"We're not done yet," Byrd added. "It's a step to our goal of winning another state championship."
"This group knows there's still a lot of games left to play, a lot of season left to be had," McIntryre added. "This is one goal accomplished but we have more goals ahead of us."
The game started with some strangeness. Gonzaga Prep was called for a technical foul when someone dunked during pregame warmup. Northrop made both, putting Richland up 2-0 before the game even started.
Sonneborn drilled a long 3 to make it 16-13 and G-Prep led by three after one. Watson hit a pair of buckets – one from long-range – and Jacob Parola made a lunging layup before being knocked to the floor to put the Pups up by 12.
Byrd made 1 of 2 of an intentional foul late in the half and G-Prep went to the lockers with a 37-22 advantage.
Local journalism is essential.
Give directly to The Spokesman-Review's Northwest Passages community forums series -- which helps to offset the costs of several reporter and editor positions at the newspaper -- by using the easy options below. Gifts processed in this system are not tax deductible, but are predominately used to help meet the local financial requirements needed to receive national matching-grant funds.
Subscribe to the sports newsletter
Get the day's top sports headlines and breaking news delivered to your inbox by subscribing here.
---