Sports > High school sports
District 8 loser-outs: Central Valley boys, University girls advance to district third-place games
UPDATED: Sun., Feb. 17, 2019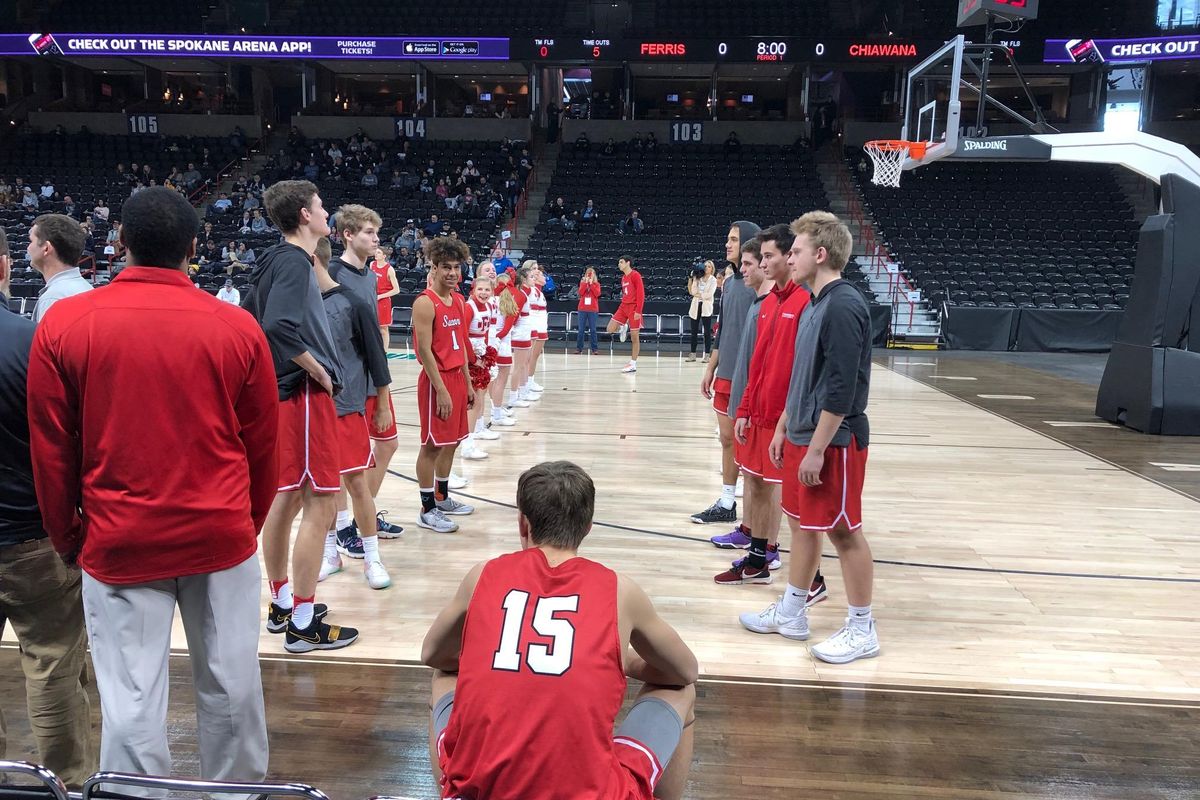 Ferris' Cole Omlin waits to be introduced before the Saxons' District 8 4A loser-out game against Chiawana at the Spokane Arena on Feb. 16, 2019. (Dave Nichols / The Spokesman-Review)
Central Valley 51, University 50: Jayce Simmons and Kyle Clay scored 14 points apiece and the Bears (14-10) edged the Titans (13-11) in a District 8 4A tournament loser-out game at the Spokane Arena.
Central Valley travels to Chiawana on Monday for the district third-place game and a berth to state.
Quinn Johnson made 1 of 2 at the line to put Central Valley up by three with 57.7 seconds left. U-Hi missed a pair at the line and Simmons hit the first of a 1-and-1 to make it a four-point game with 20 seconds left.
Logan Dreher drilled a 3 to bring U-Hi within one and the Titans had last one last possession with 0.7 seconds remaining. After consecutive timeouts Johnson intercepted the inbound pass and the Bears hung on.
Dreher finished with 17 points while Marcus Lenker added 11 points with 14 rebounds for University.
Chiawana 78, Ferris 76: Taylor Perez scored 24 points – including a floater to force overtime and seven in the extra period – and the Riverhawks (16-7) eliminated the Saxons (16-7) in a physical game that saw two players have to leave the game to attend to bloody noses.
Perez hit a 3-pointer to draw the Riverhawks within four with 3:42 left. His running floater down the baseline tied it with 2 seconds left at 65.
Kellen Erickson got a short jumper to go with 30 seconds left to get Ferris within two but Perez answered with a pair at the line. Jake Condon, in the game after two teammates fouled out, drilled a 3 with 18.5 seconds left in overtime to make it a one-point game.
Ferris put Perez at the line and he made a pair for a three-point advantage with 11.4 seconds to go.
Chiawana fouled with 6.5 seconds left to prohibit Ferris from putting up a 3. Erickson missed the front end of the 1-and-1 and the Riverhawks escaped with the win.
Erickson led Ferris with 18 points and Reece VanLierop added 16.
Shadle Park 58, North Central 53: Damarius Brown scored 21 points, Jake Groves added 15 and the Highlanders (12-10) beat the visiting Indians (9-13) in the District 8 3A loser-out on Saturday.
Leon Sayers led North Central with 21 points.
Shadle Park advances to play Hermiston in a loser-out on Monday at Kennewick HS. The winner faces Kennewick in the district second-place game for a trip to regionals.
Girls
University 53, Richland 45: Kinsley Barrington scored 15 points and the Titans (17-7) eliminated the Bombers (12-11) in a 4A loser-out in the first game of the day.
University travels to face Chiawana on Monday for the district third-place game and a berth to state.
The Titans scored the first 14 points of the game and held the Bombers off the rest of the way. Jacksen McCliment-Call added 13 points and Tyler McCliment-Call had 12.
Laura Smith led Richland with 12 points.
Chiawana 54, Walla Walla 36: Clare Eubanks scored 19 points, Alyssa Agundis added 16 and the Riverhawks (18-6) eliminated the Blue Devils (7-17) in a 4A loser-out. Olivia Doepker led Wa-Hi with eight points.
North Central 76, Shadle Park 36: Quincy McDeid scored 24 points and the Indians (14-10) defeated the visiting Highlanders (2-21) in a 3A loser-out game on Saturday.
Kyara Sayers scored 11 points and Perris Plummer added 10 points for North Central. La Nia Thompson led Shadle Park with 15 points.
North Central faces Kennewick in a loser-out on Monday at Kamiakin HS. The winner takes on Kamiakin in the district second-place game for a berth to regionals.
Local journalism is essential.
Give directly to The Spokesman-Review's Northwest Passages community forums series -- which helps to offset the costs of several reporter and editor positions at the newspaper -- by using the easy options below. Gifts processed in this system are not tax deductible, but are predominately used to help meet the local financial requirements needed to receive national matching-grant funds.
Subscribe to the sports newsletter
Get the day's top sports headlines and breaking news delivered to your inbox by subscribing here.
---