Sports > WSU basketball
Late miscues cost Washington State in near upset of first-place Washington
Feb. 16, 2019 Updated Sat., Feb. 16, 2019 at 10:59 p.m.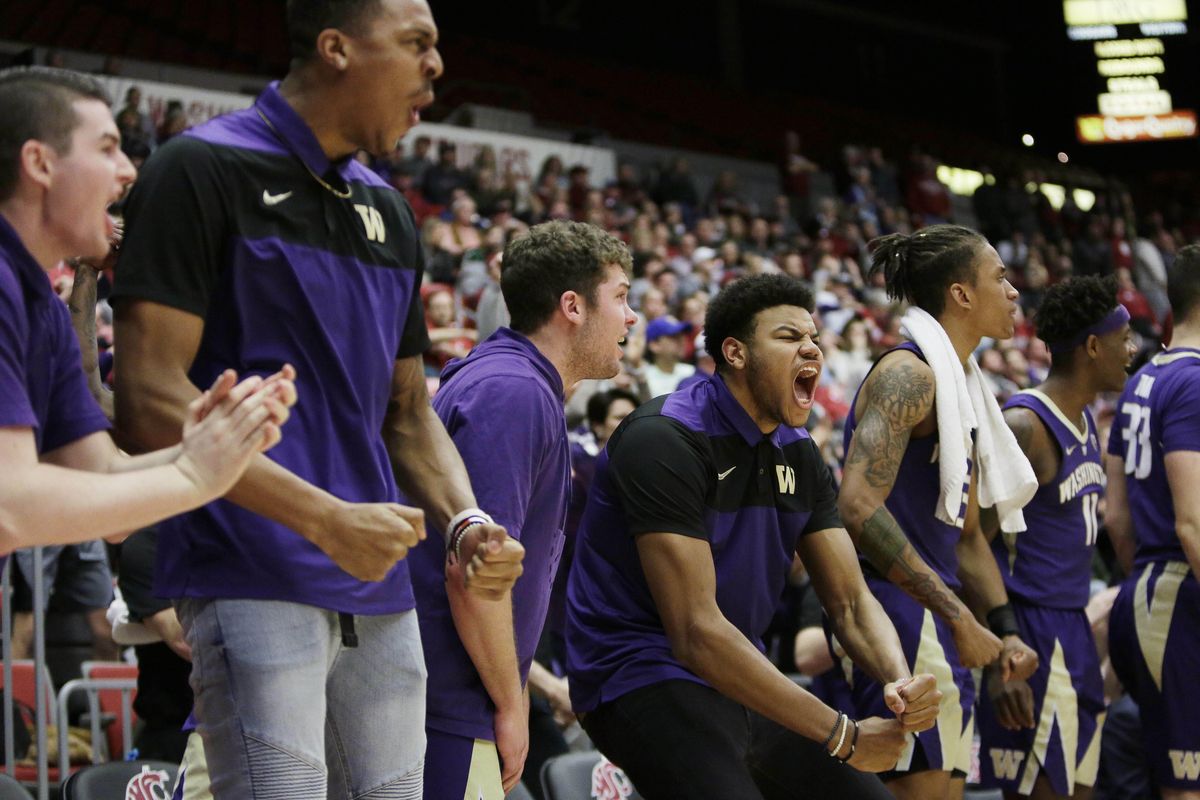 The Washington bench celebrates during the second half Saturday against Washington State in Pullman. (Young Kwak / AP)
PULLMAN – For nearly 30 minutes Saturday night, it looked and felt like the momentum Washington State stumbled on in two major road victories might carry the Cougars to a third win at home.
The defensive tenacity they showed at Arizona State and Arizona appeared to have followed them back to Pullman. They were springing for rebounds and whipping the ball around with purpose.
The Cougars played well enough for long enough against the top team in the Pac-12 to prove last week's road sweep wasn't just a desert mirage.
But old habits die hard. A team that has struggled to take care of the ball at times this season couldn't hold onto it in the decisive minutes against Washington. While the best crowd of the season (4,233) saw WSU lead UW for 29 minutes, the Huskies seized control late and held on for a 72-70 victory at Beasley Coliseum.
"We really hit our stride, obviously, last weekend," WSU coach Ernie Kent said. "This team still has a lot of growth potential left, because Washington is the best team in the league by far. They were really good last week, they're going to be really good next week. Their growth is already there. … We're not there."
First-place UW improved to 20-5 and 11-1 in Pac-12 play; 11th-place WSU dropped to 10-15 and 3-9.
The Cougars committing a heap of turnovers late in the game wasn't too surprising. The culprits were, however.
Seven of WSU's 19 turnovers came in the final 7:15, and six of those were credited to senior Robert Franks and freshman CJ Elleby, who respectively lead the Cougars in scoring and rebounding. For the game, Franks and Elleby committed 10 turnovers – five apiece – and a tandem that's responsible for 37 points per game only combined for 22.
"It hurts right now. It's a great learning experience, but it definitely hurts," said Franks, who was held to 16 points, well under his Pac-12-leading scoring average. "I would say, yeah, the last 5 minutes were the turning point of this game."
UW employs a strict 2-3 zone defense that has stifled Pac-12 opponents all season and is largely the reason the Huskies have rolled through conference play with one loss despite scoring only 72 points per game.
But WSU had no problem cracking that zone in the first half, when the Cougars scored 45 points, on 59 percent shooting, and held a firm nine-point lead.
The Huskies often didn't have enough time to reset on defense after missing shots, and WSU's run-and-gun offense allowed the Cougars to speed up the pace and create open shots.
On an off-night for Franks and Elleby, sophomore Marvin Cannon was often the instigator for WSU's offense and finished with a career-high 25 points and eight rebounds. He also chipped in two steals and a blocked shot.
His efforts were almost enough to get the Cougars over the hump, but two untimely turnovers with less than 90 seconds to play wound up sealing WSU's fate.
Uncharacteristically, they both came from Franks, the reigning Pac-12 Player of the Week whose 65 points against ASU and Arizona were largely the reason the Cougars entered the game on such a roll. WSU trailed 68-67 when the senior forward dribbled the ball into traffic, and off his foot, with 1:24 left.
Franks committed another turnover with 52 seconds to play and the Cougars down two.
"I think they were all self-inflicted," Franks said. "Mine, I think, with 1:30 left was huge. But I think they were just self-inflicted."
Had the Cougars pulled it out, Cannon would've been the hero, and possibly a candidate to follow Franks as Pac-12 POTW.
The Richmond, Virginia, native had 18 of his 25 points by halftime and electrified the crowd with alley-oop dunks – both served up by Jervae Robinson.
Cannon came into the game just 3 of 17 in Pac-12 play from 3-point range, but made 3 of 5.
"It just came from playing hard, doing what I normally do, bringing energy," Cannon said.
"My guys just finding me with spots I could shoot the ball. Just be a playmaker."
"Marv played a heckuva game," Franks said of Cannon. "He's only a sophomore. He's going to be something special. I think Cougar basketball should definitely take notice of him for the future."
The Huskies were led by sophomore guard Jaylen Nowell's 20 points. Big man Noah Dickerson posted an 18-point, 10-rebound double-double.
Local journalism is essential.
Give directly to The Spokesman-Review's Northwest Passages community forums series -- which helps to offset the costs of several reporter and editor positions at the newspaper -- by using the easy options below. Gifts processed in this system are not tax deductible, but are predominately used to help meet the local financial requirements needed to receive national matching-grant funds.
Subscribe to the sports newsletter
Get the day's top sports headlines and breaking news delivered to your inbox by subscribing here.
---