News > Spokane
Safety officer assaulted with handcuff key at River Park Square mall
UPDATED: Wed., Feb. 20, 2019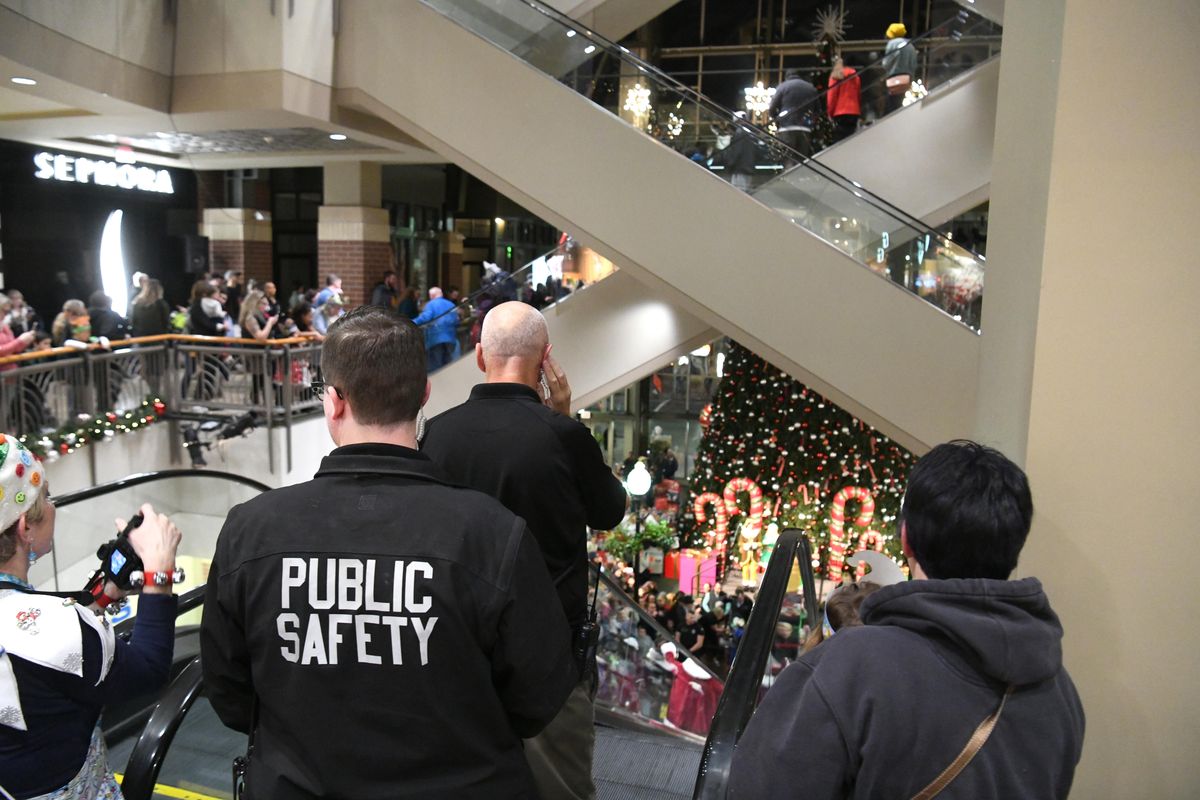 Police arrested a man after he fought a public safety officer at River Park Square on Saturday. In this 2018 photo, members of mall security monitor the progress of Santa Claus as he rides down the escalator to the ground floor. (Jesse Tinsley / The Spokesman-Review)
Police arrested a man after he fought a public safety officer at River Park Square on Saturday and allegedly used a handcuff key to assault the guard.
The suspect, Justin M. Baldwin, 26, entered a roped-off area in the mall that was closed to the public at about 9:30 a.m., before the mall opened, according to Spokane Police Department officials.
Baldwin allegedly hit the safety officer and got a hold of the officer's handcuffs key and "tried to jab him in the chest," police spokeswoman Cpl. Teresa Fuller said, but the officer was wearing a bulletproof vest so the jab had no effect. Baldwin then allegedly jabbed the officer in the thigh, but didn't break the skin, she said.
The two were still fighting when police showed up, Fuller said, and they were both taken to the hospital and released.
Baldwin had a bag containing a semiautomatic handgun and two full magazines, one of which was in the gun, police spokesman Ofc. Ben Maplethorpe said. There is no indication of what his intentions with the gun were, Maplethorpe said.
Baldwin does not have a concealed carry permit and did not say whether he owns the gun or how he came to possess it, Maplethorpe said. The gun did not turn up on a list of guns reported as stolen, he said.
Signs at the mall say the area is a gun-free zone.
Baldwin also was carrying a bottle of unopened prosecco, a sparkling Italian white wine.
Baldwin was booked into Spokane County jail and is facing charges for assault, trespassing, possession of a controlled substance and illegally carrying a firearm, according to court records.
Local journalism is essential.
Give directly to The Spokesman-Review's Northwest Passages community forums series -- which helps to offset the costs of several reporter and editor positions at the newspaper -- by using the easy options below. Gifts processed in this system are not tax deductible, but are predominately used to help meet the local financial requirements needed to receive national matching-grant funds.
Subscribe now to get breaking news alerts in your email inbox
Get breaking news delivered to your inbox as it happens.
---