Sports > High school sports
State wrestling: Colville's Trent Baun joins elite four-time champion group at Mat Classic XXXI
UPDATED: Wed., Feb. 20, 2019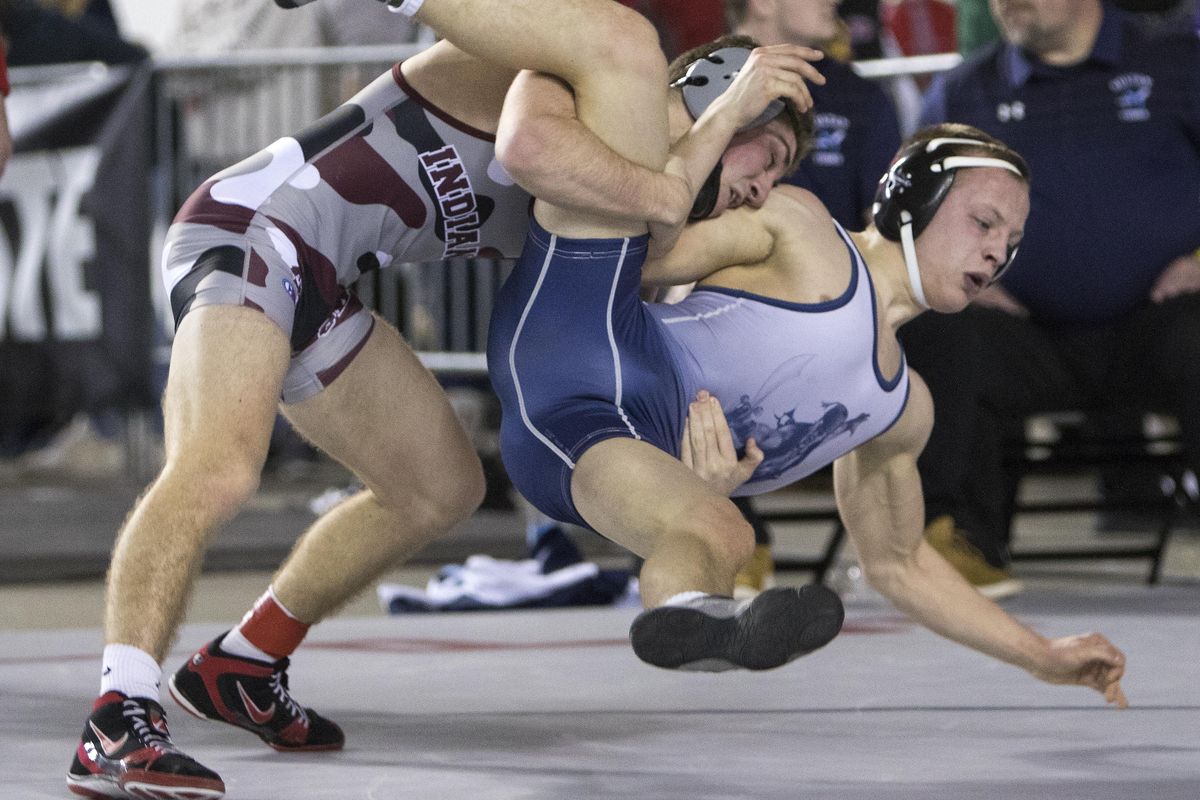 Colville's Trent Baun, left, takes down Sultan's Aidan Fleming during their 1A 132-pound match at Mat Classic XXXI on Saturday in Tacoma. Baun won the match 3-1 to become a four-time state champion. (Patrick Hagerty / For The Spokesman-Review)
TACOMA – Trent Baun didn't let himself think about it all that often. Only 15 boys in the history of Washington had won four wrestling state championships in four years.
His back was sore all season. He started late and had to take a two-week break in the middle.
"There were a few times when it was debatable if it would be long term or not," Baun said of the injury.
In the end, though, the Colville senior added the coveted word "four-timer" to his name with a 3-1 victory over Sultan's second-ranked Aidan Fleming to claim the 1A championship at 132 pounds at Mat Classic XXXI on Saturday night in the Tacoma Dome.
"It's pretty awesome. I didn't try to make it a big deal, but now that it's done I can look back and be happy," said Baun, who will follow his brother T.J., a two-time state champion, to the University of Providence in Montana to wrestle.
Colville coach Randy Cloke, who guided his team to its first state championship after a span of four runner-up years, had a fun Saturday.
"Trent wins his fourth title. We're going to win the team championship. It's pretty amazing," Cloke said.
"Even more important than having a four-time state champion is that we have such a quality young man, a young man who has aspirations to go on to medical school."
Each of Baun's wins on Saturday could be described as workmanlike.
Baun began with a 3-1 victory over Zillah junior Emmanuel Troncoso. After a scoreless first period, Baun chose the down position to start the second and immediately escaped. A takedown late in the second extended his lead to 3-0 and Troncoso could only manage a quick escape to start the third.
In the semifinals, Baun scored earlier, taking down Klahowya senior Hayden Steele after 10 seconds, then maintaining control throughout for a 6-2 victory.
"I'm definitely wrestling differently because of my back," Baun said. "Usually, I'm just go, go, go. But now I try to get a lead and stay in control."
Junior Rueben Seeman immediately followed Baun's triumph with another individual title for the Indians, beating Lakeside (Nine Mile Falls) four-time placer Andrew Smith for the 138-pound crown.
Trevor Morrison added another at 160, shutting out Dustin Dodge of Goldendale 6-0. Defending champion John Knight made the finals at 182.
"We have some tradition at Colville. Everyone's bought into it," Cloke said. "When I got the job, I went to the principal's house for dinner and we talked about how to turn this back into a wrestling community. We've done it."
Lakeside sophomore Jeff Friedman didn't repeat his championship from last season, finishing third after running into Granger phenom Abel Nava in the 1A 120-pound quarterfinals.
Nava, a freshman who went into the match ranked first – with Friedman second – took the lead with a first-period takedown and never trailed on his way to a 7-4 victory.
Friedman had his moments. After Nava started the second round in the down position and quickly escaped, Friedman took him down, cutting the margin to 3-2. With 1:16 to go in the third, he momentarily had Nava on his back, but the Spartans star scored a reversal and was never in danger again.
Friedman beat Medical Lake's Weston Thomas 15-6 in the third-place match.
In the girls classification, Central Valley's top-ranked 235-pounder, Jasmine Fryer, finished fifth after losing a narrow semifinal match to Chanel Siva of Stanwood 5-3, and being injured in a consolation match against Lilliana Luna of Toppenish.
Deer Park's Avery Ackerman at 190 and Liberty's Maizy Feltwell at 115 also got to the semifinals.
Local journalism is essential.
Give directly to The Spokesman-Review's Northwest Passages community forums series -- which helps to offset the costs of several reporter and editor positions at the newspaper -- by using the easy options below. Gifts processed in this system are not tax deductible, but are predominately used to help meet the local financial requirements needed to receive national matching-grant funds.
Subscribe to the sports newsletter
Get the day's top sports headlines and breaking news delivered to your inbox by subscribing here.
---