Sports > Gonzaga basketball
TV Take: Bill Walton's love of Gonzaga on display again in hard-fought victory over San Diego
Feb. 16, 2019 Updated Sat., Feb. 16, 2019 at 10:37 p.m. Before most college basketball games, the folks doing the broadcast put together a series of notes to use in case of a blowout. The time has to be filled, after all, and if the game is out of hand, talking about the action is just an afterthought.
Welcome to every game in Bill Walton's World, where the action is secondary to whatever shiny object catches his eye.
Gonzaga fans dealt with the Walton experience – and Walton's hard-pressed play-by-play companion, Dave Pasch – again Saturday night, as the Zags earned a 79-67 West Coast Conference victory at the University of San Diego.
What they saw …
• "Have you ever …" "Fantastic." "Great." "What's with the negativity?" "We're the luckiest people ever." "This guy is a great …" "Wow."
If there is a core principle for Walton, it revolves around positivity, as his favorite phrases illustrate.
But it would seem more positive, for the viewers at least, if Walton and Pasch had concentrated more on what was happening on the court than in Walton's tepee. After all, with third-ranked Gonzaga (now 25-2 overall, 12-0 in WCC play) sporting a 15-game winning streak – the best active streak in the nation, as ESPN continually reminded us – the Zags were only tied at halftime at 30 with the Toreros (16-11, 5-7).
Pasch tried to emphasize the Zags' 69 percent shooting in the second half. And Josh Perkins' 15-point, nine-assist game. And Brandon Clarke's foul trouble. And Rui Hachimura's 22 points and 10 rebounds.
But Walton returned time after time to his experiences with Mark Few or Tommy Lloyd, or other folks only peripherally connected to the game, quite possibly by wireless cell service, if Walton is to be believed.
• Yes, Walton is enamored with just about everyone who has played college basketball, but he seems especially smitten with Hachimura and Clarke.
Big recognizes big, of course.
"Rui is just so strong," was just one of Walton's love letters to the Zags' big. "Rui can be to Japan what Yao Ming is to China," he continued. Pasch caught it, and asked Walton if Hachimura can really be that impactful. "This guy, Rui, he's got that talent. Now he's on the right team right now."
That began a discussion on Hachimura's professional potential.
• At first, Walton was also enamored with the refereeing crew. That's when the flow of the game was to his liking.
But that changed. And the trio, which included Spokane's Nate Harris (along with veteran Kevin Brill and Jeff Wooten) came in for some criticism.
A charging call, made by Harris, was the most visible of the first-half critiques, though to be fair, the issue was more the rule, as it was enforced, than the call itself.
"Don't encourage the refs to call more fouls," Walton said midway through the second half after a touch call on Clarke, his third. "The game has hit a lull with all these fouls. … That's not good for the fans."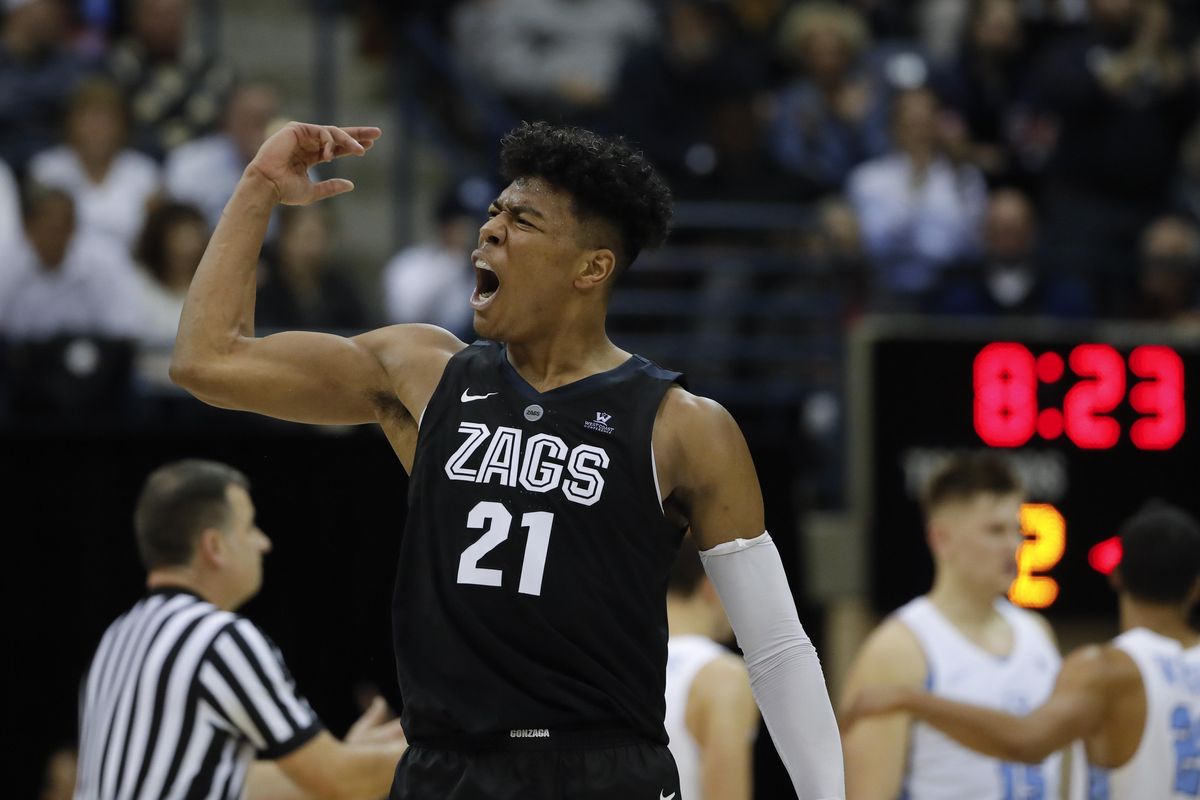 Gonzaga forward Rui Hachimura reacts during the second half of an NCAA college basketball game against San Diego, Saturday, Feb. 16, 2019, in San Diego. (Gregory Bull / AP)
What we saw …
• You knew you weren't seeing the tip, at least on ESPN at the appointed time, when the game before – Kentucky's 86-69 upset of No. 1 Tennessee – still had 6 minutes to play 5 minutes before the hour.
A yellow box in the lower right corner told you the game was also available on the ESPN App, but that's a tough ask sitting in front of a television set on a Saturday night. Then, at 7:04 p.m., came the news the game would start on ESPN News.
So no one would miss a minute of Walton's loving odes to his hometown, San Diego.
The game finally got back to ESPN at 7:23 p.m. It gave Pasch and Walton a chance to repeat their pregame comments.
• Walton is not a favorite of most Zag fans, or at least the ones who comment on this column. But he said something early in the game that just about every Gonzaga aficionado can get behind.
Pasch brought up the championship game from a couple of seasons ago, mentioned Zach Collins, and Walton almost lost it.
"One of the worst officiated games ever," Walton said. "Zach Collins. The world owes him an apology."
A little later, when Corey Kispert scored on a fast-break layup and was fouled, Walton took him to task for flexing and pointing to his muscle.
"This guy, Corey Kispert, is indispensable," Walton said. "I'm not sure he needed to start posing, with the big gun show. … He doesn't need to do that, please. This is Gonzaga."
Local journalism is essential.
Give directly to The Spokesman-Review's Northwest Passages community forums series -- which helps to offset the costs of several reporter and editor positions at the newspaper -- by using the easy options below. Gifts processed in this system are not tax deductible, but are predominately used to help meet the local financial requirements needed to receive national matching-grant funds.
Follow along with the Zags
Subscribe to our Gonzaga Basketball newsletter to stay up with the latest news.
---