News > Idaho
New trial scheduled for Idaho man accused in baby's death
UPDATED: Wed., Feb. 20, 2019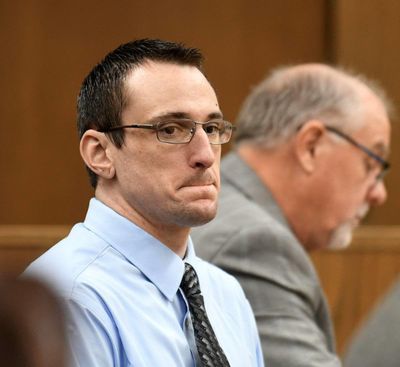 LEWISTON – A second trial date for a 28-year-old Orofino man charged in connection with the death of his 1-month-old daughter has been set for June 10.
Second District Judge Gregory FitzMaurice also heard a request last week for a change of venue, but has taken the matter under advisement with no decision yet.
Daniel R. Alldrin was charged with first-degree murder in connection with the May 2016 death of his 28-day-old daughter, Casandra Lynn Alldrin. A jury trial was scheduled for May 2018 in Clearwater County, but was vacated after a jury could not be seated.
In November an eight-day trial commenced in Nez Perce County, but after deliberating for more than nine hours the jury of 11 men and one woman was unable to come to agreement on the verdict, and a mistrial was declared. The presiding juror at the trial said 10 jurors voted guilty and two voted to acquit.
Since then Alldrin has been in the custody of the Clearwater County Sheriff's Office awaiting a decision on a new trial.
According to court records, Casandra Lynn Alldrin died from multiple organ failure resulting from blunt force trauma involving internal injuries and extensive bruising on her body.
The baby and her 2-year-old brother had been dropped off at Alldrin's house May 11 by their mother, Serenity Grandstaff. When Grandstaff returned, Casandra "was blue in color and unresponsive," according to court records.
Alldrin claimed that he had gone into the kitchen for a moment and when he came back he saw a 3-foot-tall speaker lying next to the baby. Alldrin said he thought the speaker fell on the child.
The child was taken to a Spokane hospital where she later died. Alldrin was arrested Oct. 16, 2016, by the Clearwater County Sheriff's Office following a monthslong investigation.
Alldrin is being represented by James E. Siebe of Moscow. Clearwater County Deputy Prosecutor Lori M. Gilmore is representing the state.
Local journalism is essential.
Give directly to The Spokesman-Review's Northwest Passages community forums series -- which helps to offset the costs of several reporter and editor positions at the newspaper -- by using the easy options below. Gifts processed in this system are not tax deductible, but are predominately used to help meet the local financial requirements needed to receive national matching-grant funds.
Subscribe to the Coronavirus newsletter
Get the day's latest Coronavirus news delivered to your inbox by subscribing to our newsletter.
---