Sports > High school sports
Top area seeds stay close to home for regional round of state
UPDATED: Wed., Feb. 20, 2019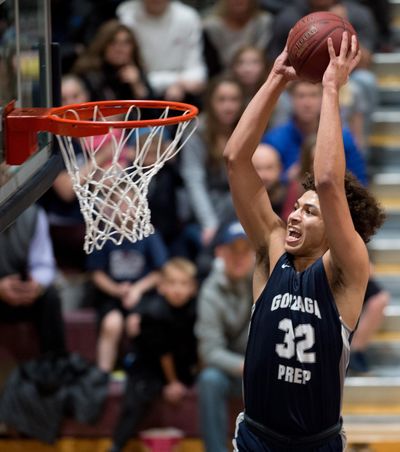 The Washington Interscholastic Athletic Association (WIAA) announced the matchups for the regional round of the state boys and girls basketball tournaments on Tuesday.
Of the 26 area schools to qualify for the state tournaments, 16 will play this weekend locally at either University, West Valley or Cheney – the Eastern Washington host sites.
Eighteen of the 26 area schools (eight boys, 10 girls) received "protected" seeds – the top eight seeds in each bracket are protected from elimination in the regional round. Games involving seed Nos. 9-16 at regionals are loser-out games.
Winners of regional games between protected seeds – four teams in each classification – advance to the second round at the championship sites, while the losers of those games face the winners from regionals involving seed Nos. 9-16 in the first round at the state venues.
As with years past, the 4A/3A championships will take place at the Tacoma Dome, the 2A/1A tourneys are at the Yakima SunDome and the B tournaments will be held at the Spokane Arena, Feb. 27-March 2.
Defending boys 4A champion Gonzaga Prep, which won its third straight District 8 title with a win over Richland on Saturday, enters the regional round with the No. 2 seed and will face No. 7 seed Curtis on Saturday at 6 p.m. at University HS.
On the girls 4A side, No. 3 seed Lewis and Clark – which ended Central Valley's string of four straight district titles over the weekend – will play No. 6 Bellarmine Prep on Saturday at 4 p.m. at U-Hi. No. 4 CV takes on No. 5 Glacier Peak at U-Hi at 2 p.m. Saturday.
In 3A, both Mt. Spokane teams received No. 2 seeds and will play Friday night at U-Hi. The boys face No. 7 Prairie at 6 p.m. and the girls take on No. 7 Bethel at 8.
Shadle Park's boys, who won two games on Monday in a 3A loser-out and second-place game, received the No. 15 seed and will travel to Garfield HS to face No. 10 seed Ingraham on Saturday at 2 p.m.
Local journalism is essential.
Give directly to The Spokesman-Review's Northwest Passages community forums series -- which helps to offset the costs of several reporter and editor positions at the newspaper -- by using the easy options below. Gifts processed in this system are not tax deductible, but are predominately used to help meet the local financial requirements needed to receive national matching-grant funds.
Subscribe to the sports newsletter
Get the day's top sports headlines and breaking news delivered to your inbox by subscribing here.
---