News > Spokane
With help from federal grant, group urges parents to opt-out of Spokane Public Schools sex ed curriculum in favor of abstinence-based concept
Feb. 20, 2019 Updated Wed., Feb. 20, 2019 at 12:24 p.m. Even in the chill of winter, the subject of sex education will stoke a few fires.
On Tuesday afternoon, Cary Snow broke bread and gave thanks – mostly that his daughter is now a sophomore at Lewis and Clark High School.
A year younger and she might be taking a new curriculum that Snow considers "extremely anti-biblical."
"I don't believe it's healthy for my children and our belief system," said Snow, who gathered with a dozen like-minded folks for lunch and an informational meeting at the north Spokane office of Teen-Aid.
"We've heard from a ton of parents who didn't like the curriculum," said LeAnna Benn, the group's founder and director, who publicized the event with a full-page advertisement in Sunday's Spokesman-Review.
Through pamphlets and PowerPoint, Benn told the attendees about "The Alternative," a free digital course that encourages parents to take the lead in teaching sex education.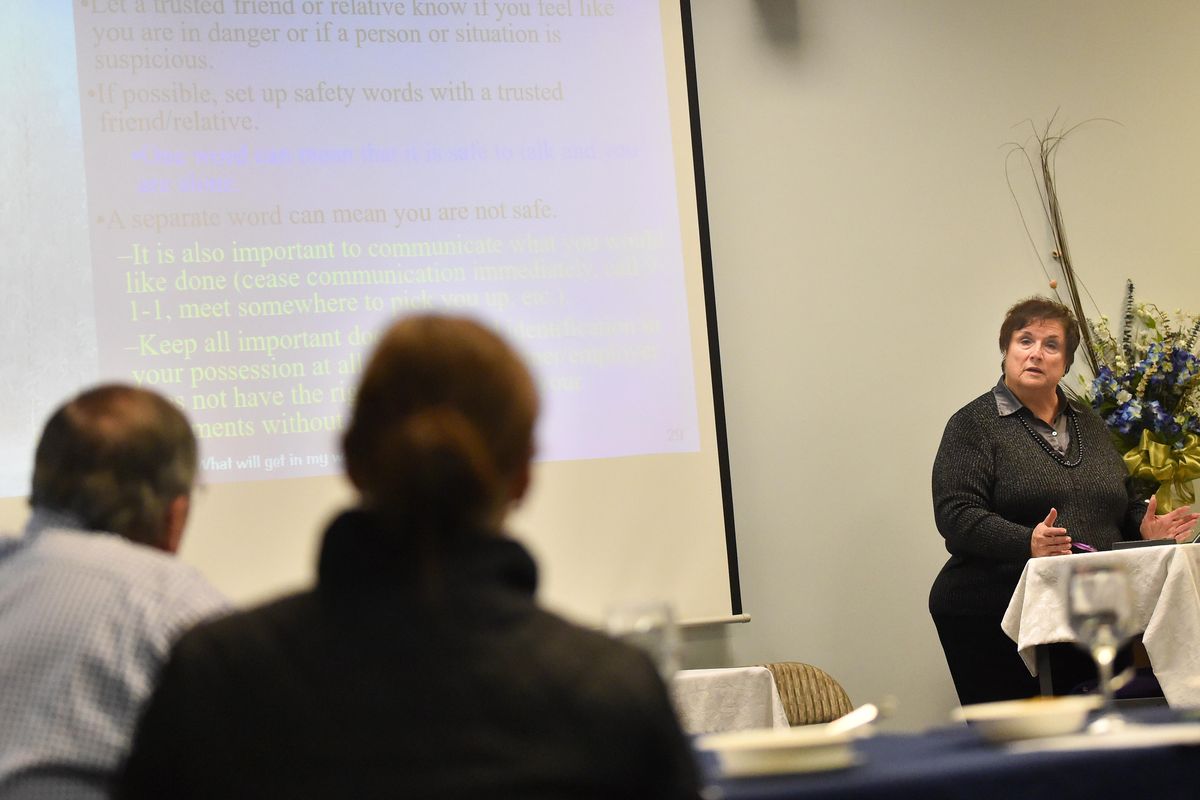 LeAnna Benn, director of Teen-Aid, speaks to parents and community members during a meeting promoting her organization's new digital program, an abstinence- and risk-avoidance-based curriculum, on Tuesday. (Tyler Tjomsland / The Spokesman-Review)
The curriculum, which can be substituted for the district's lessons, stresses risk-avoidance, abstinence and greater parental involvement in their children's sex education.
However, abstinence is no more effective in preventing teenage pregnancy than the evidence-based curriculum now being taught in Spokane Public Schools, local health officials contend.
"What the data shows is that abstinence-based curriculum does not have the outcomes that (advocates) thought they would have," said Kirsten Duncan, health program specialist for the Spokane Regional Health District.
After a contentious 18-month process, Spokane Public Schools last fall adopted new guidelines for teaching Human Growth and Development to ninth-graders, and that material was implemented at the start of the second semester in January.
Based partly on the 3Rs (rights, respect and responsibility) lessons published last year by Advocates for Youth, the proposed curriculum "is a consistent, cohesive package that will meet every state standard," Heather Bybee, the district's director of secondary curriculum, said recently.
Added Bybee: "Plus it had some things that Spokane said we wanted."
But even as the school board gave final approval on Nov. 28, some parents objected to the treatment of gender identity and other issues.
Those objections were revisited on Tuesday.
"I don't like the message on gender fluidity and homosexuality," said Snow, who praised the Teen-Aid curriculum for "supporting parents' rights, when you contrast that to what the public school system is offering."
Debbie Gerber, whose daughter is an eighth-grader in Cheney, said she's encouraged by The Advantage program's emphasis on the parent-teen connection.
"I want her to hear about things that are sacred and special from her parents and not from a classroom of teenagers who are going to poke fun," Gerber said.
Spokane resident Dianne Ross, who has four grandchildren in the eighth grade, said she's seen portions of the curriculum and likens them to pornography.
However, she liked what she saw in the program presented by Benn.
It contains 26 lessons, covering friendship, dating, reproductive anatomy, drugs, consequences of sexual activity, teen pregnancy, adoption, abortion and other topics.
It also offers a bonus: $20 for all students who complete the course.
The curriculum stresses risk-avoidance, especially for teenage girls. "Acquaintance rape isn't usually happening in a high school setting," Benn said. "It's men in their 20s and 30s engaging with girls in high school."
The course also devotes more attention to abstinence, said Benn, who said she believes the subject is given too little attention in the Spokane Public Schools curriculum.
The curriculum is funded through a $332,400 federal Title V grant, part of a trend under the Trump administration toward greater funding for abstinence-only programs.
In February 2018, the Title V abstinence-only program (which expired briefly in September 2017) was renewed for two more years at $75 million annually under the new name of "sexual risk avoidance education."
Meanwhile, Bybee said Tuesday that the opt-out rate for the new curriculum is "only slightly higher, if at all," than for the old ninth-grade lessons.
For that, she credits the numerous parental previews and notifications leading up to the curriculum's delivery to teachers last month.
"Since that moment I've had not one phone call," Bybee said. "The health teachers also said that the conversations were among the best they've ever had."
However, some parents would like those conversations to remain in the family.
"This should be coming from the parent anyway," Gerber said.
Teen-Aid will hold another informational meeting at 6:30 p.m. on Feb. 26 at its offices, located at 723 E. Jackson Ave.
Local journalism is essential.
Give directly to The Spokesman-Review's Northwest Passages community forums series -- which helps to offset the costs of several reporter and editor positions at the newspaper -- by using the easy options below. Gifts processed in this system are not tax deductible, but are predominately used to help meet the local financial requirements needed to receive national matching-grant funds.
Subscribe now to get breaking news alerts in your email inbox
Get breaking news delivered to your inbox as it happens.
---