News > Family
With a 'rawr,' Isaac's Bookshelf rolls out for Spokane pediatric patients
Wed., Feb. 20, 2019 Whenever a family member read to him, Isaac Brincken lit up. His eyes followed each colorful page, and he relaxed back to watch the show.
His favorites were "Rex Wrecks It!" and "Pete the Cat and His Four Groovy Buttons." They were highlights of snuggle time as he spent 147 of his 157 days in the Pediatric Intensive Care Unit at Sacred Heart Children's Hospital.
In October, Isaac died at 5 months from complications of hypoplastic left heart syndrome as well as CHARGE syndrome, a complex genetic condition that presents with an array of medical and physical difficulties. In memory of their son, Cody and Laura Brincken recently launched Isaac's Bookshelf, a wheeled mobile bookshelf to hold youth literature for Sacred Heart's PICU patients.
"We know that Isaac loved reading because he would just always get really excited when we pulled out books," said Laura Brincken, who teaches Spanish at Lewis and Clark High School. "He was really into looking at the pictures, looking back and forth, between the pages, and he'd definitely follow along with the stories.
"For being as young as he was, his attention span seemed like it would go on forever with books."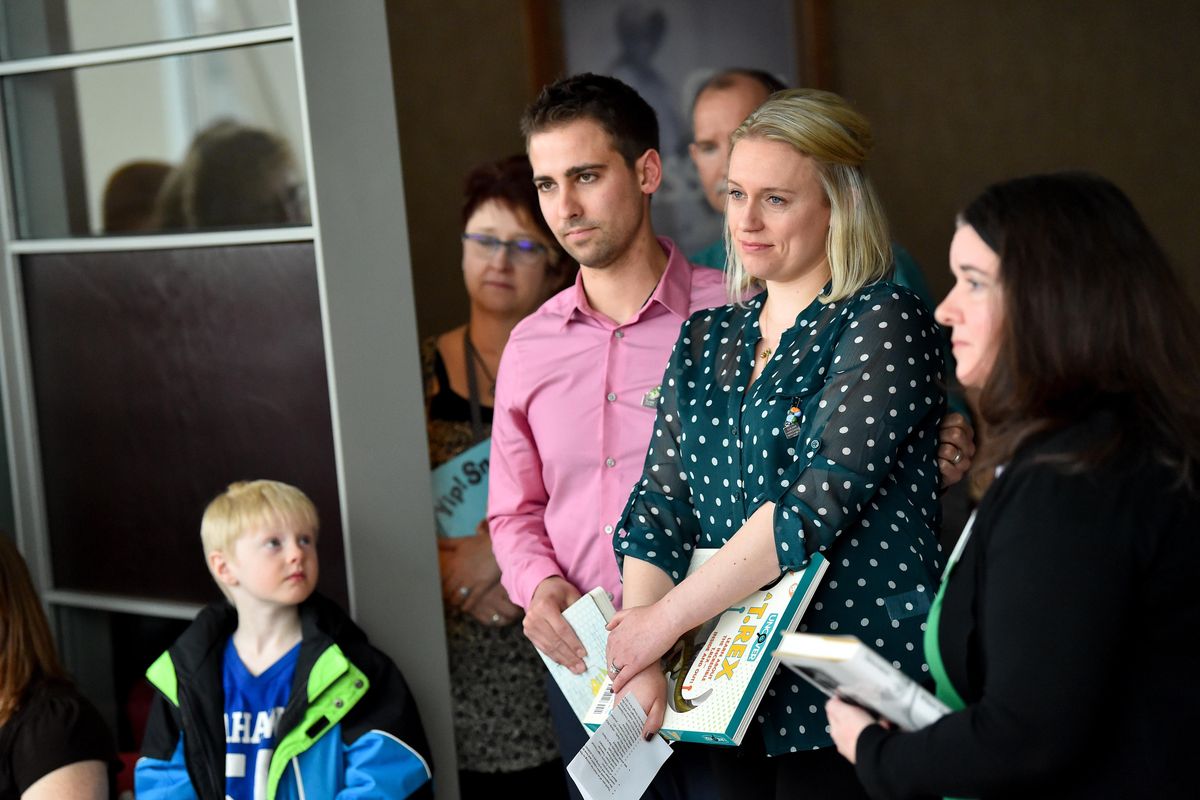 Laura Brincken and her husband Cody, parents of Isaac Brincken, who at 5-months-old died from complications of a heart condition and CHARGE syndrome, listen as "Isaac's Bookshelf" is dedicated in his honor on Monday at Sacred Heart Children's Hospital in Spokane. Isaac's Bookshelf was created in his memory to share the joy of reading with children who are in the hospital undergoing treatment for complex medical conditions. The bookshelf rolls around the unit visiting patients. (Tyler Tjomsland / The Spokesman-Review)
Although Isaac's Bookshelf rolled out to patients about two weeks ago, a dedication ceremony was held in his honor on Monday before family, friends and hospital caregivers. The Brinckens and others named favorite books and spoke about the hope that the bookshelf will share the joy and escape of reading for hospitalized children undergoing treatment for complex medical conditions.
Cody Brincken, a student-teacher in fifth grade while completing a master's degree, read aloud "Rex Wrecks It!" during the dedication event. Kids in the audience laughed as he mimicked Rex's "rawr."
"Reading with Isaac, even when he was having a bad day, he just brightened up and calmed down when we read to him," Cody Brincken said after the ceremony. "Kids are just sitting in the hospital for hours and hours, so we hope the books let other kids have the same joy as Isaac."
Laura Brinken's father and Isaac's grandfather, Steve Woodard, used his wood-working skills to build the 4-foot-tall bookshelf with shelves on two sides.
"It was just a joy to build it in Isaac's memory, and hopefully it will pass along some trouble-free moments for kids and families," said Woodard, a Spokane Valley dentist.
The family asked local artist Linda Bolster to paint images on the bookshelf from beloved children's books, some including Isaac's favorites and "Charlotte's Web," "The Chronicles of Narnia" and "The Cat in the Hat."
Tucked on one side under the bookshelf's roof is a painted spider's web like the ones seen in "Charlotte's Web," but with the word "strong" weaved in, to recognize the strength shown by pediatric patients and their families while in the PICU.
A plaque on the bookshelf has a photo of Isaac and words describing him and the project.
Because patients will be encouraged to keep books they select, the bookshelf regularly will be restocked with donations of new children's books, Laura Brincken said. The couple is setting up Isaac's Bookshelf as a nonprofit.
Brincken said she got the idea a week or two after Isaac's death while driving by her neighborhood Little Free Library.
"At our old house and our current house, my husband and I have a little library, the ones that people have out in their yard to put books in and exchange them," Brincken said. "I was driving down the road a week or two after Isaac passed, and I had the idea of wouldn't that be cool if we could put a little library in the PICU in memory of Isaac?"
The couple worked with PICU managers on what could work best. All books need to be newly purchased to prevent spread of contamination.
"It will be hopefully exciting for the kids," she said. "Some of them, if they're working on mobility after surgery, they can use the bookshelf as sort of a fun destination. For other patients, if they can't get out of bed, the bookshelf can be rolled out to in front of their room and they can pick out a book."
So far, they've collected more than 1,800 new books, with extras stored at Woodard's dental office in Spokane Valley. Several boxes of books were from local residents giving to Isaac's Bookshelf in a Barnes & Noble donation program over the holidays. Laura Brincken said Auntie's Bookstore also supports the project as an ongoing donation site.
Most of the donated books so far are board books and young children's picture books, but others are juvenile fiction for older kids.
"We could use more of those," she said. "They do have a fair amount of patients who are older and could use those. We're always accepting newly purchased books for any age range, and we'll supplement as needed."
Isaac is the couple's first child. Once the nonprofit gets established, Laura Brincken said they hope to have an Isaac's Bookshelf at Shriners Hospitals and Seattle Children's, among similar facilities caring for pediatric patients.
"We really wanted this to be a way for Isaac to be remembered, but also a way of giving back to the PICU because the doctors and nurses there were so amazing," she said. "They really were our extended family for five months, and with some of them, we've maintained friendships.
"We know what it's like to be those families literally living there for months on end and how excited we would have been to have something like this where we could pick out new books for Isaac. We felt strongly we wanted to do this, and we've had an amazing response."
Local journalism is essential.
Give directly to The Spokesman-Review's Northwest Passages community forums series -- which helps to offset the costs of several reporter and editor positions at the newspaper -- by using the easy options below. Gifts processed in this system are not tax deductible, but are predominately used to help meet the local financial requirements needed to receive national matching-grant funds.
Subscribe now to get breaking news alerts in your email inbox
Get breaking news delivered to your inbox as it happens.
---