A&E > Music
Peter Tork of the Monkees is dead at 77
UPDATED: Thu., Feb. 21, 2019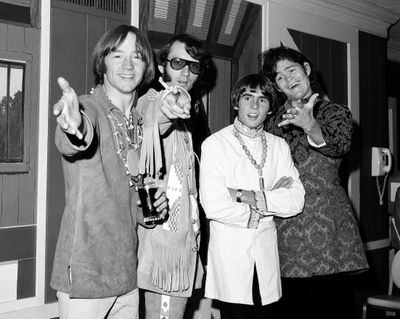 The Monkees bassist Peter Tork is dead at 77.
Tork was the eldest member of the pop music act, which was the focus of a TV sitcom that debuted on NBC in 1966 and won an Emmy for outstanding comedy. The musician's sister first announced her brother's passing, but did not announce a cause of death.
A Faceboook page updated by Tork's management confirmed the sad news a short time later.
"It is with beyond-heavy and broken hearts that we share the devastating news that our friend, mentor, teacher, and amazing soul, Peter Tork, has passed from this world," appeared a posting on The REAL Peter Tork (Official) page.
Fans used Tork's Facebook page to keep-up with the musician's work, including performances by his band Shoe Suede Blues.
"We want to thank each and every one of you for your love, dedication and support of our 'boss,'" it reads.That page will remain open to fans wishing to share their appreciation.
Along with Davy Jones, Michael Nesmith and Micky Dolenz, Tork starred on "The Monkees" sitcom for two years before it went off the air. Though the band stayed together until 1971 as a recording group, Tork negotiated an end to his contract in 1968 and went solo, playing with artists including George Harrison. The Monkees reunited several times in the following years for concerts and events.
The band played the old Spokane Coliseum in 1967. A recording of that show was among those featured in the collection "Summer 1967: The Complete U.S. Concert Recordings," released in 2005.
Nesmith, 76, and Dolenz, 73, continue to perform as The Monkees and are slated to play in Red Bank, N.J., March 5. Jones died from a heart attack in 2012.
In a post on Twitter, Dolenz lamented the death of his friend: "There are no words right now…heart broken over the loss of my Monkee brother, Peter Tork."
Nesmith said in a statement, "I am told he slipped away peacefully…. Yet, as I write this my tears are awash, and my heart is broken. Even though I am clinging to the idea that we all continue, the pain that attends these passings has no cure."
He added, "I can only pray his songs reach the heights that can lift us and that our childhood lives forever — that special sparkle that was the Monkees."
Despite The Monkees' popularity, Tork told People magazine in 1976 that his rock star money was gone and by the time he was arrested for drug possession in 1972 and spent four months in prison. After being released, Tork – the son of a Connecticut college professor – himself became a teacher in Santa Monica, Calif.
Beach Boys founder Brian Wilson called Tork's music "great" and expressed his condolences on social media.
Tork had surgery for tongue cancer in 2009, from which he reportedly recovered.
Local journalism is essential.
Give directly to The Spokesman-Review's Northwest Passages community forums series -- which helps to offset the costs of several reporter and editor positions at the newspaper -- by using the easy options below. Gifts processed in this system are not tax deductible, but are predominately used to help meet the local financial requirements needed to receive national matching-grant funds.
Subscribe to the Spokane7 email newsletter
Get the day's top entertainment headlines delivered to your inbox every morning.
---