News > Spokane
Spokane Park Board approves Bacon Concrete bid for Southeast Sports Complex upgrades
UPDATED: Fri., Feb. 22, 2019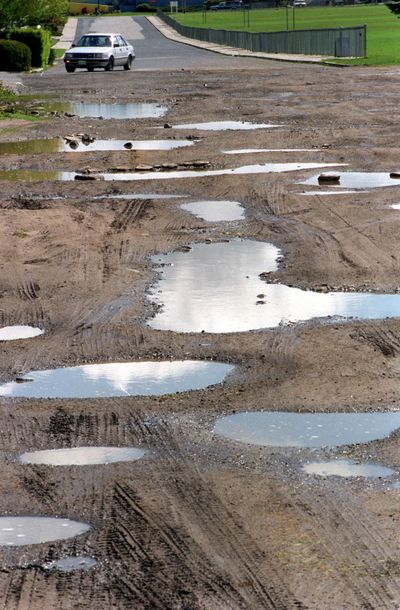 The Spokane Park Board awarded bids last week for a $1.1 million upgrade of the Southeast Sports Complex at Altamont Street and 46th Avenue on the South Hill, its biggest upgrade to a city park property in years, aside from the renovations underway at Riverfront Park.
The groundbreaking should take place this spring, said landscape architect Nick Hamad, hopefully in March. The Bacon Concrete Inc. was awarded the construction project.
"It's a little snowy right now," he said. "Let's hope for a sunny and warm spring."
Work has been underway to convert three softball fields into multipurpose sports fields. The backstops were removed and an old restroom was taken out. New sod and irrigation will be put in this spring, Hamad said.
"When soccer starts, it should all be ready to go," he said.
The northwest corner of the site will become the home of a new playground. The city is trying a new playground surface that will provide a safe spot for kids to land while they play. It's a rubberized surface that will be poured in place, Hamad said.
"You can roll a wheelchair on it," he said. "It's way easier for us to maintain."
The playground will include a play structure for children ages 2-5 and a second play structure for ages 5-12. "Both of those have accessible features on them," he said.
A swingset is also going in. Hamad said swingsets are increasingly being left out of parks and playgrounds because of liability and injury concerns, but said he's confident in the safety provided by the new rubber safety surface.
"The kids love them," he said of the swings.
New restrooms are being built, and there will be a picnic shelter for people seeking shade or a spot to have lunch. Other play features include spin cups and a climbing boulder.
Public meetings were held with surrounding Southgate Neighborhood residents to get input on the playground features, Hamad said. The original plans called for a splash pad, but that will not happen this year, he said.
"Because we had to reconstruct 46th Avenue, we couldn't afford a splash pad," he said.
However, water piping for a future splash pad will be installed during construction so the city can easily add one later without digging up the park again, Hamad said. "We're planning for it in the future," he said.
The planned road work includes paving 46th from Cook Street to Altamont Street. It includes curbs, swales, street trees and a sidewalk.
Southgate Neighborhood Council chairwoman Rita Conner said the neighborhood is thrilled with the upgrades, and she likes that the playground will be handicap accessible.
"It's going to be a beautiful upgrade," she said. "They gave us several designs to choose from. Everything about it is just going to be super plus."
She said the addition of the playground and other upgrades will open up the sports complex to other users. "It's going to be a boost to the neighborhood," she said. "We're noted for our parks, and this is just another gemstone."
The neighborhood is also happy to see the unpaved section of 46th get paved, she said.
"It will provide some on-street parking," she said. "It will give a lot of easy access to the playground and the soccer fields."
A new trail is going in along the west side of the complex between 46th and 49th avenues. There are plans to extend the trail to the east in additional phases as money becomes available, Hamad said.
"There will be a new neighborhood trail," he said. "That's something the neighborhood has really been interested in."
The city has received $750,000 in grants to help pay for the $1.1 million project. Hamad said construction on 46th and the playground will start about three to four weeks after work begins on the play fields. The fields are expected to be finished by May 1 and the playground should be complete by the end of July.
Care will be taken to stop work on the 46th Avenue project during sporting events so people will be able to access parking, Hamad said.
The city is looking forward to having a playground at the site, Hamad said.
"We're excited," he said. "It's a cool feature."
—-
This story has been updated to reflect a spelling correction of landscape architect Nick Hamad's name.
Local journalism is essential.
Give directly to The Spokesman-Review's Northwest Passages community forums series -- which helps to offset the costs of several reporter and editor positions at the newspaper -- by using the easy options below. Gifts processed in this system are not tax deductible, but are predominately used to help meet the local financial requirements needed to receive national matching-grant funds.
Subscribe to the Coronavirus newsletter
Get the day's latest Coronavirus news delivered to your inbox by subscribing to our newsletter.
---