News > Spokane
Spokane's Windsong School disputes claims of negligence, bullying of students
Feb. 21, 2019 Updated Fri., Feb. 22, 2019 at 10:30 a.m.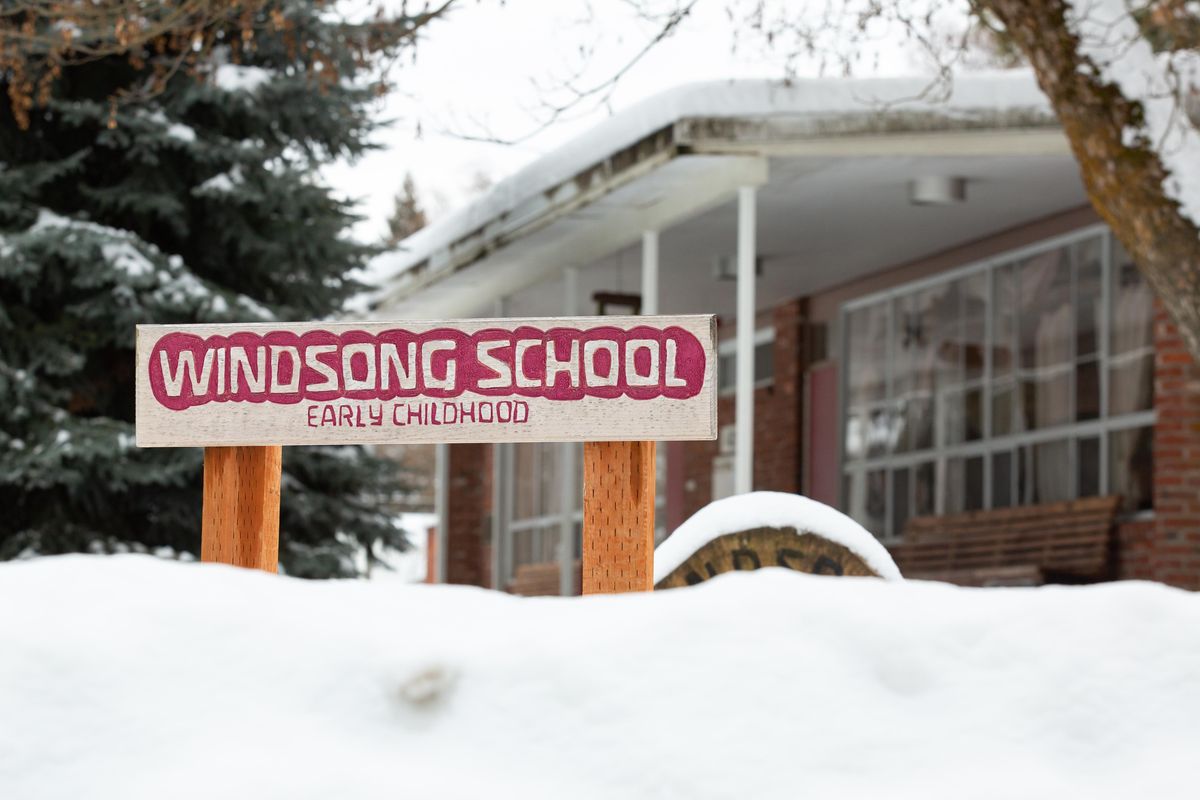 The exterior of Windsong School is seen Wednesday, Feb. 13, 2019. Parents are suing the private school, claiming staff encouraged bullying among students, among other allegations. (Libby Kamrowski / The Spokesman-Review)
A lawsuit accuses a private school in Spokane of bullying kindergartners, encouraging them to bully each other and evoking "negative karma from past lives" to justify it all.
Administrators at Windsong School have spent more than a year fighting the allegations, which they say are part of a smear campaign by disgruntled parents.
The lawsuit was brought on behalf of six parents and six children who attended Windsong School in 2015 and 2016. It was filed this month in Spokane County Superior Court and seeks an unspecified amount in damages for claims of negligence, emotional distress, sexual harassment, disability discrimination and failure to report child abuse.
The plaintiffs sued anonymously. The complaint identifies the children by their initials and the parents as Jane and John Does. They are represented by Spokane attorney Kammi Mencke Smith, who could not be reached for comment.
"The families who have filed the lawsuit against Windsong School and their children were served with skill, compassion and generosity while they were enrolled at Windsong," Lauren Bergstedt-Kohler, a kindergarten teacher and one of the school's founders, said in a statement. "The families expected a lot from the school and our staff freely gave them extra time, care and attention. The allegations they are now making in this lawsuit are simply not true."
Windsong School opened in 2012 on the Mukogawa Fort Wright Institute campus in west Spokane. With a current enrollment of about 160 students, Windsong teaches first- through sixth-graders and offers a "mixed age" kindergarten, which includes students as old as 6. Annual tuition is up to $6,444, not including mandatory fees for class supplies and flutes that students learn to play.
The nonprofit's legal name is the Spokane Waldorf Education Association. It's one of more than 150 schools in the United States that adhere to the Waldorf educational philosophy, which is rooted in the teachings of an Austrian man, Rudolf Steiner, who died in 1925.
Steiner produced a massive body of work spanning many disciplines, including spirituality, architecture, agriculture, economics and medicine, much of which he rolled into a belief system called "anthroposophy." The name Waldorf comes from the first school that Steiner founded in 1919, a school for workers at the Waldorf-Astoria cigarette factory in Stuttgart, Germany.
Nowadays, Waldorf schools have a reputation as artsy and progressive. The kindergarten classes at Windsong School have names like Sunbeam and Huckleberry. Students learn to sing, knit, whittle, cook, clean and make all kinds of art projects. They're encouraged to move, play and work out problems for themselves.
"We spend a robust amount of time outdoors, in all weather, to nurture the child's connection to nature with the idea that children who are in tune with the world around them will become stewards of our earth," Bergstedt-Kohler said.
Students aren't taught the alphabet until first grade, and at some Waldorf schools that means they don't read proficiently until age 9 or 10. Faceless dolls are the preferred toy, and classrooms are devoid of technology, as too much screen time is thought to damage kids' ability to form meaningful relationships. At Windsong, there are no picture books – the idea being that children should come up with their own mental images to accompany stories.
Waldorf schools, including Windsong, have received praise from parents who prefer the down-to-earth experience over the more predictable, performance-focused curriculum offered at public schools. But most research on the effectiveness of the Waldorf model has been done by organizations that promote it.
Before they filed suit against Windsong, the parents filed complaints with several government agencies, including Child Protective Services, the state Office of the Superintendent of Public Instruction and the state Department of Early Learning (now the Department of Children, Youth and Families). Bergstedt-Kohler said those agencies already have determined most of the allegations in the lawsuit are unfounded.
The lawsuit singles out Kumi Akiyama, a kindergarten teacher who left Windsong last summer to work at another Waldorf school in Portland. Among other allegations, the lawsuit claims Akiyama put students in timeout for hours on end, required them to play alone, told some kids that others didn't like them and "justified bullying by stating that children must get rid of negative karma from past lives."
Bergstedt-Kohler acknowledged that karma and reincarnation are themes of anthroposophy, but she said those ideas are not taught at Windsong. She provided a memo written by Windsong's attorneys that was submitted as part of the OSPI investigation.
"Karma is not a concept or topic Ms. Akiyama teaches or utilizes in her classroom in any capacity," the memo states, "and bullying of students is not something Ms. Akiyama would ever do, encourage or attempt to 'justify.'"
The lawsuit also alleges that Akiyama and other Windsong employees mishandled several incidents in which girls were sexually assaulted by boys in their kindergarten class.
"Windsong's response to the allegations was to say that sexual acts were normal and that students were working out their inner demons," the lawsuit states. "With at least one student, Windsong blamed her for the sexual assault, and retaliated against her and her mother."
The lawsuit faults Windsong for letting boys and girls use restrooms together in groups. The school argued that's "a common early childhood practice which allows full supervision of all students at the same time," but said it changed the policy after parents complained.
"The Windsong teachers, as child developmentalists, understand that young children are not yet experiencing sexual feelings but are curious about the human body in a very innocent and developmentally appropriate way," the school's lawyers wrote.
Akiyama did not return an email seeking comment, but Bergstedt-Kohler said she was beloved at Windsong, "not unlike Mary Poppins." She said Akiyama was forced to resign because, while state investigations were underway, she was not allowed to teach a kindergarten class that was also licensed as a child care program.
"She was unable to live on a part-time salary and thus had to find other work as the length of the investigations stretched out over several months," Bergstedt-Kohler said. "She suffered significant financial hardship, and Windsong School lost a trained and experienced teacher due to these parents."
Bergstedt-Kohler said she was particularly troubled by the sexual assault claims, adding that Child Protective Services found the allegations to be baseless.
"This is a reckless allegation designed to cause harm to Windsong, which has been these families' goal from the outset," she said.
Local journalism is essential.
Give directly to The Spokesman-Review's Northwest Passages community forums series -- which helps to offset the costs of several reporter and editor positions at the newspaper -- by using the easy options below. Gifts processed in this system are not tax deductible, but are predominately used to help meet the local financial requirements needed to receive national matching-grant funds.
Subscribe now to get breaking news alerts in your email inbox
Get breaking news delivered to your inbox as it happens.
---