Sports > Gonzaga basketball
Recap and highlights: No. 2 Gonzaga thumps BYU on senior night
Feb. 23, 2019 Updated Sat., Feb. 23, 2019 at 10:43 p.m. Josh Perkins scored 21 points and dished out seven assists on Senior Night as No. 2 Gonzaga routed BYU on Saturday at the McCarthey Athletic Center.
Zach Norvell Jr. led the Bulldogs (27-2, 14-0 WCC) with 25 points, while Rui Hachimura had a double-double with 23 points and 10 rebounds.
TJ Haws and Yoeli Childs paced BYU (18-12, 10-5) with 18 points each.
The Bulldogs shot 54.5 percent from the floor and 45 percent from deep, while the Cougars shot 41.9 percent overall and 38.1 percent from 3-point range. Gonzaga also made 21 of 27 free throws, while BYU attempted just 13 shots from the foul line.
GU outrebounded BYU 40-31 and outscored the Cougars 46-30 in the paint.
Gonzaga finishes the season with a 17-0 record at home.
The Bulldogs travel to Stockton, California on Thursday for an 8 p.m. game against Pacific (ESPN2).
First half
Final – Gonzaga 102, BYU 68: Convincing win for the Bulldogs, who put the pedal to the medal over the final 10 minutes against the Cougars.
Memorable Senior Night performances for Josh Perkins and Geno Crandall. Jeremy Jones also finishes with seven points on his last home game and Jack Beach got the start.
Two more games on the road for the Zags before the WCC Tournament in Las Vegas. BYU has some work to do still to try and secure the No. 2 seed in the tourney and a bye into the semifinals.
3:05 – Gonzaga 94, BYU 59: Another technical foul call on BYU after a Corey Kispert block only gets the Zags and the GU fans more amped up.
Rui Hachimura breaks the 20-point mark on a nifty up-and-under layup. Brandon Clarke then swats TJ Haws and finds Rui for the wide-open slam, forcing a BYU timeout.
Cougars did a good job of keeping this one close for about 30 minutes, but the Zags have shifted into another gear over the last five minutes.
Hachimura checks out for what could be the last time in Spokane. The junior's NBA Draft stock continues to rise with his impressive play this season. He finishes with 23 points.
Josh Perkins also plays his final minutes in the Kennel, going to the bench after a 21-point, seven-assist performance – one of his better games this season.
Emotional night for GU, which has done a great job of focusing that energy on the court.
8:19 – Gonzaga 73, BYU 56: Four fouls on BYU's Yoeli Childs as he goes to the bench, a big help for the Bulldogs.
BYU coach Dave Rose follows up with a technical foul of his own. The Cougars were called for 10 fouls in the first nine minutes of the half.
Ankle-snapper from Geno Crandall as the senior gets a BYU defender twisted up and finishes at the bucket to get to eight points. One of Crandall's best games of the season comes on Senior Night.
Rui Hachimura now up to 19 points, while Josh Perkins has 18.
Zags outrebounding BYU 33-26, including 7-5 on the offensive glass. 9-0 run from the Bulldogs gives GU its biggest lead of the game.
Impressive half from the Zags, who could move back to the top spot in the Associated Press rankings on Monday.
11:36 – Gonzaga 64, BYU 53: BYU keeping some pressure on the Bulldogs, but GU always seems to have an answer to keep this one around a double-digit margin.
Yoeli Childs and TJ Haws up to 15 for the Cougars, while Zach Norvell Jr. is the first to hit the 20-point mark for the Zags. Josh Perkins at 17 for GU, while Rui Hachimura has 15.
Quiet night on offense for Brandon Clarke, but the redshirt junior has seven rebounds to go with his two points.
Zags shooting 52.1 percent from the floor, while holding BYU to 46.7 percent shooting.
14:52 – Gonzaga 60, BYU 49: Josh Perkins going out in style on Senior Night. The Zags all-time assists leader drills a 3-pointer to open the second half and now has 17 points on 7 of 9 shooting.
GU back to its usual starting five out of the half with Zach Norvell Jr., Corey Kispert, Brandon Clarke and Rui Hachimura alongside Perkins.
Second half off to a slow start as the whistles have become more frequent. BYU standout Yoeli Childs picks up his third personal foul call, while Nick Emery and Gavin Baxter both have two for the Cougars.
TJ Haws trying to keep BYU in this one as his transition layup puts him at 13 points.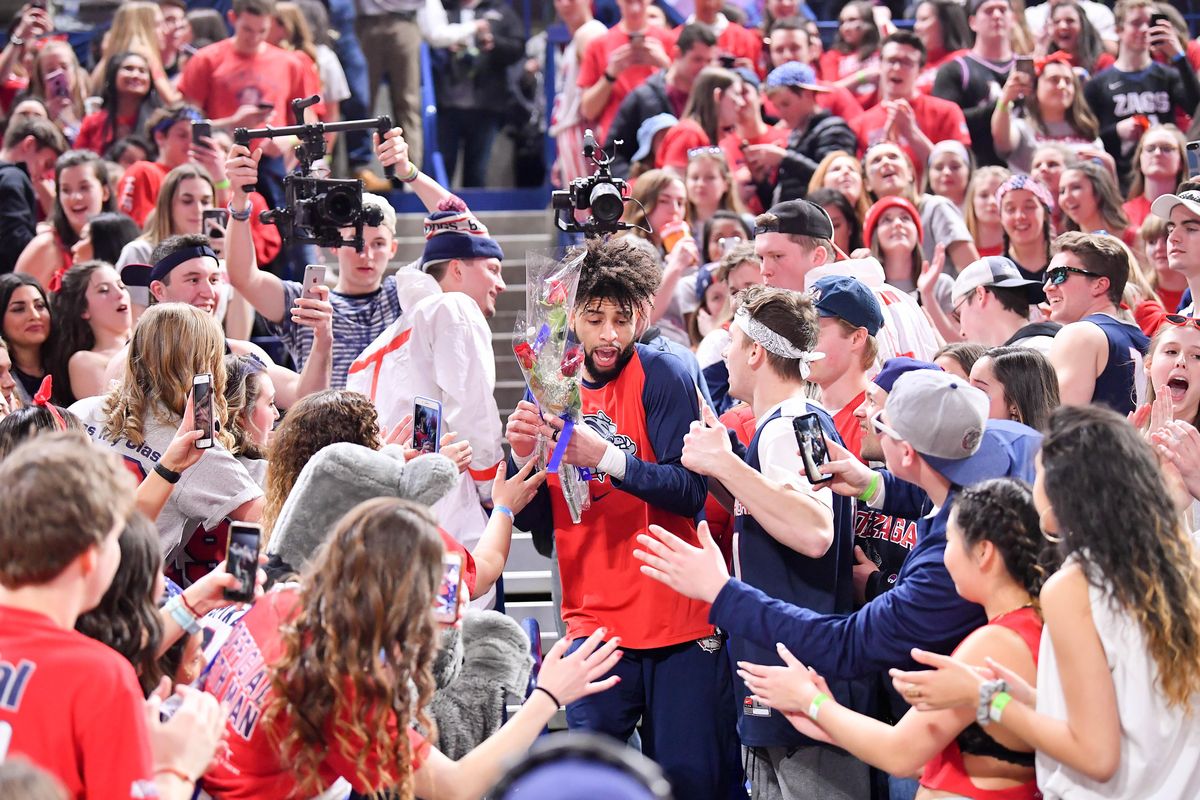 Gonzaga Bulldogs guard Josh Perkins (13) heads to the floor for senior night before the first half of a college basketball game on Saturday, February 23, 2019, at McCarthey Athletic Center in Spokane, Wash. (Tyler Tjomsland / The Spokesman-Review)
First half
Halftime – Gonzaga 51, BYU 38: Yoeli Childs flashes some range with a 3-pointer of Rui Hachimura, but Hachimura answers back with a jumper on the next trip down the court to get to double figures with 11 points.
Little run near the end of the half for BYU gets the Cougars within seven points, but Josh Perkins quickly extends the lead back to double figures with his second 3-pointer of the night.
Perk up to 10 points on 4 of 5 shooting.
Zach Norvell Jr. leads all scorers with 18 points, while TJ Haws is pacing BYU with 11 points.
Zags shoot 57.1 percent overall and 55.6 percent from deep, while BYU is shooting 44.1 percent from the floor and 35.7 percent from 3-point range.
GU outrebounding BYU 19-16 and is outscoring the Cougars in the paint 24-16
3:32 – Gonzaga 41, BYU 28: Zach Norvell Jr. having himself a night so far. The rangy guard is getting it done inside and outside and has 15 points.
Rui Hachimura on the doorstep of double figures with nine points.
BYU really struggling from deep so far. The Cougars are shooting just 25 percent from 3-point range, hitting 3 of 12 attempts.
Zags on a 10-2 run as BYU can't get any offense going. BYU's Zac Seljaas also picks up his third foul in just nine minutes of action off the bench.
7:43 – Gonzaga 31, BYU 23: All of BYU's offense going through TJ Haws right now. He's up to 11 points on 5 of 9 shooting. Yoeli Childs with seven points for the Cougars.
Huge minutes so far for Geno Crandall, who is taking advantage of his first start in a Zags uniform. He's got six points on 3 of 3 shooting.
Zags shooting 54.5 percent from the floor and 50 percent from deep, while BYU is shooting 47.6 percent overall and 22.2 percent from 3-point range.
GU with three turnovers to BYU's six, while the Zags are outrebounding the Cougars 12-9.
11:55 – Gonzaga 23, BYU 17: Zags with a nice Senior Night highlight for Geno Crandall. The grad transfer from North Dakota slips behind his defender and Josh Perkins finds him for the alley-oop.
Zags playing with a ton of energy out of the gate on both ends of the floor.
BYU getting a little more comfortable over the last few minutes as TJ Haws and Yoeli Childs hit 3-pointers on back-to-back possessions for the Cougars.
Zach Norvell Jr. answers right back with a triple of his own to get to five points. Perkins up to seven early points after a nice layup in traffic.
15:49 – Gonzaga 11, BYU 4: Senior Night means a new starting five for the first time this season. Rui Hachimura stays down low and Josh Perkins runs the point, but Geno Crandall, Jeremy Jones and Jack Beach take over starting roles from Zach Norvell Jr., Corey Kispert and Brandon Clarke.
Quick start for Hachimura, who hits a pair of mid-range jumpers and has six points.
Norvell replaces Beach after about 90 seconds, while Jones and Crandall stay in the game through the first media timeout.
Good opening few minutes for Josh Perkins as well. He hits a 3-pointer and dishes out a nice assist to Hachimura. He's also shown that he has range from off the court as well with a pregame tunnel trey.
BYU looking lost already on offense, hitting just 2 of 5 shots and turning it over three times.
Gonzaga announces starting 5
Pregame
Game preview
Gonzaga roster
LEADERS
BYU's roster
LEADERS
Local journalism is essential.
Give directly to The Spokesman-Review's Northwest Passages community forums series -- which helps to offset the costs of several reporter and editor positions at the newspaper -- by using the easy options below. Gifts processed in this system are not tax deductible, but are predominately used to help meet the local financial requirements needed to receive national matching-grant funds.
Follow along with the Zags
Subscribe to our Gonzaga Basketball newsletter to stay up with the latest news.
---