News > Spokane
Sacred Heart nurses hold Spokane rally amid contract talks
Feb. 25, 2019 Updated Tue., Feb. 26, 2019 at 4:05 p.m. In the bitter cold Monday afternoon at Riverfront Park, about 200 nurses rallied for better staffing, benefits and patient safety at Providence Sacred Heart Medical Center.
The rally stems from seven contract bargaining sessions over four months between the Washington State Nurses Association and Providence Sacred Heart Medical Center, which the nurses say have gained little traction.
The WSNA represents more than 17,000 registered nurses in the state, including more than 1,900 nurses at Sacred Heart. A contract approved by the association and Sacred Heart officials in 2016 is expiring.
The nurses union claims Providence wants to reduce nurses' paid sick time, trim medical benefits and increase premiums.
"Providence manages hospitals around the state and has been asking nurses in every hospital to give up more and more," said Heather Weiner, spokeswoman for the WSNA. "Staffing shortages are causing them to work more than 12 hours and they can't take breaks."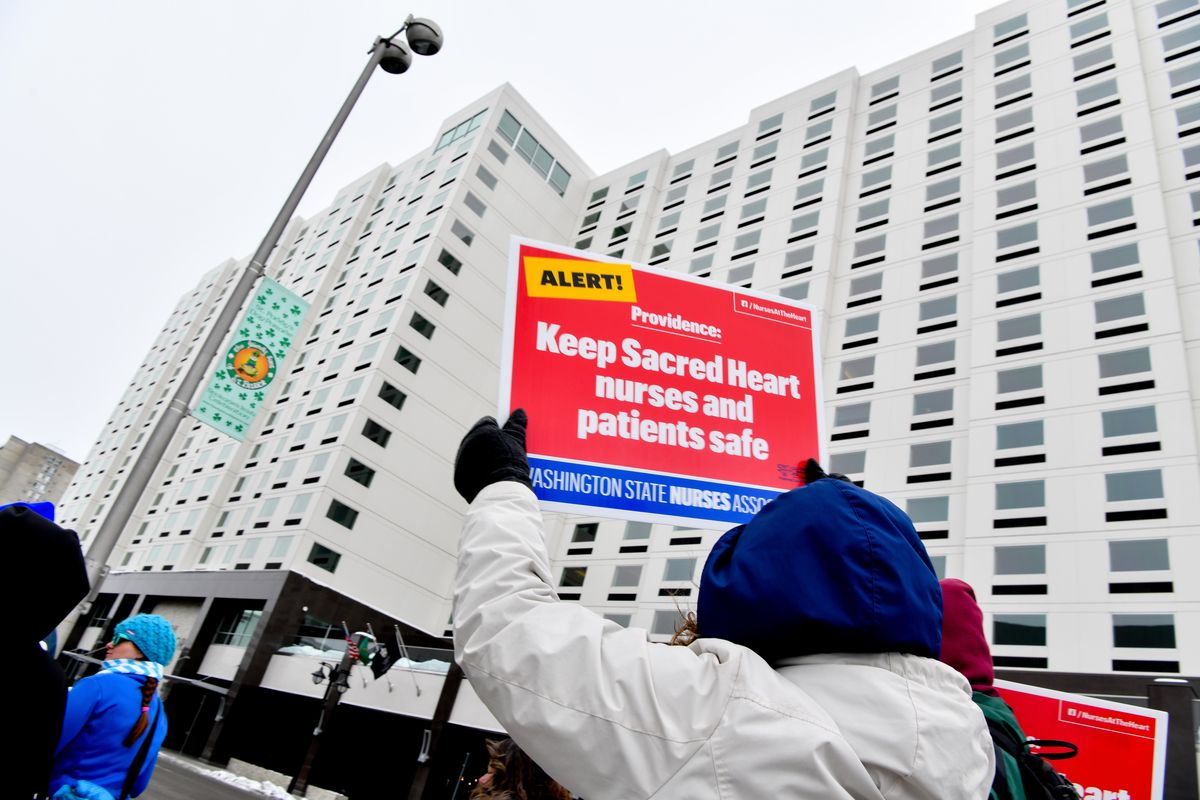 Starla Houff, cheers and carries a sign with other local nurses and concerned citizens in a protest rally on Monday, Feb. 25, 2019, in downtown Spokane, Wash. After little movement from Providence during 7 contract bargaining sessions, Sacred Heart RNs took their concerns about nurse staffing and safe patient care to a rally in Riverfront Park to raise community awareness. (Tyler Tjomsland / The Spokesman-Review)Buy a print of this photo
Providence administration said Spokane's largest hospital shares the nurses' insistence on safety, but noted that slowing the rapid rise in health care costs also is important.
The average annual pay for a full-time nurse at Sacred Heart Medical Center is more than $80,000, and nurses have received 5 percent annual salary increases for the past three years, according to Providence.
"WSNA has proposed very high increases in wages, premiums and differentials, totaling more than 20 percent over the three-year contract," said spokeswoman Liz Deruyter in an email. "We don't think these proposals are consistent with our mission, which includes the containment of health care costs for our patients."
The association is proposing that each unit at Sacred Heart Medical Center maintain staffing levels to ensure patient safety as well as allow meals, rest periods and vacations for nurses to recharge.
KT Raley-Jones, who has been a cardiac intensive care nurse at Providence Sacred Heart for more than 11 years, said staffing levels are a concern among nurses.
"Breaks are an issue definitely, but I think the main thing is not cutting our staffing levels, so that we have enough people on each floor," she said. "Nurses work extra and they can be tired, but we will fight through all of that for our patients. However, it does wear on our nursing staff."
"I think the community needs to know that we are here for them and we work every day for our patients," she added.
Spokane City Council President Ben Stuckart attended the rally and said his late father spent six of his last months receiving care at Sacred Heart.
"We need our nurses to be physically, mentally and emotionally ready for the demanding job every day as they heal our children, our parents and ourselves," he said. "Nurses took care of my family and they take care of all of our families. Providence should take care of our nurses."
Deruyter said the hospital's management team and union-represented employees all share the same goal of providing care to patients and are actively bargaining to reach an agreeable contract.
"We all want this to be the best place to work and the best place to go for care – when we stay focused on why we were called to serve in the health care field, we accomplish great things together," she said in the email.
Clint Wallace, an ICU nurse at Sacred Heart for close to 20 years, said Providence needs to support its nurses with better benefits rather than pushing for cuts.
"Several years ago, we had a great retirement package. We don't have that any longer. Several years ago, we had great health care benefits and there's a lot of people in this community, in this country, that have much better health care than nurses, which will never make sense to me," he said.
Wallace said the big issue, however, is staffing and patient safety.
"We're being given more responsibility as nurses," he said. "We want to make sure that we are safe and, in turn, can take care of our patients and keep them safe."
Local journalism is essential.
Give directly to The Spokesman-Review's Northwest Passages community forums series -- which helps to offset the costs of several reporter and editor positions at the newspaper -- by using the easy options below. Gifts processed in this system are not tax deductible, but are predominately used to help meet the local financial requirements needed to receive national matching-grant funds.
Subscribe now to get breaking news alerts in your email inbox
Get breaking news delivered to your inbox as it happens.
---