Sports
Grip on Sports: There is nothing worse than a life lost way too young. Nothing.
Wed., Feb. 27, 2019, 8:23 a.m. A GRIP ON SPORTS • It's ugly outside. Really ugly. It fits. Once again we are dealing with a life lost way too soon. Read on.
••••••••••
• Yes, it is snowing again. And the wind is blowing. And it's colder than, well, you know.
But that's not the worst thing that's happened this week. Not by a Steph Curry 3-pointer. The worst thing that happened this week came yesterday. Nothing that happened before or could happen afterward will surpass it. Another young athlete in the area died after a battle with cancer.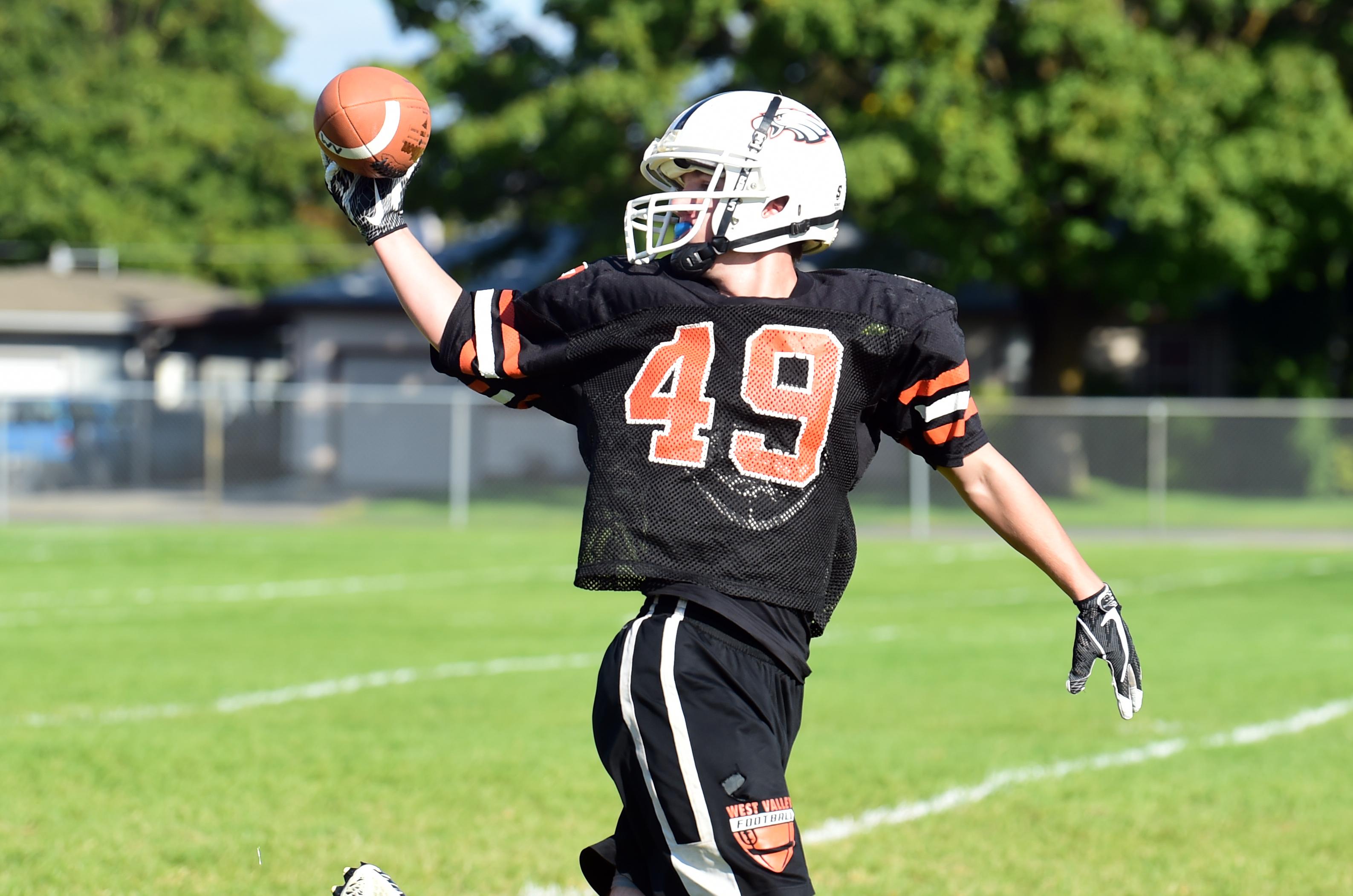 Collin Sather, who graduated from West Valley High last spring and then walked-on to play football at the University of Idaho, lost that battle yesterday. It was a short one, as he was diagnosed with kidney cancer just last month. And the suddenness of it makes it even harder to comprehend.
How can a young man of 19, smiling and laughing not that long ago, be gone? It's part of the cruelty of cancer. As his high school football coach Craig Whitney told Steve Christilaw yesterday, "I thought when I heard the diagnosis that if he just had half a chance, he'd be able to fight through this. But this was just like being sucker punched. He never had a chance to really fight back."
Usually in this position, such news, albeit sad, is disconnected. Not this. Over the past few years I had the privilege of getting to know Collin as he traveled with our summer basketball program.
Actually I don't remember the basketball much. What I do remember is watching Collin's interaction off the court. The smile. The laughter. The happiness. The bubbly personality.
Such joy lost.
It's appropriate it's a freaking ugly day out there. It fits the mood.
•••
Gonzaga: Everyone who hoped Geno Crandall would walk into McCarthey and score 25 points a game were sadly disappointed this season. But everyone who hoped the grad transfer from North Dakota would make the Zags a better team had their expectations met. That's the bottom line from Jim Meehan's story today. … The GU women enter their last weekend of regular season play, with Senior Day coming on Saturday. Jim Allen previews the week ahead.
WSU: The Cougars had a couple of openings on their football coach staff. No longer. Mike Leach hired a linebackers coach and a director of operations yesterday. Theo Lawson, an APSE award winner, has the story. … He also talks with Larry Weir for the latest Press Box pod. … Around the Pac-12, just when you may have thought we were done with bad-look stories concerning the conference office, John Canzano comes up with another one. … The postseason tournament is coming into focus. So is the NCAA Tournament bubble. … UCLA's coaching search seems to be aiming high. Will it hit its mark? … No one from the Bay Area looks to be headed to the NCAA tourney. … Neither will Arizona. And coach Sean Miller is getting a bit testy. … Utah has a really tall recruit coming in. … In football news, Arizona State's spring practice is winding down just as other begin. One of those is Oregon, who will have a new defensive coordinator. … Oregon State is about ready to start as well.
Idaho: There is some happier news from Moscow this morning, brought to you by Peter Harriman. He has a story that features the Vandals' "Splash Sisters," Mikayla Ferenz and Taylor Pierce. … Around the Big Sky, we didn't get this to you yesterday, Sorry. But Northern Colorado went into Missoula on Monday night and ended the Griz's 10-game winning streak.
Preps: The State basketball tournaments begin today in Tacoma, Yakima and at the Arena down by the river. But for most of the Inland Northwest's 26 teams, the tournament doesn't begin until tomorrow. No matter. Dave Nichols and the S-R crew has everything ready to go. Dave starts it off with stories from the girls 4A and 3A and the boys 4A and 3A, all of whom will be playing in Tacoma. There are also capsule summaries of those boys and girls tournaments, all the way to 1A. … Dave also looks at the local teams playing in the 2A and 1A tournaments in Yakima. … Justin Reed has the coverage of the 2B and 1B tournaments in Spokane, which also comes with capsule summaries of girls and boys action.
Mariners: If you are a veteran on the M's, you might want to have a bag packed at all times. … Kyle Lewis seems to have put his gruesome injury behind him. … The same can be said about Jerry Dipoto's health problems. … Yes, there are ties in baseball.
Seahawks: The combine is just around the corner.
Sounders: We've heard of youth movements, but 15-years-old?
•••
• This hit me as odd today. I am 62 years old, which isn't, by any stretch, considered young. But one of my childhood heroes, a guy I had my picture taken with at age 12 at Long Beach's Blair Field, retired from baseball yesterday. Bobby Knoop, who was the Angels' second baseman when I was young, called it quits after 53 years in baseball. Knoop, 80, retired, leaving his job as an infield instructor for the club. And I thought all my childhood heroes had left the field years ago. Until later …
Subscribe to the sports newsletter
Get the day's top sports headlines and breaking news delivered to your inbox by subscribing here.
You have been successfully subscribed!
There was a problem subscribing you to the newsletter. Double check your email and try again, or email
webteam@spokesman.com
---