News > Spokane
Farewell to the second snowiest February on record
Feb. 28, 2019 Updated Thu., Feb. 28, 2019 at 8:43 p.m. While many people in the lowlands are grousing about all of the February snow and cold, folks at mountain ski areas are reveling in the winter weather.
"Most of the people up here are loving it," said Matt Sawyer, marketing and sales director at Lookout Pass ski area, where a 119-inch snowpack hugs the mountain.
Spokane International Airport recorded 28.6 inches of fresh snowfall in February, ranking it the snowiest February in 126 years. Besting it was a 39.6-inch snow blitz in February 1893.

Forecasters with the National Weather Service say the snow is going to let up, at least for a few days, as another shot of cold, Canadian air is poised to settle across the area this weekend, with early-morning lows in single digits and highs in the mid-20s.
"As soon as the Canadian air stops, temperatures will moderate," NWS Spokane meteorologist Joey Clevenger said.
Highs later next week should reach into the mid-30s.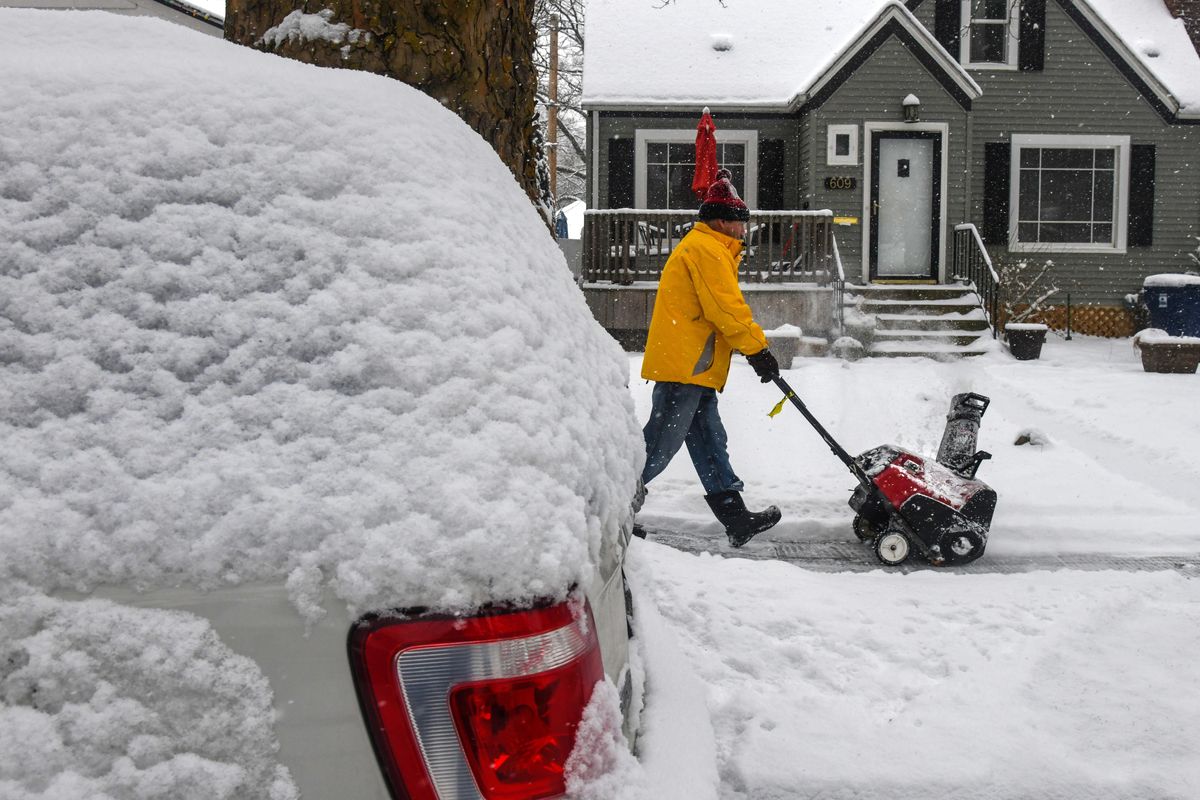 Todd Edmonds came back on Wednesday from Puerto Vallarta and 77 degrees to snow-covered Spokane as he clears the sidewalk for his daughter-in-law, Friday, Feb. 8, 2019, along 18th Avenue. (Dan Pelle / The Spokesman-Review)
Clevenger said a persistent mild area of higher air pressure rode over the Pacific Northwest early in the winter. But that high-pressure ridge migrated westward, opening the door for cold air to rush south and allowing precipitation from over the ocean to gather into the cold storm track.
A forecast El Niño was thought to be the ticket to a milder winter in the Inland Northwest, but it never gained strength, especially not compared with the monster weather pattern along the West Coast in February.
Looking ahead to March 8 through March 14, the Climate Prediction Center is calling for below-normal temperatures and above-normal precipitation.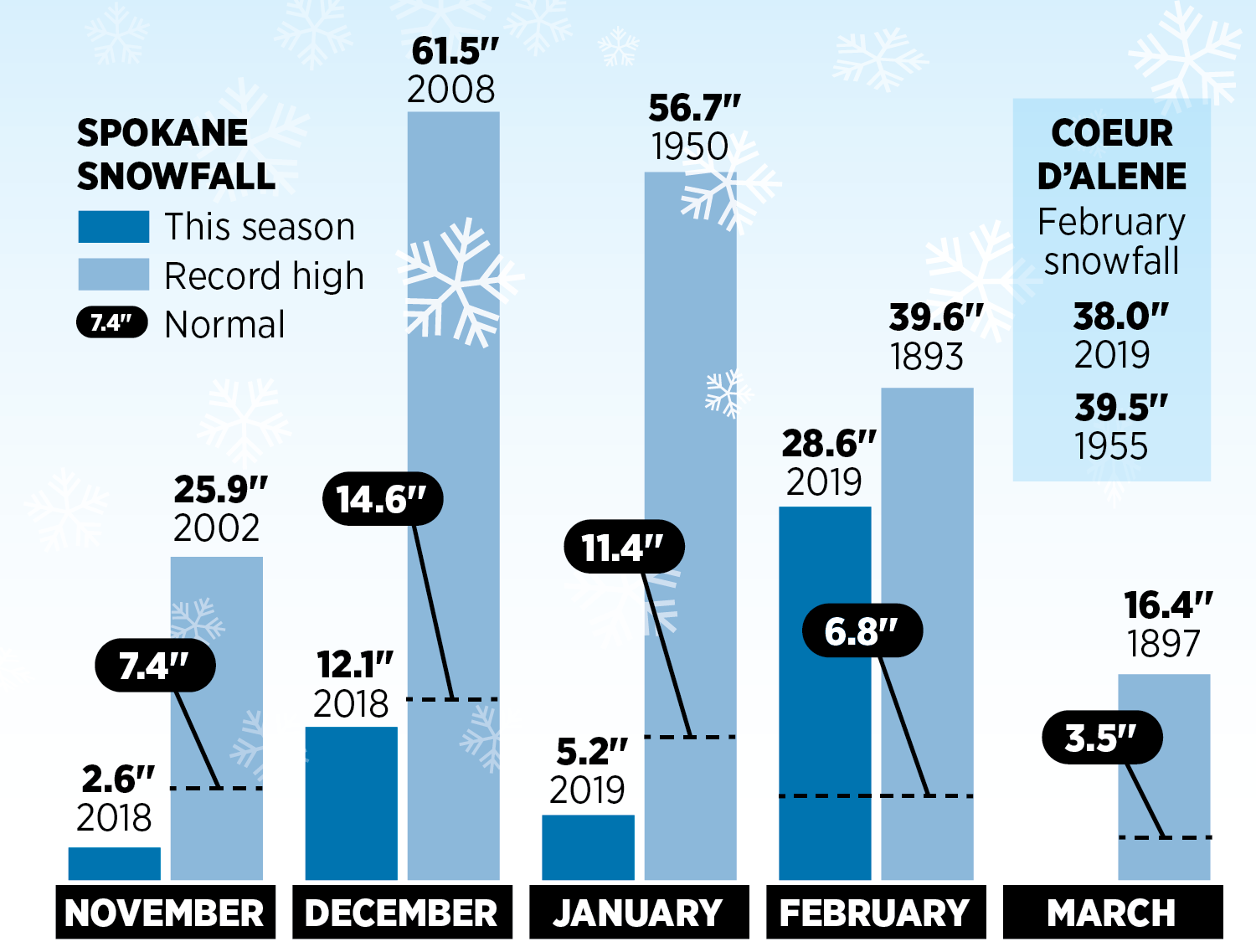 The same agency also said the weather will make an about-face and become drier and warmer than normal through May.
Because there is so much snow on the ground along with cold temperatures this late in the season, Clevenger said the approach of spring will be slow. It's going to take time to melt off the snow, he said.
"We should begin to moderate temperatures, but still be well below normal," Clevenger said.
The warmer and drier trend is predicted to continue into summer, which is a concern for wildfires.
In the mountains, big crowds have flocked to ski areas. Mt. Spokane Ski and Snowboard Park has had 3,500 skiers on weekend days during the current snow spell.
Snow in the valleys signals to skiers, snowshoers and snowmobilers that conditions are good on the mountain, said Brad McQuarrie, general manager at Mt. Spokane. Also, lowland snow prevents other types of outdoor activities, so people go skiing, he said.
"It's been amazing," he said. "We've had some of the best weekends we've seen in a decade."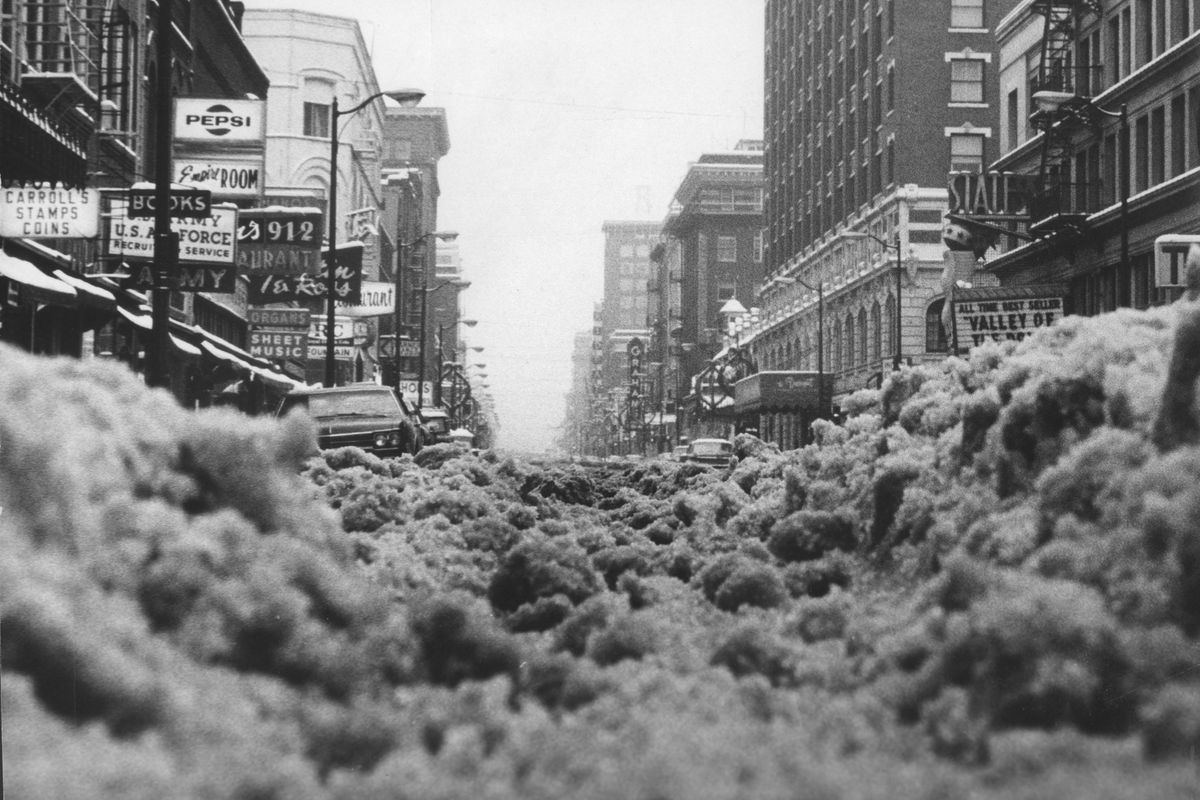 In January 1969, Spokane was well on its way to having a record snowfall. On Feb. 1, 1969, The Spokane Daily Chronicle reported that Spokane lead the United States in depths of snow with 42 inches. This picture was taken on Sprague Avenue facing east. (PHOTO ARCHIVE / SR)
Local journalism is essential.
Give directly to The Spokesman-Review's Northwest Passages community forums series -- which helps to offset the costs of several reporter and editor positions at the newspaper -- by using the easy options below. Gifts processed in this system are not tax deductible, but are predominately used to help meet the local financial requirements needed to receive national matching-grant funds.
Subscribe now to get breaking news alerts in your email inbox
Get breaking news delivered to your inbox as it happens.
---