Sports
Grip on Sports: Thank goodness February is over – and it's ending the right way
Thu., Feb. 28, 2019, 8:45 a.m. A GRIP ON SPORTS • This is the last day of February, the shortest, and longest, month of the year. Tomorrow we begin March, which is appropriately named because it ends the long march to spring. But that's tomorrow and it will have to wait. Today is way too busy to worry about tomorrow. Read on.
••••••••••
• There is something special about the end of high school basketball season.
There is the senior factor, of course. The last game of a high school career that seems, to those in that space, to have begun so long ago. The finality of that is overwhelming at times.
There is the junior factor, as players who were subservient for so long realize their turn as leaders has now arrived.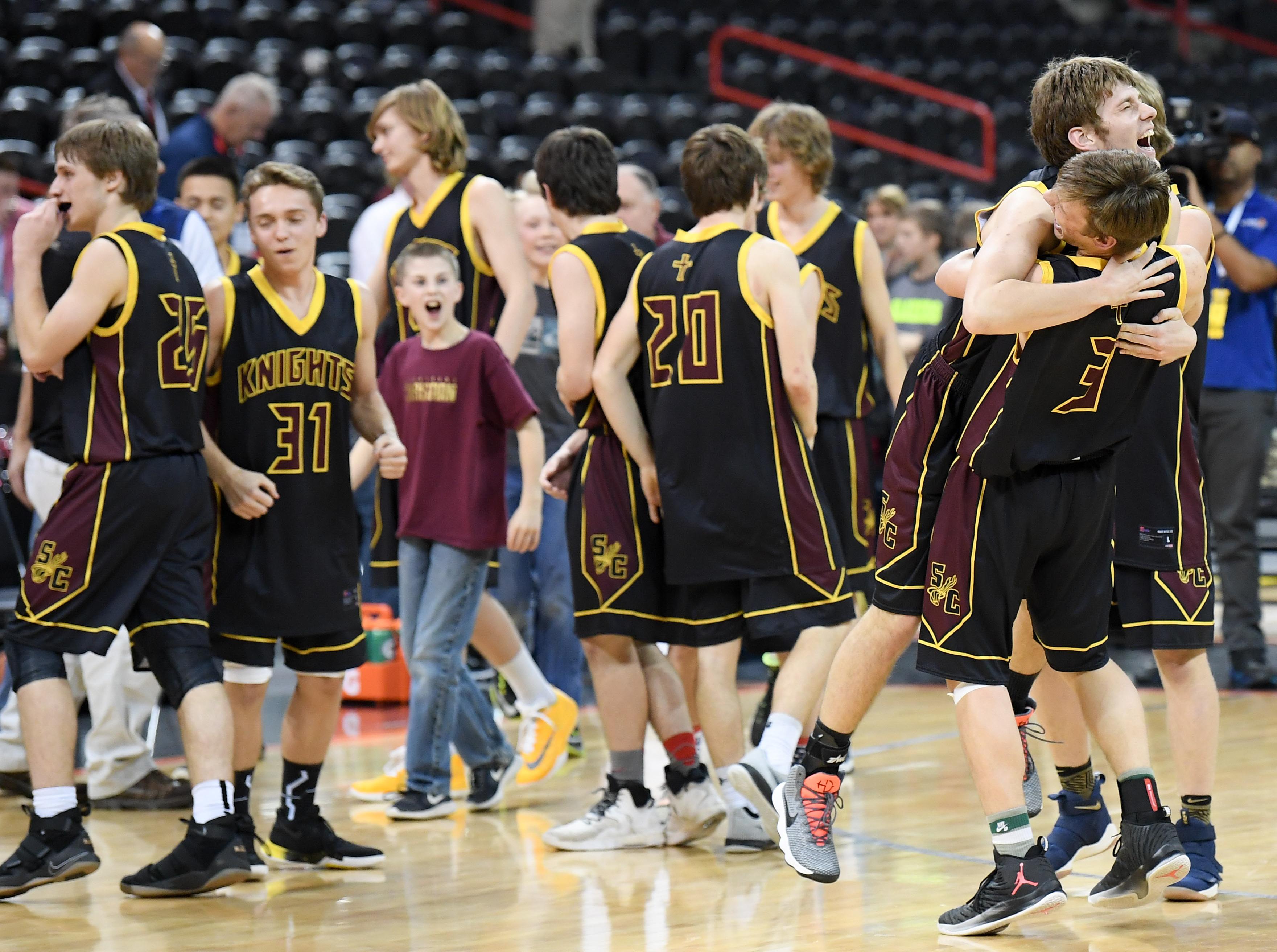 There is relief, sadness, joy, pain, smiles, tears. All of those things within the course of about 10 minutes. And then it's on to the next day. At least that's how it seems to outsiders looking in.
Most teams have already experienced this. A few, the lucky few actually, will experience it this week. Most won't feel lucky, though. The season will end with a loss and the loss of their state championship dream. But the luckiest of them all? They will experience it with a win. A state title. Cutting down the nets. A trophy.
Their greatest gift from the week, however, is standing right next to them. The others who shared the journey with them. The memories they created together. The bonds built.
Teammates. Championship teammates. It's a forever thing, from that moment on. No matter where a player was in the hierarchy of success, they all share in the same label of state champion. And will moving on.
For some it may be the pinnacle of their athletic success. For others it may just be a steppingstone to more.
But 50 years later, at that reunion they almost didn't attend because their hip is balky and their waistline unyielding, they will be able to down a sip of their once-shared youth. And the memories, true or not, will come flooding back.
"Remember that time against Central when you grabbed that loose ball and …"
It's what this week is really about.
•••
Gonzaga: It's the last week of the West Coast Conference regular season for the Bulldogs. First up is Pacific in the jewel of California, Stockton. No, it's not named after the greatest Zag ever. Jim Meehan will be there but before that happens, he has a preview and a look at the key matchup. … Mark Few is one of 15 finalists for the national coach of the year award. Jim has that story as well. … It's the final week of home games for the Bulldog women and Jim Allen kicks it off with a story about senior Chandler Smith, a proverbial prodigal daughter who returned to the Northwest after one year in Nebraska. … Lisa Fortier is one of 15 finalists for the national coach of the year award. Jim has that story as well.
WSU: The Cougars are also in California, where they will face Stanford tonight. We can pass along this preview. … The Washington State women are at home to host the Cardinal, which mean the Hull twins are back in the region. Ryan Collingwood has more on that in this women's basketball notebook. … Klay Thompson has been on fire in 2019. … Around the Pac-12, it's a day jam-packed with basketball and football news. Let's start with football, just for fun. The NFL Combine is this weekend and the Pac-12 has some representation. Here is one quote in Jon Wilner's story that concerns Gardner Minshew: "He's the kind of guy you want in the building, and absolutely I think he'll get drafted. I wouldn't be opposed if somebody decided to do that in the first round. I think you've got somebody that's got some skills you can work with going forward there." … USC has a new OC with a new philosophy. Will it have a new quarterback as well? … Oregon is looking for leadership at receiver this spring. … Arizona expects to get some of that from its quarterback. … In basketball, the regular season is winding down. Washington can clinch that title tonight. Former coach Lorenzo Romar is rooting for the Huskies. … Utah will try to hang on to a bye. … Oregon hopes it won't get snowed under by Rob Edwards and Arizona State. … Oregon State has some seniors to honor soon. … A Colorado player has his family in the house. … UCLA and USC meet again with new looks and new attitudes. … Sean Miller has to be examining his legal options.
EWU: The Eagles are back home tonight, which has been a good thing all season. We have a preview of their contest with Sacramento State.
Idaho: The Vandals host Portland State tonight.
NIC: The Cardinals finished the Northwest Athletic Conference regular season without a blemish, after defeating host Columbia Basin last night.
Chiefs: Spokane will be in the postseason this year. The Chiefs clinched a spot last night with their 7-1 road victory over Prince George.
Preps: It was a busy day yesterday in the prep ranks even if it was a preliminary round of sorts at the State basketball tournaments. But there was nothing preliminary about one performance. John Blanchette was in the Arena yesterday to catch Ryan Moffet's record-setting 48-point performance for Odessa. … Dave Nichols is headed to Tacoma but before he went he joined Larry Weir for the latest Press Box pod. … We have roundups of the action from yesterday, with the 2B boys and 2B girls, the 1B girls and 1B boys, and from the State 1A and 2A in Yakima. … Libby Kamrowski has photos from yesterday's games in the Arena. … The Idaho tournaments are this weekend as well and Ryan Collingwood has a story on one of the favorite players I ever had the privilege of coaching, Genesis Prep's Jonny Hillman. … A successful Seattle-area high school football coach with local roots has stepped down.
Mariners: Who will start the opener? Only Scott Servais knows. Or maybe not. … The bullpen needs to tighten up a few things.
Seahawks: The Hawks' brain trust spoke yesterday in advance of the Combine. Did the group learn any lessons from last year? … The LOB is officially no more. Times do change.
Sounders: Rest can do a body good. … Portland wants to win one more match this season.
•••
• I have to admit I was unable to get to the Arena yesterday. But I did sit and watch some of the SWX feed from the games. Though it's not exactly "being there," it was fun. I came this close to getting up and grilling a German sausage just to make the experience a bit more authentic. … We will be back here tonight with the TV Take from the GU game. Former Seton Hall and NBA coach P.J. Carlesimo will be doing the analysis. I first met him in Norman, Oklahoma, all the way back in 1982. I was covering an NIT game, a tournament his family ran, and I sat next to him the entire game. Later we reconnected at a Gonzaga coaching clinic where he spoke about how to run an out-of-bounds fastbreak. I still have the notes. Until later …
Subscribe to the sports newsletter
Get the day's top sports headlines and breaking news delivered to your inbox by subscribing here.
You have been successfully subscribed!
There was a problem subscribing you to the newsletter. Double check your email and try again, or email
webteam@spokesman.com
---