Sports
Grip on Sports: From fireworks in the bowl games, to fireworks elsewhere, 2019 starts with a bang
Tue., Jan. 1, 2019, 8:42 a.m. A GRIP ON SPORTS • Let's keep this fast and simple. There is a lot of college football to watch. And a parade. Read on.
••••••••••
• We're nursing a bad headache. And no sleep. Hangover? Nope.
Fireworks.
The supposedly illegal noisemakers have an effect on our Great Dane, one I wasn't aware of until late last night.
Of course, we've never had so many fireworks lit off in our neighborhood before, either. It was like the Fourth of July, 1976 all over again. The booms began before midnight and continued … for a few minutes.
The dog began running around and continued … for more than a few minutes.
It took lying down with him on the basement couch to get him to halfway settle, though every time another boom would hit the house, he began shaking. The last one came at 12:48, which must be New Year's in Hawaii or something. But the poor fellow didn't really fall asleep until after 2. Me neither.
It wasn't the best way to begin 2019.
• The best way? The Pac-12 winning the Rose Bowl maybe? (Yes, I know most of the folks reading this are Washington State fans, but c'mon. The way the conference has been perceived nationally hurt the Cougars last year too. So maybe it's time to put – what's the opposite of petty? – rivalries aside and root for the Pac-12 rep. It could help next year.)
Or maybe the best way is just with a good walk.
My New Year's resolution last year was to walk more. In 2016, my daily average was a little less than 7,000 steps. In 2017, just more than 8,000. So 2018 had to be different. It was. With a goal of 10,000 steps, I found walking was kind of fun – and a good time to think.
Just before the dog went nuts last night I checked. The average for 2018: 15,165. I know. Who would have thought? It wasn't just Cougar football that overachieved in 2018. Though the Cougs and their fans certainly had a lot more fun.
•••
Gonzaga: The seventh-ranked Zags expected a tougher game with Cal State University Bakersfield. They got one. And they still won, 89-54. Jim Meehan was at a sold-out McCarthey for this game analysis and the keys to the 45-point win. … John Blanchette was there as well and has a column on the resurgent WCC. … Libby Kamrowski was on the sidelines with her camera. … The guys in the office put together the recap with highlights. … We were not there but we have our TV Take. … The Zags are included in Theo Lawson's AP poll vote. No Pac-12 school was. … The women, ranked 17th in the nation, are 2-0 in WCC play after a 79-54 win at Pepperdine.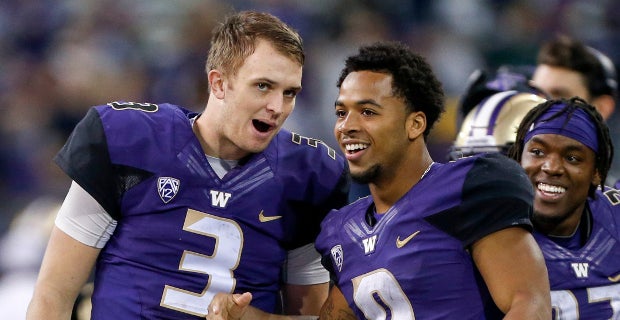 WSU: If you want to look back at the Alamo Bowl one last time, Larry Weir and Theo Lawson have you covered with the last Press Box pod of 2018. … If you want to look back at Minshew Mania one last time, The Athletic's Chantel Jennings has you covered (if you have a subscription). … Elsewhere in the Pac-12, yes, today is the final bowl game of the 2018 season. The Rose Bowl in Pasadena. As WSU alum Keith Jackson called it, the granddaddy of them all. Can the Huskies stay with Ohio State? Or will Chris Petersen's team come up short? … There were three other bowl games yesterday featuring Pac-12 schools and all were about as ugly as possible. Stanford found a way to win the Sun Bowl, fumbling its way – literally – to a 14-13 victory over Pittsburgh. … Oregon also found the endzone late and edged Michigan State 7-6 in a mistake-filled Redbox Bowl. They better do something with the grass in Santa Clara before Monday's national title game. … The ugliest game came in San Diego, where Utah fell apart in the third quarter, turned the ball over four times and snatched defeat from the jaws of victory. Northwestern rallied for a 31-20 Holiday Bowl win. … There was basketball news as well, with UCLA making Steve Alford's firing official. The Bruins have lost four straight but seem to lead the nation in panic. … USC has its coach but lost a player.
EWU: The Eagles earned their first Big Sky Conference win with a late run, defeating Idaho State 65-55 at home. Steve Christilaw filled in for Ryan Collingwood and has this game story. … Ryan has a football story, of course, as he talked with some of the injured Eastern players who will miss the FCS title game Saturday. … The women's basketball team lost at Idaho State. … Around the Big Sky, Montana and Northern Colorado are both 2-0 and both played the first weekend on the road. … Northern Arizona finally won again at home, outlasting Montana State.
Idaho: The Vandals fell behind by 22 points in the first half of their home Big Sky game with Weber State. It was too big a hole to climb out of, despite their best effort. Peter Harriman has the story of their 93-87 loss.
Chiefs: Spokane's annual New Year's Eve matchup with Tri-City went the Americans' way, 6-1.
Seahawks: The Hawks seem quite confident heading into Saturday night's wild-card game at Dallas. That's despite some important injuries. … Sebastian Janikowski has missed some kicks (and tackles) but he's connected on a couple of winners.
Mariners: The M's are reportedly bolstering their starting staff with free-agent lefthander Yusei Kikuchi from Japan.
•••
• Just saw "Stranger Things" is coming back July 4th. Should we set of fireworks or something to celebrate? Until later …
Subscribe to the sports newsletter
Get the day's top sports headlines and breaking news delivered to your inbox by subscribing here.
You have been successfully subscribed!
There was a problem subscribing you to the newsletter. Double check your email and try again, or email
webteam@spokesman.com
---