A&E > Beer/Drinks
Where to go for bloody marys in the Inland Northwest
Tue., Jan. 1, 2019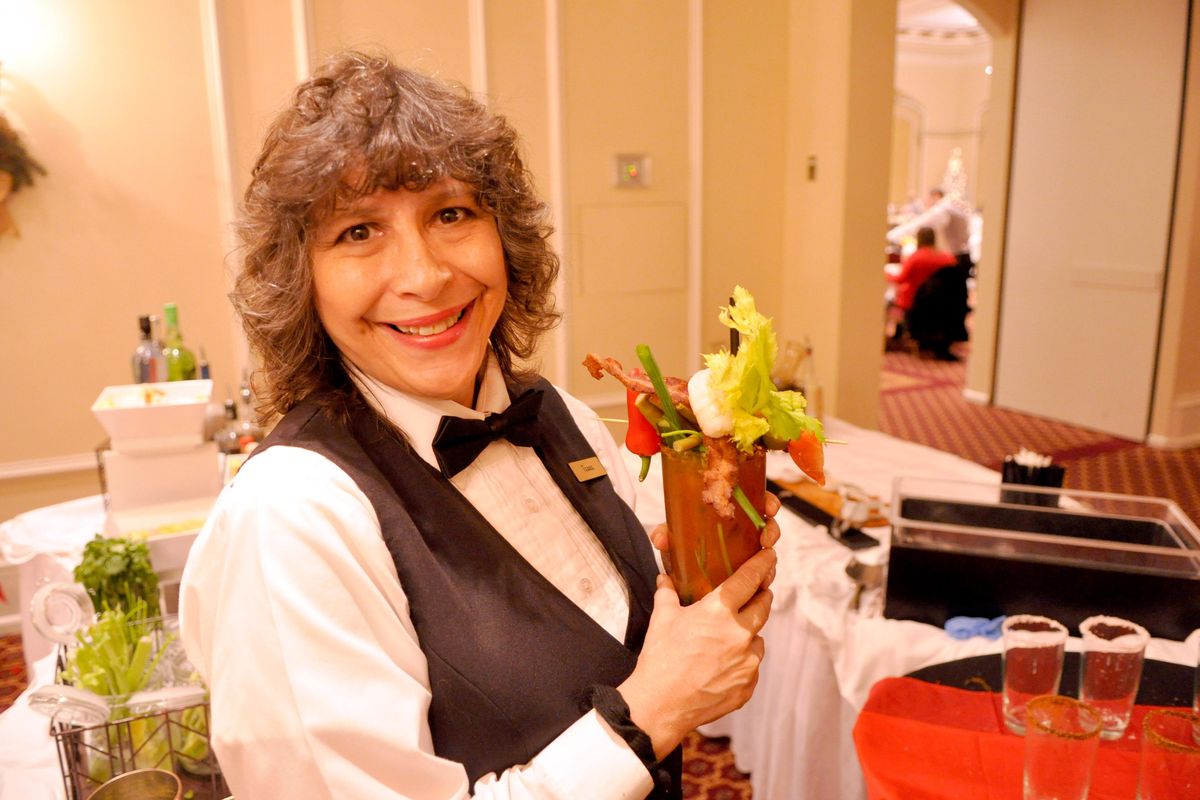 Terrie J. Cramer serves bloody marys at the Historic Davenport Hotel during a recent Sunday brunch. (Adriana Janovich / The Spokesman-Review)
It doesn't really matter how you feel about tomato juice.
It's going to be doctored up, anyway – with citrus, celery, celery salt, pepper, horseradish, Worcestershire and Tabasco sauces, and more. Sometimes much more.
Some spots let you spice them up the way you like, with flavored vodka or perhaps gin, even tequila or bourbon. Then come the accoutrements: a stalk of celery or pickled asparagus or both, pearl onions, baby corns, cornichons, bacon, shrimp, salami, maybe a slider or two, even a slice of pizza or quarter of a chicken, pickled carrots and green beans, fresh dill or thyme, and olives – plain or stuffed.
All of the stuff inside the glass and tacked on top might make you wonder: is this just a beverage here, man, or an appetizer or a full-blown meal in a glass?
New Year's Day also is Bloody Mary Day, which celebrates the tomato-based cocktail – described by some as the perfect hangover cure. Love them or hate them, bloody marys are a hair-of-the-dog brunch-time staple.
Here are 10 places to go for bloody marys in and around the Inland Northwest.
Historic Davenport Hotel
Sunday brunch at the Historic Davenport Hotel is a Spokane tradition, and these days it wouldn't be complete without a visit with "Bloody Mary Terrie." Terrie J. Cramer has been running the bloody mary bar the Davenport's Sunday brunch for three years, and in that time, she has developed quite the following. "She is quite the character," said Matt Jensen, the Davenport's corporate director of sales and marketing. "She's kind of a celebrity here."
Cramer guides guests through the process of building their own bloody marys for $10 each. To create a customized experience for each visitor, she starts with a question: salted or unsalted rim? Then, there's a choice of salt: kosher, bacon or spicy. And then she wants to know: mild, medium or hot? And, "Any allergies I should be aware of?" She spoons in all of the dried spices: celery salt, rubbed sage, garlic, black pepper, smoked paprika, cayenne. There's Sriracha, too. Cramer uses Demitri's Bloody Mary Seasoning mix. Choose from classic, extra horseradish, or chilies and pepper, as well as Tapatio, Cholula or Tabasco (red or green). The choices, Cramer said, are "what makes it so fun." She swears by the next step: "The perfect bloody mary comes from the muddle," she said. "The magic all begins with the muddle."
Tito's Handmade Vodka is popular. But there are flavored vodkas, too – pepper, citrus, cucumber, rosemary-bacon, bacon, wasabi, habanero. Gin's also available. Tequila, too. And George Dickel Tabasco Brand Barrel Finish Whisky. One of the final choices is what to top it all off with: tomato juice, V8 juice or Clamato juice. Garnishes include mini red peppers, tomato wedges, garlic-stuffed olives, pickled beans and asparagus, celery stalks, English cucumbers, green onions, chives, lemon, limes, bacon, jumbo prawns, fresh rosemary, fresh sage, fresh thyme, fresh cilantro. "That's like a little brunch in itself right there," Cramer said, handing a creation to a guest. "You know the rules: you have to taste it first. I guarantee my bloody marys." 10 S. Post St. (509) 789-6848. davenporthotelcollection.com.
Central Food
Consider ordering a side of fresh house-baked bread to go along with the $12 elevated take on a classic bloody mary at this Kendall Yards restaurant. The bacon bloody mary comes with enough garnishes to make a sandwich or at least double as an appetizer. Expect candied bacon, half of a pickled egg, olives, lemon, lime and an array of pickled vegetables such as carrots, radish and fennel. (The house-pickled fennel is a particularly nice touch.) Central Food's bloody mary is made with V8 Original juice and house-made mix featuring Worcestershire and Tobasco sauces, lemon, black pepper and celery salt. 1335 W. Summit Parkway. (509) 315-8036. eatcentralfood.com.
Berserk
The $10 Asian-inspired bloody mary at Berserk is made with gin as its base spirit, which technically makes it a red snapper. Bartender Lon McRae likes it that way because "there's more flavor in gin." Of course, customers can always request vodka. But why not trust your bartender on this one? His wife, Beth McRae, created the recipe for Berserk's bloody mary, which includes V8 Spicy Hot juice and a house-made bloody mary mix with soy sauce, hoisin, garlic-chili paste, ginger juice, lime juice and red miso. "I wanted to do a bloody mary that was different," she said. Flavors from the garlic-chili paste and soy sauce come through most; this drink isn't overly tomato-y nor ginny. It doesn't taste like pine or juniper. And it doesn't come with salted rim. But it's really not needed. The mix offers the right balance of saltiness, spiciness and tanginess. Still, if customers want a salted rim all they have to do is ask. Sundays, it's happy hour all day at Berserk, and that includes a bloody mary bar. Bloody marys are $2 off. And customers can doctor up their drinks with extra accoutrements such as baby corns, celery, onions, lime and lemon wedges, pickled asparagus, jalapeños and more. 125 S. Stevens St. (509) 315-5101.
Bruncheonette
Brunch is all they do at Bruncheonette, a breakfast and lunch spot that offers a contemporary vibe, complete with chalkboards and table-top succulents. Wash down the verde hash, chilaquiles, chicken and waffles, or signature tamale waffle with one or two of its $9 spice-forward bloody marys. Cumin and smoked paprika are at the forefront of Bruncheonette's house-made mix, which packs quite a punch. The heat isn't overwhelming, but it won't go unnoticed. "We start with regular old tomato juice, and we just slow-cook it for a couple of hours," said owner Allen Skelton. The mix – which also includes chili powder and granulated garlic – is more spicy than tomato-y and offers an underlying note of smoke, which adds to its complexity. A spear of pickled asparagus, celery stalk, slice of bacon, lemon slice and a couple of olives garnish the beverage, made with vodka. 1011 W. Broadway Ave. (509) 443-5968. www.coupleofchefs.com/brunchonette.
Satellite Diner and Lounge
The $8 bloody mary at this almost-24-hour establishment in downtown Spokane uses the owner's secret recipe and comes in regular or spicy. The server and bartender wouldn't say what's in the mix, but did confirm one of the notes that really comes through: cucumber. It's an unusual ingredient for a bloody mary but really works here, adding a refreshing element. There's a hint of citrus, too. That brightness and refreshing cucumber flavor is masked in the spicier version. But both make for super solid bloody mary options. 425 W. Sprague Ave., (509) 624-3952, satellitediner.com.
Boombox Pizza
Served in a 32-ounce goblet and adorned with an array of accoutrements, the $17 "There's Something About Mary" at Boombox is not only a cocktail – but a meal for two! It's a perfectly acceptable drink on its own merit: a tomato juice base mixed with Worchestershire and bitters, done medium spicy with Tapatio hot sauce and tajin (chile and lime) rim – with extra credit for using Tito's Handmade vodka. But what makes this mary is the toppings: the standard celery stalk, pickled veggies, pepperoncinis, cured meats, a pepperoni stick and the pièce de résistance – a slice of pepperoni pizza to tie in with the theme of the restaurant. With all that you'd think everything was covered, but we missed an olive (a personal favorite) and an extra wedge of citrus for service. A bit of advice – share, or drink quickly. At that size, the melting ice watered the drink down considerably halfway through. 221 N. Division St. (509) 315-4369. www.facebook.com/boomboxspokane.
The Blackbird Tavern and Kitchen
Bloody marys here are 12 ounces, and there are four kinds: the house bloody mary for $7, the house bloody mary made with bacon-infused vodka for $8, the Spicy Maria with jalapeño-infused tequila for $9 and the Millionaire Mary for $10. The Millionaire is the bloody mary for bourbon lovers. It's rich and tangy, a little bit sweet and a bit little smoky. Now, you might be thinking bourbon and tomato juice? Really? The answer is yes, and you just might be surprised at how much you like it. The Millionaire is made with bacon- and cayenne-infused bourbon, plus the same house bloody mary mix in the other three options. It features a smoked salt rim and is garnished with a bacon-wrapped asparagus spear and a couple of olives. "You're not going to find it anywhere else," said bartender Avery Morgan. (But, he said, you can get that infused bourbon in a Millionaire Manhattan.) The Spicy Maria is brighter, more refreshing and not as rich, but still flavorful and zingy and served with a lime wedge, olives and asparagus spear. The house-made mix features tomato juice and Demitri's Classic Bloody Mary Mix doctored up with extra cayenne, horseradish, white pepper, pepperoncini juice, house-made jalapeño hot sauce, and Worcestershire and teriyaki sauces. 905 N. Washington St. (509) 392-4000. theblackbirdspokane.com.
Bardenay
The classic bloody mary at Idaho's oldest restaurant/distillery is $6.50 but upscale and prepared with its own house-brand vodka. More cocktail than concoction, it's served in a rocks glass with 2 ounces of vodka. Once ice is added, it's practically a 50/50 split with the base. "That's on purpose," our server said. "We want you to taste our alcohol." The base is simple: tomato juice, a splash of Worchestershire and Tabasco sauces, and celery salt. It makes for an attractively boozy drink with the vodka and hot sauce up front with a mere suggestion of tomato. And it's served with a chilled celery stalk, asparagus, pepperoncini, olives, lime and lemon. Bardenay has seven variations on the menu, including a basil bloody mary, a "Clam Digger" made with Clamato juice and the "Sunday Morning Paper," poured in a martini glass and made with Bardenay's lemon vodka and fresh pressed sour, served with a spiced salt rim. 1710 W. Riverstone Dr., Coeur d'Alene. (208) 765-1540. bardenay.com.
Capone's
This North Idaho staple is a solid enough effort in its own right. Their homemade mix is flavored with horseradish and hot sauce and comes adorned with the requisite celery, olives and citrus garnishes and a lushly salted rim. On football Sundays though, they break out all the stops. Six specialty bloodys are on the menu, each more interesting than the next. Start with the "Cattleman's Derby," made with their house base, Maker's Mark and garnished with a beef stick. Next is the "Bacon and Butternut," in which the house mix is infused with butternut squash and blended with Bakon Vodka and garnished with a slice of bacon (What's better than bacon?). There's a "Korean BBQ" bloody, a "Bloody Maria" with Horitos Reposado, an Asian bloody mary – with Siracha, wasabi, soy sauce and Pinnacle Habanero vodka – and a "Buffalo Bloody" with Frank's Red Hot Buffalo sauce and Idaho's Own Party Animal vodka. Specialty bloodys range from $7-$7.50. Downtown: 751 N. Fourth St., Coeur d'Alene. (208) 667-4843. Hayden: 9520 N. Government Way. (208) 762-5999. Post Falls: 315 N. Ross Point Road. (208) 457-8020; caponespub.com.
Birch and Barley
For far would you drive for a good bloody mary? What if it came with lunch skewered to it? The best way to celebrate the latest Cougars win or brush off a loss is a visit to this Pullman establishment on a Saturday or Sunday brunch for their build-your-own extravaganza. The drink itself is solid – 20 ounces with a double-shot of vodka and flavored with extra horseradish and Vandal Pepper Sauce, made at The Breakfast Club in Moscow. The basic $8 bloody comes with a pretzel stick, lemon, lime and three "tier one" garnishes such as celery, olives and jalapeños. But what makes it is the menu of toppings, the most extensive in the region. Top your bloody with everything and anything from the menu, including slider burgers, shrimp, jalapeno poppers, buffalo chicken balls, bacon, little smokies, hard boiled egg, blue cheese stuffed olives, cheese cubes, pickles, asparagus, pepperoncini, pickled beets, cocktail onions, pickled beans and even doughnut holes. Yeah, doughnut holes. Get one with all 23 toppings and it'll cost you just $11.45 – and probably a case of indigestion. 1360 Bishop Blvd., Pullman. (509) 332-0108. birchbarley.com.
Local journalism is essential.
Give directly to The Spokesman-Review's Northwest Passages community forums series -- which helps to offset the costs of several reporter and editor positions at the newspaper -- by using the easy options below. Gifts processed in this system are not tax deductible, but are predominately used to help meet the local financial requirements needed to receive national matching-grant funds.
Subscribe to the Spokane7 email newsletter
Get the day's top entertainment headlines delivered to your inbox every morning.
---