Sports
Grip on Sports: The new year starts off with a lot of tough losses, some more important than others
Wed., Jan. 2, 2019, 7:56 a.m. A GRIP ON SPORTS • Can we really be back to the usual grind already? Yep, we are, though yesterday was unusual enough to force a little different way to look at everything. Read on.
••••••••••
• There was so much going on yesterday, we have to organize our thoughts in an unusual manner. Let's just take some quick bites out of the buffet that was New Year's Day …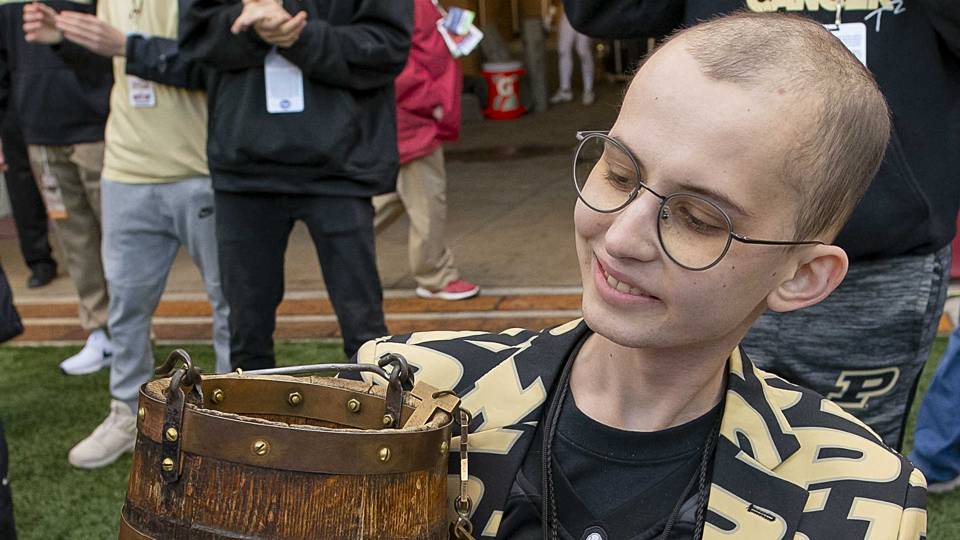 • The worst way to start a year is mourning a loss. Not a phony sports-type loss, but a real, honest-to-goodness, why-did-that-have-to-happen loss. As in the loss of Purdue fan Tyler Trent. If you paid attention to any part of his story, you'll understand why it hit so hard to many folks when Trent died Tuesday.
There were so many moving tributes we can't get to them all, but we will call attention to what Scott Van Pelt did on ESPN. It was moving.
• You know this eye test thing everyone talks about? It was painfully obvious yesterday in Pasadena the Pac-12's champion just didn't pass. Then again, none of the conference members would have against Ohio State (or Alabama or Clemson or maybe a couple other teams).
The Huskies were overwhelmed up front on both sides of the ball. The Buckeyes were bigger, faster and more athletic. And that's where college football games, especially important college football games, are won and lost.
• Along that same vein, Ben Burr-Kirven was about the best linebacker in the conference for 13 games. But yesterday he just seemed small. Not because he struggled with the Ohio State linemen. Most linebackers in the Pac-12 would have. But he also had his struggles trying to tackle Mike Weber and J.K. Dobbins. The two Buckeye running backs, both solidly built at 5-foot-10 and 214-pounds, tried to bull through the 6-foot, 220-pound Burr-Kirven, who is about speed more than brawn. It worked. Way to often for the Huskies' liking.
• Football is a game of emotion. Texas had some yesterday. Georgia didn't, not until it was too late. The Sugar Bowl's final score was understandable. The Bulldogs were within a couple of yards of playing for a national title before Alabama snatched it away in the SEC title game. They never recovered. Well, late. Too late.
• Washington State did recovery from an awful performance in the Apple Cup, which is a good thing. The Cougars' 11-2 record should earn them a top-10 spot in the polls (they made it in this one). If they do, it will be only the fifth time in school history they ended the season in the top 10.
For a team that was expected to finish somewhere near the bottom of its conference, it's a pretty sweet accomplishment.
• There is one more FBS game to go. The national title matchup between Alabama and Clemson on Monday night. The two best teams. It will receive a lot of attention between now and then and be watched by millions.
There is also one more FCS game to go. The national title matchup between North Dakota State and Eastern Washington. The two best teams. It will receive a lot less attention and won't be watched by millions. But that doesn't mean it isn't important – and could be an interesting game.
Outside of the upper Midwest and our little neck of the woods, it probably won't garner a lot of discussion. That's OK. It still worth celebrating.
•••
Gonzaga: Speaking of celebrating, the emergence of Jeremy Jones as a valued sub is something the Zags are applauding. A door was closed on Killian Tillie and Geno Crandall for a while but their injuries opened a window for Jones. When needed, he's breezed through. Jim Meehan has more in his look back at the win over Cal State Bakersfield. … Around the WCC, BYU is struggling with its disappointing nonconference results.
WSU: The Cougars' basketball program has lost a few players to transfer recently. Now they are welcoming one in. Former Wichita State player Chance Moore is headed to Pullman. Theo Lawson has more. … Elsewhere in the Pac-12, the Rose Bowl takes centerstage, as well it should – every year. There had been four consecutive Rose Bowls without the Pac-12 and Big Ten champion, which seems sacrilegious. It also seems that the Big Ten is better right now, which hasn't been the case since before Vatican II or something. The Buckeyes manhandled depleted UW for three quarters before the Huskies made it interesting. … Speaking of manhandling, that's what Northwestern did to Utah in the third quarter Monday night. … Stanford won, then lost a tight end. … Oregon is ready for an upgrade. … In basketball, UCLA has made a change. So who is next? … Arizona isn't wasting any time. … Washington had to rally to get past Cal State Fullerton.
EWU: There are a couple of ties that bind Eastern assistants Jeff Schmedding and Heath Pulver, not the least of which is their high school alma mater. Ryan Collingwood has this story how a couple of U-High grads have become crucial to the Eagles' success.
Seahawks: The Hawks haven't had much luck with the safety spots this season. The run of tough news continues heading into Dallas.
•••
• If you are independently wealthy – I would be if I had won the big lottery jackpot last night, but that didn't happen – you could catch a great doubleheader in the Dallas area this Saturday. The FCS title game is north of town in the morning, then the Hawks face Dallas in the evening. Getting into the latter game will cost you if you want to be able to actually see what's going on. Until later …
Subscribe to the sports newsletter
Get the day's top sports headlines and breaking news delivered to your inbox by subscribing here.
You have been successfully subscribed!
There was a problem subscribing you to the newsletter. Double check your email and try again, or email
webteam@spokesman.com
---