Sports > Gonzaga women
Gonzaga closes strong to top Saint Mary's, avenge lone conference loss from last season
Jan. 3, 2019 Updated Thu., Jan. 3, 2019 at 10:18 p.m. It hurt so good that Jill Townsend could only smile.
Seconds after she answered the bell for the fourth quarter in Thursday night's game against Saint Mary's, Townsend took one on the chin – from one of her teammates.
"It was more of a blow to my pride, actually," said Townsend, who was waiting to get back in the game when Laura Stockton's gritty attempt at a steal ended with the ball caroming off Townsend's jaw.
"I'm going to ask that they put that into the game film," Townsend said.
The show isn't for the squeamish, but it ends happily enough, with GU taking a 74-62 West Coast Conference win over the Gaels before a sellout crowd at the McCarthey Athletic Center.
"It wasn't our prettiest win, but we got it done," said Townsend, who finished with 16 points and six rebounds while showcasing the Zags' toughness in the fourth quarter.
As a 16-point lead dwindled to two midway through the fourth quarter, Townsend rebounded a missed 3-pointer by Chandler Smith to give GU some breathing room.
With the game still in doubt, Townsend hit a clutch jumper that made it 72-62 with 1 minute, 31 seconds left.
"We just had to buckle down," Townsend said after the 17th-ranked Zags improved to 14-1 overall and 3-0 in the WCC.
Saint Mary's (7-6, 0-2) took GU to the limit, thanks to 28 points and eight rebounds from forward Megan McKay.
"She's just a great player," GU coach Lisa Fortier said of McKay after GU won its 10th straight game going into Saturday's noon tipoff against Pacific.
The Zags answered with speed, versatility and clutch shooting in the fourth quarter. The biggest shots came from Smith, whose team-high 17 points included a 3-pointer with 2:20 left.
That made it 68-60 and finally gave GU some breathing room against the program that handed the Zags their only WCC loss last season.
Shannon Donegan, GU's director of basketball operations, made sure the players didn't forget.
"There were signs in the locker room today," Smith said. "We loved it, but we hated it, too."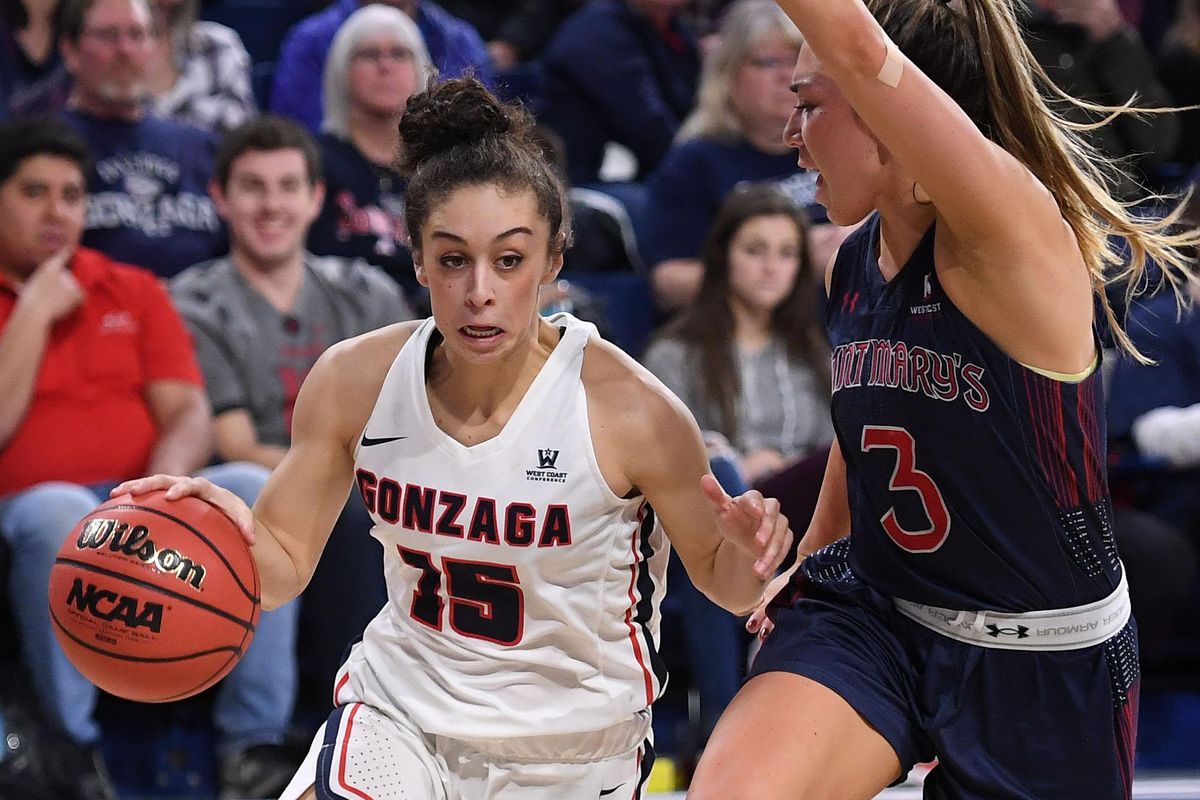 Gonzaga guard Jessie Loera (15) drives the ball toward the keys as Saint Mary's guard Jasmine Forcadilla (3) defends during the first half of a college basketball game, Thurs., Jan. 3, 2019, in the McCarthey Athletic Center. (Colin Mulvany / The Spokesman-Review)
Perhaps that motivation led to GU's lockdown zone defense in the first half, which ended with the Zags ahead 35-27 as Saint Mary's made just 1 of 11 shots from beyond the arc.
The lead grew to 43-27 midway through the third quarter before the Gaels rallied behind the 6-foot-3 McKay.
GU's quickness, however, was the difference. Point guard Stockton filled the stat line with six points, four assists and four steals, helping the Zags score 18 points off turnovers.
Ten of those points came on the fast break, while Saint Mary's had zero. For that, Fortier could also thank guard Jessie Loera, who had missed several games with a concussion.
On Thursday, Loera was back at full strength and full speed, with eight points, six assists and three steals.
Her biggest came with GU leading 60-56 with 4 minutes left. Pouncing on a bad pass, she capitalized with a layup and a foul shot to make it 63-56.
"She makes people uncomfortable," Fortier said. "She's feisty, and she did a great job of turning defense into offense."
The Zags got another big game from senior forward Zykera Rice. The reigning WCC Player of the Week following a road sweep of Loyola Marymount and Pepperdine punished Saint Mary's inside with 16 points off 6-for-13 shooting from the field.
Local journalism is essential.
Give directly to The Spokesman-Review's Northwest Passages community forums series -- which helps to offset the costs of several reporter and editor positions at the newspaper -- by using the easy options below. Gifts processed in this system are not tax deductible, but are predominately used to help meet the local financial requirements needed to receive national matching-grant funds.
Subscribe to the sports newsletter
Get the day's top sports headlines and breaking news delivered to your inbox by subscribing here.
---