Sports > Outdoors
Mount Spokane ski patroller wins national Outstanding Alpine Patroller award
Thu., Jan. 3, 2019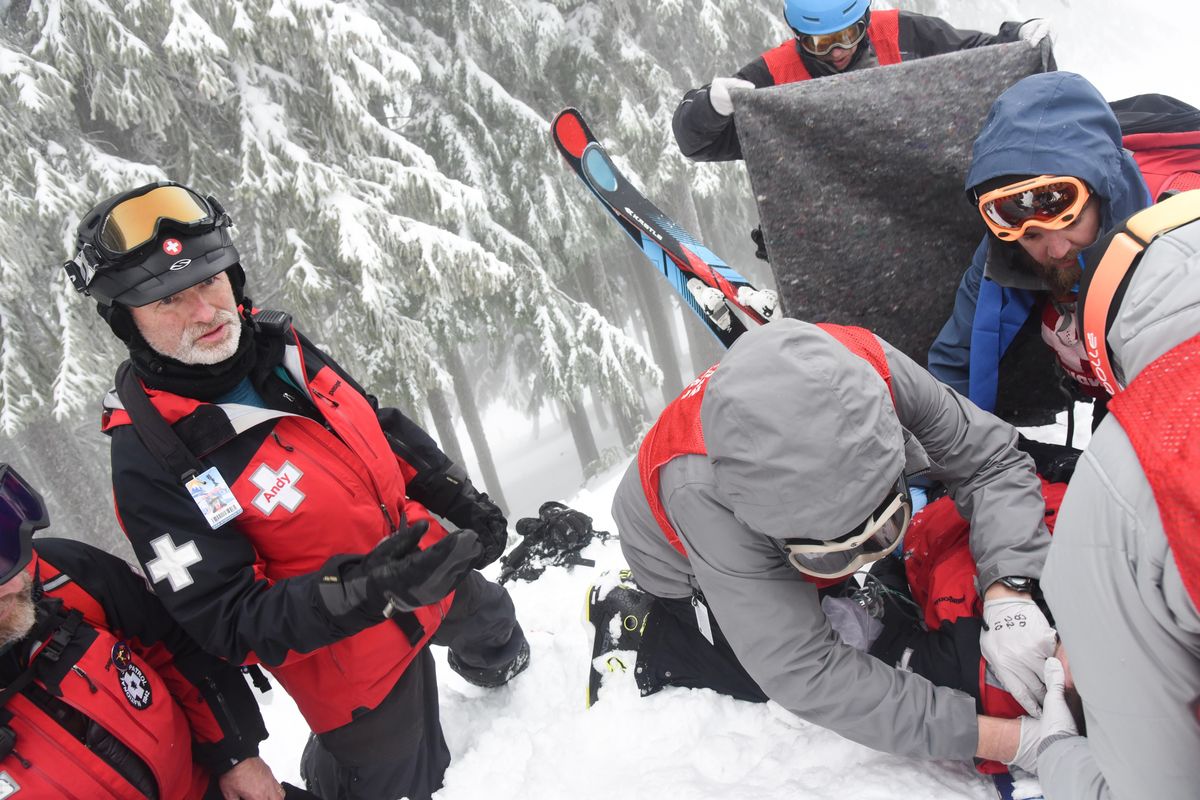 Andy Porter, left, watches as candidates for Mt. Spokane's volunteer ski patrol treat a patient during a training day Saturday Dec. 29, 2018. Porter was named the Outstanding Alpine Patroller for the nation by the National Ski Patrol in January. (Eli Francovich / The Spokesman-Review)
A Mount Spokane volunteer ski patroller has been named the Outstanding Alpine Patroller by the National Ski patrol.
Andy Porter won the prestigious national award for the 2017-18 season.
But the roots of Porter's win stretch back nearly two decades.
In 2000, Porter found himself navigating a confusing morass of legalese and bureaucracy. One of his daughters was born severely disabled and as she became an adult, Porter and his wife were looking into becoming her legal guardians.
Porter enrolled in a special education class at Whitworth University in hopes of learning how to navigate a confusing and sometimes frustrating system.
The class was taught by Whitworth professor Betty Williams.
At the time, Porter worked for Washington Trust Bank in the credit division and had done so for 20 years.
During the semesterlong course, Porter worked with special education students, traveling to schools around the region.
There his love and skill with children was evident. Despite working in the adult world of banking, Porter had always been drawn to teaching and children.
At the end of the course, the professor gave him some advice.
"Betty and I became pretty good friends," Porter said. "She said, 'Andy, you're in the wrong profession. You need to change.' "
He did.
At age 44, he earned an undergraduate and graduate teaching degree from Whitworth and retired from banking.
At the same time he switched careers, Porter began training as a volunteer ski patroller at Mount Spokane.
A lifelong skier and former collegiate ski racer, Porter was well-suited for the demanding volunteer job.
Soon he was instructing aspiring ski patrollers as well as leading refresher training for current patrollers.
"My personality is such that if I see something that needs to be done, I don't normally seek out someone else to do it," he said. "I just do it."
Eighteen years into being a patroller, Porter is involved in nearly every facet of the organization.
In addition to teaching and training, he manages the patrol building, makes sure medical supplies are stocked and helps with general maintenance for patrol toboggans.
He's so involved that Randy Foiles, the Mt. Spokane Ski Patrol director, has tried to get him to do less.
"I, as director, am concerned about burning him out," Foiles said.
Porter dismisses those concerns.
"I enjoy what I'm doing," he said.
Porter estimates he spends 15 hours a week, year-round, doing Mount Spokane patrol-related work. He's busiest during the winter, but the various yearlong trainings keep him going even in the warmer months.
That dedication, combined with his knack and love for teaching, convinced Foiles to nominate him for the Outstanding Alpine Patroller award.
To win at the national level, Porter had to be nominated locally. From there, he competed against more than 50 other Pacific Northwest region patrols. After that, he was judged nationally against the nine other regions' nominees.
"It's a pretty stiff competition," said Jerry Sherman, the National Ski Patrols awards program adviser.
"I think the Alpine Patroller is one of the ones that always has the most nominees."
Porter's expertise was clear last Saturday.
The mountain was blanketed in thick fog and the wind was already galloping, with the forecast calling for gusts to 70 mph later in the day.
It was the final training day for a class of Mount Spokane patrollers. They started their training in April, with Porter.
Now they were practicing using a toboggan and responding to an unconscious skier.
In the scenario, a patroller, Tia Kohs, came across an unconscious skier. Eventually, the trainees moved the victim onto a backboard, called for an ambulance and got the victim onto a toboggan.
Each movement was the result of hundreds of hours of training. Throughout, Porter watched, noticing and commenting on every step of the rescue.
During a debrief held midslope, he didn't shy away from pointing out mistakes. But he was never unkind.
"You know Andy, we're going to fine-tune things," Porter said of himself.
Kohs echoed Porter.
"What I can tell you, though, is that Andy Porter is a phenomenal instructor," she said in an email. "He holds his students to high standards and is very particular in certain aspects, yet he never fails to assist students who demonstrate initiative."
Dave Gilbert, another ski patrol trainee, said he appreciated Porter's collaborative style.
"He seems to really shine when it's in the smaller groups," Gilbert said.
For an all-volunteer ski patrol like Mount Spokane's, Porter's dedication and work ethic are particularly important, Foiles said.
Unlike most patrols, Mt. Spokane Ski Patrol does not have any paid staff.
"He's a little bit of a control freak," Foiles said of Porter. "We can't get him to stop doing everything.
"At the end of the day, he's trying to do things right."
Local journalism is essential.
Give directly to The Spokesman-Review's Northwest Passages community forums series -- which helps to offset the costs of several reporter and editor positions at the newspaper -- by using the easy options below. Gifts processed in this system are not tax deductible, but are predominately used to help meet the local financial requirements needed to receive national matching-grant funds.
Subscribe to the sports newsletter
Get the day's top sports headlines and breaking news delivered to your inbox by subscribing here.
---