Marketing > EVERCANNABIS
Apex Cannabis invests in flagship shop
Owners transform old building for new cannabis destination
Fri., Jan. 4, 2019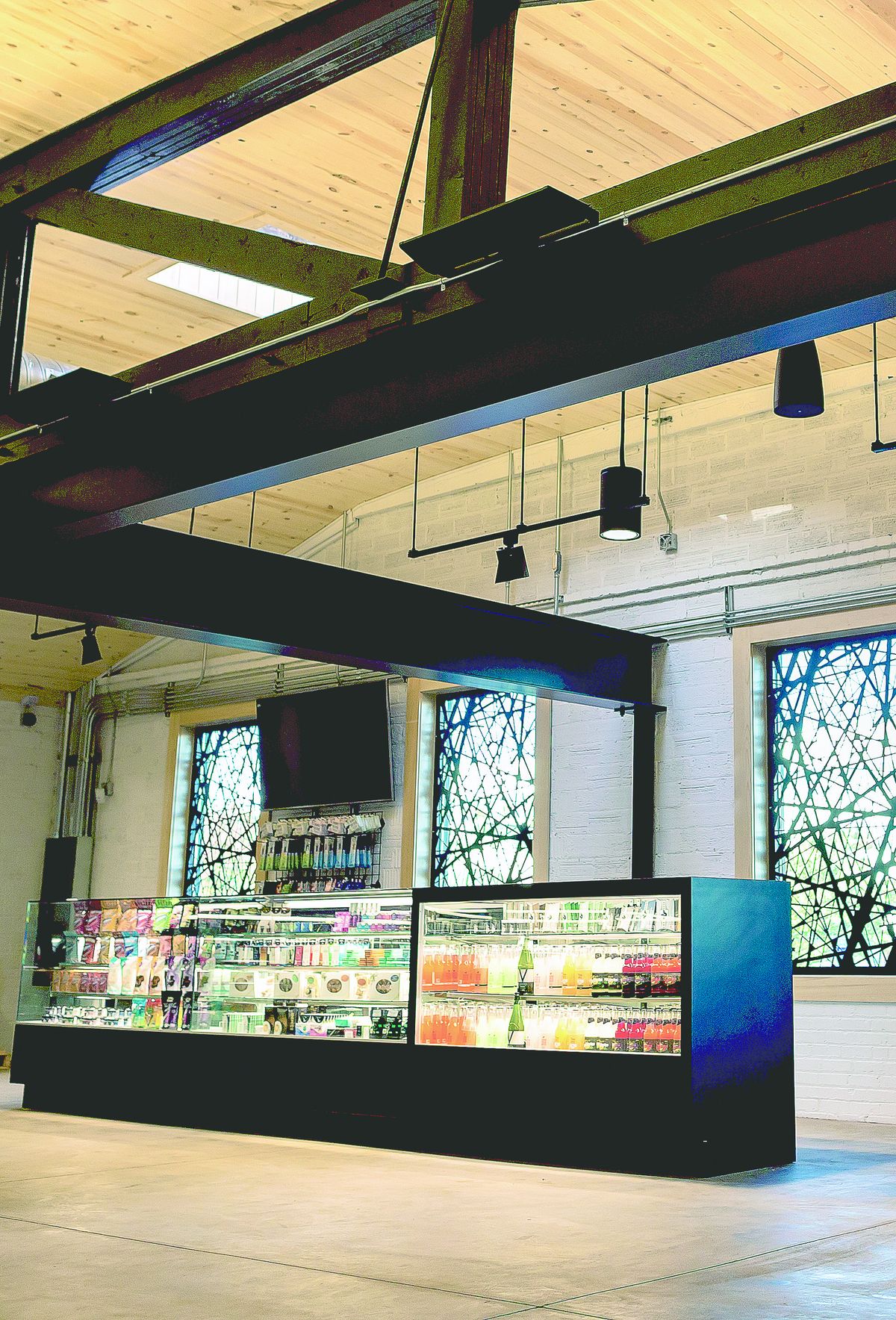 Apex Plaza, north of downtown Spokane, includes an Apex Cannabis shop as well as Apex Cannagear. The location received a significant renovation that took more than a year. (Courtesy Justin Alaniz Lucid Concepts Photography)
After owning and operating Apex Cannabis shops in Moses Lake and Otis Orchards, Troy and Stacey Peterson had a vision for Shop No. 3. They wanted a flagship location in Spokane between downtown and Northtown Mall, near Gonzaga University, Stacey's alma mater. However, securing real estate on lower Division Street proved challenging. Their solution turned out to be a dilapidated circa-1900 building just south of Mission Avenue, which ended up requiring 18 months of major interior and exterior work to transform into Apex Plaza before officially opening in December. "We ended up purchasing a building 10 times larger than we needed, along with a lot with an old home," Stacey Peterson said. "It would have been cheaper to tear everything down, but we did get to save a cool old building." As the general contractor as well as owners, the Petersons began the process by shoring up the 15,500-square foot building with steel columns and beams. They added new siding, lighting, awnings and signage, and flattened a 7 percent grade to create a 30-car parking lot. One side of Apex Plaza includes an Apex Cannabis shop, which offers flower, concentrate and edibles, plus a consultation area for those seeking cannabis for pain relief and medical needs. Across the hall is Apex Cannagear, a separate company that sells glass, vaporizers, hemp-based CBD products, apparel and other accessories. "One of the wonderful aspects about Cannagear is that it provides more time and space for staff to walk customers through the specifics of things like how dab rigs work or to compare vaporizers," she said. She especially enjoys the 11 large windows, which the previous owners had boarded up. Each one now holds customized-designed steel panels created by Spokane's Revamp that provide security, allow in natural light, and add creative flair. "Our goal was to create a welcoming, comfortable space and carry a full range of products for every budget," she said. "We tried to think of every detail to make the shopping experience special." The Moses Lake and Otis Orchards stores were the first in Washington to feature temperature- and humidity-controlled display cases. The Spokane shop has these along with refrigerated cases that keep drinkable beverages cool and preserve the stability and flavor of some concentrates. Each employee receives the Apex "Priorities and Principles" document, which shares the company's focus on safety, compliance, customer service and being part of a respectful, positive, and fun work environment. A shared goal is to always delight customers with service and product knowledge, whether they are newcomers or cannabis experts. "We all enjoy the full spectrum of customers, from the 21-year-old hipster to my 70-year mother," Peterson said. "Our security people greet everyone, and the budtenders enjoy discussing strains, terpenes and all the nuances of cannabis with veteran consumers just as much as they enjoy introducing new customers to items like topical CBD products." Stacey and Troy encourage diversity in the staff. "Our general and assistant general managers do amazing jobs hiring the best candidates with a variety of backgrounds," she said. "We have everyone from 20-something professionals to our 65-year-old security employee, Larry. They all bring different perspectives, which our customers appreciate." Employees are encouraged to spend as much time as needed with everyone, whether it's a few minutes or even hours for those who know nothing about cannabis but have been told it can help. "Our budtenders are extremely knowledgeable and experienced cannabis consumers," she said. "However, what's most impressive is their talent in helping customers select what best fits their lives and meets their needs." Customers are encouraged to join Club Apex, a loyalty program that includes texts about sales, events and promotions. "We're excited about this updated program, and couldn't have done any of this without our IT department," she said. "Those guys make the behind-the-scenes happen." The company recently hired its first buyer, instead of having each manager order separately. This helps buying power and streamlines collaboration with growers. The Petersons and Apex staff are looking forward to educating the community about the benefits of cannabis, and also plans to keep perfecting all aspects of the business.
Local journalism is essential.
Give directly to The Spokesman-Review's Northwest Passages community forums series -- which helps to offset the costs of several reporter and editor positions at the newspaper -- by using the easy options below. Gifts processed in this system are not tax deductible, but are predominately used to help meet the local financial requirements needed to receive national matching-grant funds.
Subscribe now to get breaking news alerts in your email inbox
Get breaking news delivered to your inbox as it happens.
---