Marketing > EVERCANNABIS
CBDs becoming part of the cosmetic world
Fri., Jan. 4, 2019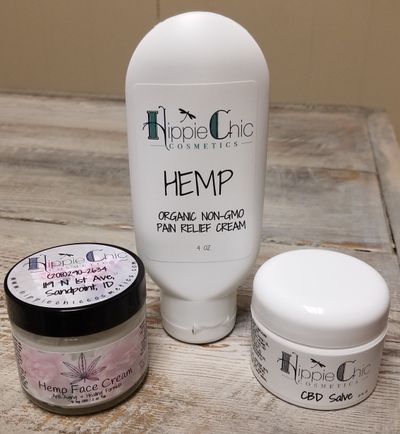 Some of the biggest commodities in today's economy are products that promise relief either from pain or from aging. When we talk about pain, more and more we think of opioids, which the National Center on Addiction and Substance Abuse says kill as many as 116 Americans a day. As for aging, media ads galore promote any number of lotions or creams that claim to stop – or at least slow – the natural effects of growing older. Clearly, we as a society have problems, one a serious health issue, the other a salve to our collective vanity. The question is, what's the best to address them both? And the answer some have come up with involves CBD. Shorthand for Cannabidiol, CBD is derived both from two different kinds of plants: hemp and marijuana. And while marijuana-based CBD does have trace amounts of THC, the chemical source of a cannabis "high," CBD derived from hemp does not. As such, hemp-based CBD is legal in all 50 states, even those few, such as Idaho, that – unlike Washington and Oregon – have yet to reform their laws regarding either recreational or even medical use of cannabis products. And businesses such as Hippie Chic (pronounced "chick") in Sandpoint are taking full advantage of that legality. In fact, Hippie Chic's owner, Jessica Bontrager, offers a full range of products that, depending on demand, will contain hemp-based CBD. Bontrager herself is among the users. Having contracted Lyme Disease several years ago, Bontrager suffers both from neck and back pain and from headaches compounded by stiffness in both areas. At first she was skeptical. But after she began taking CBD orally, she noticed a difference right away. "It's really helped," she says. "The pain's not gone, but the edge is taken off so I can stretch out." Bontrager has now begun blending her own CBD-based concoctions in everything from massage oils to lotions, salves to lip balms. To bases of oils such as sunflower, sesame or jojoba, she adds "essential" oils such as rosemary, wintergreen and eucalyptus. And the resulting products, she says, have proven effective to a range of clients who live from Sandpoint to Boise, including Post Falls and even Spokane. "I'm getting a lot of positive feedback," Bontrager says. "I have one customer with a degenerative back who has used it, and she says it's way better than pain relievers." Another of Bontrager's customers is Arla Markael, owner Sandpoint's Highland North Day Spa. "We've been using CBD in the massage oil that we use on our clients," Markael says, "especially if they're in more severe pain or they have muscular issues where the muscle just won't let go." Markael cites the chief benefit of CBD as helping reduce inflammation. "Both the clients and the therapists have stated that they really appreciate it and they feel like they've had good results with it," she says. Markael and Bontrager say they are going to continue working with CBD, developing new products. And Bontrager, who is 44, is particularly enthusiastic about an anti-aging cream that she created. "I've been using it on myself for about three months in a face cream that I make, and I can definitely tell a difference," she says. The cream, she says, "takes away the fine lines and wrinkles around the eyes." Relieving pain and slowing down the aging process. A promise like that is hard to ignore.
Local journalism is essential.
Give directly to The Spokesman-Review's Northwest Passages community forums series -- which helps to offset the costs of several reporter and editor positions at the newspaper -- by using the easy options below. Gifts processed in this system are not tax deductible, but are predominately used to help meet the local financial requirements needed to receive national matching-grant funds.
Subscribe to the Coronavirus newsletter
Get the day's latest Coronavirus news delivered to your inbox by subscribing to our newsletter.
---