Keeping watch on the 'invisible wall': On the trail with the agents of the northern border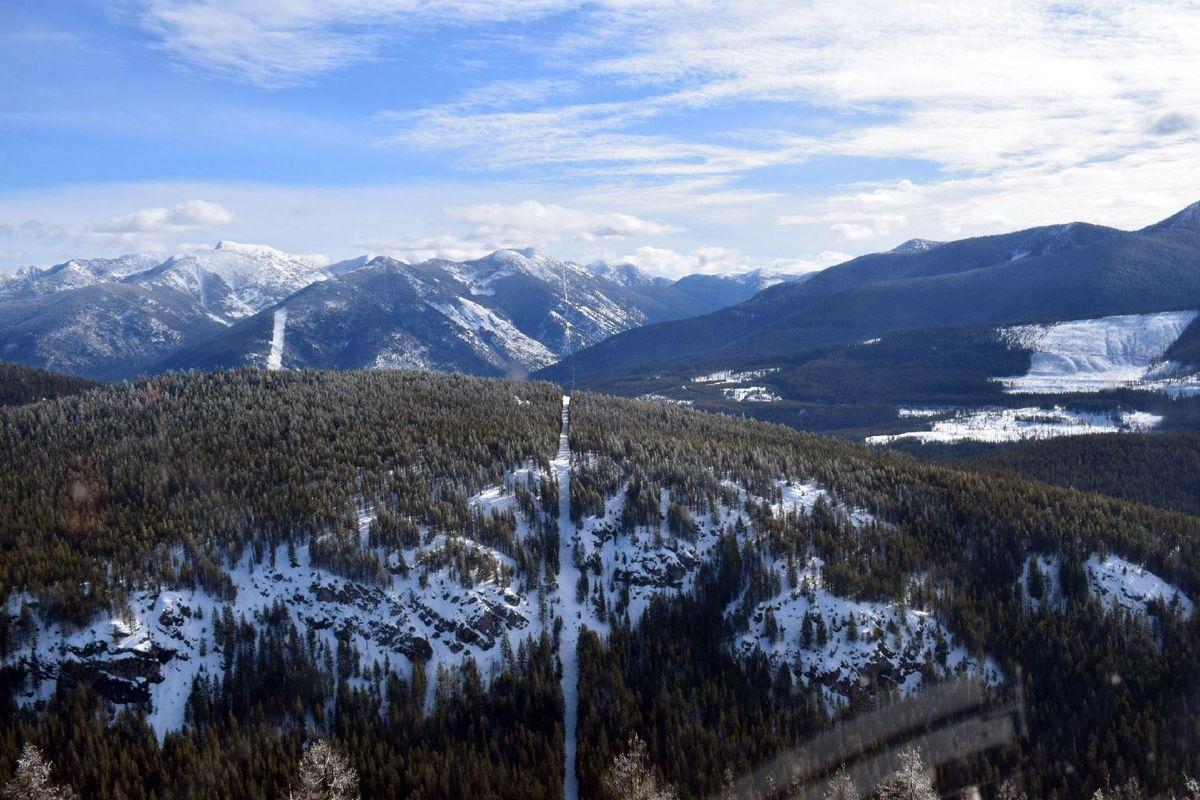 METALINE, Wash. – When four people walked out of the dense tree cover onto a gravel road in the Colville National Forest, they were happy to see a car waiting for them. What they didn't expect was the sudden appearance of a U.S. Customs and Border Patrol agent.
The surprise was mutual: the agent hadn't expected to find the family of four Mexican nationals – a couple along with their son and his wife – on that remote gravel road. He he had patrolled the northern border every day for months without seeing anything suspicious.
The family had walked a few miles from Canada across the border, a 30-foot-wide clearcut called "the slash," illegally.
The United States' northern border is monitored by what is sometimes referred to as an "invisible wall" of patrolling agents and high-tech sensors, a virtual net bisecting the continent between Canada and the United States. The four people picked up by border patrol agents that day were taken to the Metaline station for processing and then to U.S. Immigration Court in Tacoma.
The federal government opened the Metaline station in 2003 with the stated mission to stop terrorists and weapons from entering the United States. While agents still see that as a top priority, they continue to enforce the more traditional border issues of drug smuggling and illegal entry.
"We may not have the flow, but the threat is still there," said Rick Petrey, patrol agent in charge at the Metaline station.
Petrey and the other agents are well aware of the difference between a low flow and flood at a border. Each started their careers on the southern border with Mexico, where one agent can make 20 arrests each shift.
There are about 200 agents and support staff working in the Spokane sector, which stretches from the Cascades east through Idaho and into Western Montana near Glacier National Park.
From the Metaline station, 38 agents are divided into three 10-hour shifts. They patrol 24 hours a day, 7 days a week using trucks, ATVs, snowmobiles, horses, dirt bikes, tracked vehicles and bicycles. The gaps along their 25-mile stretch of border are filled by portable electronic sensors and, sometimes, air surveillance.
The Metaline agents patrol west to the Stevens County line, where Colville station agents take over, and east to the Selkirk Mountains near Priest Lake where the Bonners Ferry station agents take over.
This patchwork system extends across the country and resulted in about 350 arrests in the past year in the Spokane sector, said border patrol spokesman Bill Kingsford.
The Spokane sector stations are located in Oroville, Curlew, Colville and Metaline. In Idaho, there's the Bonners Ferry station and in Montana there are stations in Eureka and Whitefish.
Fewer smugglers make it across the norther border now than in the past. Border patrol officials attribute the drop to more agents and sensor technology.
Petrey has been in the Spokane sector for six years. He started out in the El Paso sector where he worked for 14 years. He lives with his wife and four daughters in Colville. Many of his agents live with their families in or close to Pend Oreille County.
Supervisory Border Patrol agent Craig Johnson, 46, transferred about a year ago to Metaline after 19 years on the southern border.
"People forget that, No. 1, we are human," said Johnson as he drove his unmarked patrol truck near Metaline Falls recently. "We have children, we have a lot of veterans that served their country."
"We care not only about the people, but we care about the country. That's what drives a lot of us," Johnson said. "The laws are there for a reason. If we didn't have borders, if we didn't have a legal way of coming here, we would have anarchy."
As a supervisor on the southern border, he processed hundreds of cases for 50 agents a night. He found dead bodies while on patrol, and feared for himself and family were he to tell people what he does for a living.
One reason that only experienced agents are assigned to the northern border is that they have to do many different jobs and more independent investigative work.
Johnson said in the south they always had partners on patrol with many other agents nearby. Here he is usually by himself, patrolling far into the wilderness, sometimes off roads.
It's a "different kind of busy," Johnson said.
He requested the transfer to the northern border because "You can only go Mach 4 for so long before you hit burnout."
Horse patrols
Johnson is one of the agents certified to patrol on horseback. About half the agents at Metaline are certified to ride the station's four horses. Horseback patrol is a necessity since there are few roads in the area and mechanized vehicles are prohibited on others.
But he does admit he enjoys riding in the forested mountains.
"Taxpayers are paying me to ride a horse in country that people in Seattle can only dream about," he said.
His patrols can take him east over the mountains as far as Upper Priest Lake. But he pointed out that some parts of the border are so steep and rugged that even his horse can't travel them.
In the winter, more than 8 feet of snow can accumulate, and patrols require snowmobiles and tracked vehicles. The agents carry avalanche beacons and cold-weather survival gear.
Johnson said their job also includes contacting people who can be a source of information. He said he feels the horse helps him do that.
"Who doesn't love horses?" he asked.
"When I ride up a road on horseback people are going to want to talk," he said. "When some don't, I get suspicious."
Last summer, he was riding near a campground when several people came to talk to him and invited him to their campsite, he said. It was a large group camp with many families with children.
"One gal starts talking to me and I start picking up dialects, " Johnson said.
He asked where she was from and she said Idaho. He then asked where she was born and she said Ukraine. He asked for their resident alien cards and they all showed him while admiring his horse.
Petrey said most of the agents come here by choice because the southwest border is not home for them. They all have different backgrounds and experience.
After graduating from college, Petrey worked for a construction company. He was hired by the Border Patrol when he was 26. He went to their academy and then to the southern border.
He hails from central Texas originally, which, he points out, is a completely different world than the southern border towns. He and his wife moved to eastern Washington because they thought it would be a better place to raise their children.
As agent in charge at the Metaline station, Petrey is aware of the daunting task of sealing the rugged, often remote border.
There is a possible target just a few miles from the station: the Boundary Hydroelectric Project. Almost touching the border, it is Seattle's largest power producer. Agents keep a close eye on it from observation points and cross the dam on regular patrols.
A typical day
Petrey said agents start their shifts at the office in Metaline – once a grocery store – on state Highway 31. They meet in a conference room lined with computers to hear about threats and issues. Then agents are assigned a zone and go on patrol using various types of transportation, depending on weather and road conditions.
The station has a locked weapons storage area, workout room, locker room, offices, surveillance equipment maintenance room and two small holding cells.
Behind the station is storage forvehicles, campers for staying in the field and generators.
Most of the rugged mountainous region is U.S. Forest Service land. And much of that is designated wilderness which doesn't permit motorized vehicles.
"We take (not driving) seriously," Petrey said. "The agents love the outdoors and want to protect it."
"Although in an emergency we will use any means to get there," Petrey said.
Along with patrolling, agents do work on investigations and examine tips from the public and other law enforcement agencies.
Community relations
In her role as mayor of Metaline Falls, pastor and community theater director, Tara Leininger said she knows many Border Patrol agents and their families personally, and appreciates the extra law enforcement and emergency services help.
While some people may not appreciate armed federal agents popping out in the forest or along back roads, Petrey said, agents are careful to explain their role regarding possible threats and security.
"We have historically had a good relationship with the Pend Oreille County Sheriff and Bonner County Sheriff," Petrey said.
Pend Oreille County Sheriff Alan Botzheim, who also lives in the area, said they have a good working relation with the Border Patrol.
Special authority
Petrey said the Border Patrol's authority is national and doesn't stop at state or county boundaries. It has special authority between each port of entry along the border.
Agents also have duties that require expanded search powers within 25 miles of the border, along with some special authority within 100 miles, which includes the City of Spokane.
This search authority has led to controversy amid reports of agents boarding buses and detaining people at the Spokane Intermodal Center without obtaining criminal warrants.
In the past five years, more than 200 people have been arrested at the bus depot in downtown Spokane.
The practice drew the ire of the Spokane City Council, which in October passed a local law requiring agents to obtain written permission from the mayor before entering the bus station or any other nonpublic city-owned property.
Border Patrol agents, however, continue to regularly board buses.
Some members of Congress have called for ending a sister agency, Immigration and Customs Enforcement (ICE), which is the investigation arm of Homeland Security. Customs and Border Patrol is a separate agency under Homeland Security.
It's Customs and Border Protection, the parent agency for the Border Patrol, that is responsible for patrolling, monitoring and securing the U.S. border with Mexico and Canada. Their agents, not ICE, make arrests. Some confusion arises because ICE runs the detention facilities and does illegal immigration investigations when needed.
The border crossing hours at Nelway north of Metaline Falls were reduced recently to 8 a.m. to 8 p.m. The Canadian government crossing is still open until midnight for now, but plans have been announced to also reduce hours to 8 p.m.
When the crossing is closed, more people try to get around. And that draws more attention from agents.
"We eliminated most roads near the border, but there still are areas people may be able to drive across," Petrey said.
The 30-foot-wide clear cut called "the slash" is maintained by the International Boundary Commission.
Johnson said he remembers when people entering the U.S. illegally were mostly migrant workers coming for a season of work and then going home. But now many are trying to become permanent residents, he said.
Many different hats
During a recent day, Johnson pulled into the Avista House lookout on the snow-covered road while on patrol. The scenic spot is a favorite for tourists looking at the spectacular canyon and Boundary Dam. It's also a good spot for Border Patrol agents to scan the area.
"You pop out of the forest on a trail and hikers ask how you knew they were there," he said with a smile. "Sometimes it's sensors and sometimes it's just luck."
Instead of special weapons, most border patrol agents carry chainsaws to clear trees on roads, he said.
"I'm not really out to pasture here," Johnson said. "It actually takes more experience here because you're on your own and have to wear more hats."
The agents receive frequent firearm and self-defense training. They're also required to view computer training programs on new laws and policies.
Some agents have emergency medical training and will assist local emergency services. They also help with search and rescue when asked.
It takes a different type of person to be in the Border Patrol, Johnston said.
"You have to love being outside all the time and have to love what you do," he said.
"We had a saying down south that we were actually in the rescue business," Johnson said. "Because many of the illegals in the brush I found, I felt I saved their lives from smugglers' abuses or from getting lost."
---