Sports
Grip on Sports: With all eyes on Texas, neither Eastern Washington nor Seahawks could see a way to victory
Sun., Jan. 6, 2019 A GRIP ON SPORTS • Where were we? Oh yes, wondering if the Seahawks and Eastern Washington could find ways to win playoff games in Texas on Saturday. Neither could. Read on.
••••••••••
• At least you won't have to agonize over local football games for the next few months. Everyone is done. One and done, in the Seahawks' case.
One playoff game, one agonizing loss.
The final score in Jerry's World last night was 24-22 but it seemed a lot closer than that.
The tiebreaker in the NFL is not head-to-head, but geography. It has, in the past, worked in the Seahawks favor. This year it did not. Remember that year when the Hawks hosted a playoff game despite being an under .500 team? (It was 2010.) They won the woefully inept NFC West so that's all that mattered. Last night Dallas hosted the Seahawks because it won the weak NFC East and that's all that mattered. Sure, Seattle won the game this season between the two and had the same overall record. But those facts didn't matter.
Until the game started. Home field means something in the NFL. A lot actually. And more than whatever problems you have with Brian Schottenheimer's play calling, the difference in a two-point game is where it's played. That's if you ignore the missed blocks, the whiffs on tackles, the lack of containment, the loss of an ancient kicker and … well, OK, we stand corrected. Losses are always built on a million little things. So are wins.
The Hawks weren't good enough to win the NFC West this season. Which means they weren't good enough to win the Super Bowl. Three playoff road games were too much to ask. As it turns out, one was too much to ask.
• Just up the road in Frisco, the Eastern Washington Eagles ran into the FCS version of America's Team earlier in the day. Make that America's Most Dominant Team.
That title doesn't got to Alabama, folks. The Crimson Tide have only won four national titles in the past eight years, with a chance for a fifth Monday night. North Dakota State has won seven.
The seventh was tough only because the Eagles embody the personality of their head coach. Aaron Best is fun loving but he's also gritty, physical and tough.
So it's no wonder Eastern played with the FCS version of the 1950 Yankees despite missing its best defensive player – Jay-Tee Tiuli, suspended the last two games after an assault arrest – and possibly the division's best offensive player – quarterback Gage Gubrud, lost for the season with an October toe injury.
It's possible, outside of Fargo, no other FCS program could absorb injuries of that magnitude – as good as Eric Barriere was, and he was really good, no one is Gubrud – and continue to bulldoze its way to the title game.
Where it ran into the mother of all bulldozers.
•••
Gonzaga: Ladies and gentlemen, welcome back Killian Tillie. And Geno Crandall. That's what happened about six minutes into the Bulldogs' rout of Santa Clara last night. The two injured players returned and helped show why the Zags are the class of the WCC – again – and NCAA championship contenders – again. Jim Meehan was in McCarthey and has his game analysis and the keys to victory. … Dan Pelle was also in the building and put together this photo report. … I watched from home and have a TV Take. … The guys in the office posted a recap with highlights. … Earlier in the day the women held court and blew out Pacific after a slow start. Jim Allen has the story of their ups and downs. … Around the WCC, watching Saint Mary's run BYU out of its bandbox last night, I was struck by a thought. Maybe the WCC isn't actually better. It's just that the usual contenders (BYU and Saint Mary's) have regressed, making the middle and lower end look better. After all, Santa Clara was supposed to be solid (winners of six straight) and the Broncos were a speed bump – again – for Gonzaga. Anyhow, that was my late-Saturday-night thought. … San Diego got back on track at home against Pacific. (Just a note: WCC stories are hard to find, especially when it comes to the L.A.-area schools. Loyola-Marymount and Pepperdine get less coverage than schools like Northern Colorado or Southern Utah, as they are lost in the over-saturated Southern California sports scene.)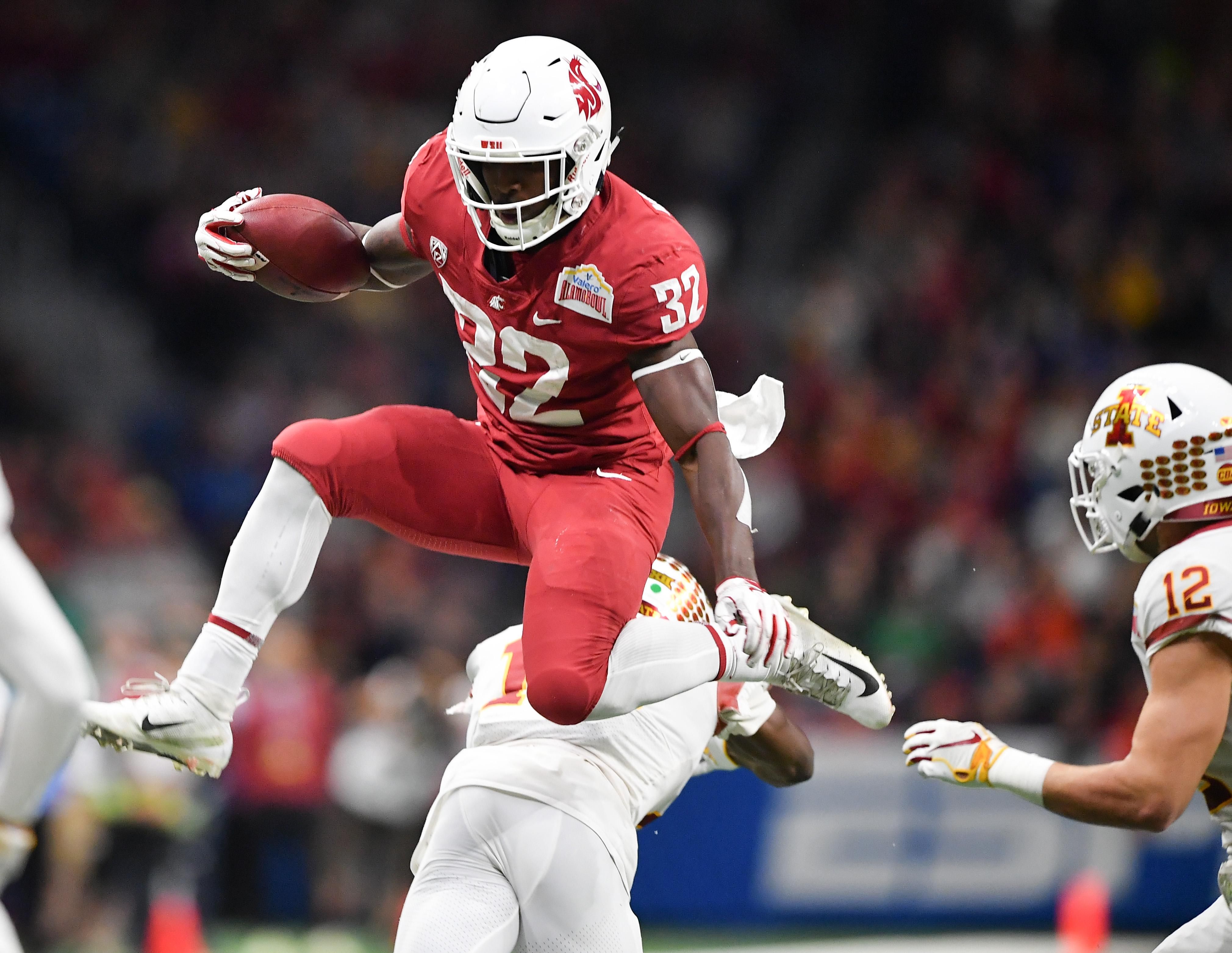 WSU: On a crowded Saturday full of local football news, Boobie Williams' announcement that he's jumping into the NFL Draft may have gotten lost in the shuffle a bit. The running back, who led the Cougars in receptions the past two years, is giving up his senior year of eligibility. Theo Lawson was in Texas with Eastern but he has the story. … The basketball team opened Pac-12 play at Washington last night. The Cougars hung around into the second half but UW imposed its will down the stretch for an 85-67 victory. … We have been hanging on to this feature on Bobi Hristova for a while. She is also part of the local roundup. … Elsewhere in the Pac-12, this was supposed to be Oregon's year. Nope. The depleted Ducks were plucked by Oregon State in Eugene. … Utah has to feel it is cursed in Tucson. The Utes seem to come close often, than find a way to lose. Happened again yesterday as Arizona picked up an overtime victory. … Arizona State bounced back by bouncing Colorado out of the gym. … California made UCLA work for a while but the Bruins rolled in the second half. … In football, a California defensive back fell ill recently and died yesterday. … USC has signed or received commitments from some of the West's best receivers. Will Kliff Kingsbury be there to coach them?
EWU: There was a big posse in Texas, led by Ryan Collingwood, who has his game analysis (spoiler alert, North Dakota State was better), the story of Tiuli not being cleared to play and a notebook. … John Blanchette was also there and has his column. … Theo covered the winning locker room. … Tyler Tjomsland did his usually outstanding work with the photo report.
Idaho: The Vandals played last night in Greeley, losing to Northern Colorado 83-79 in overtime. … Around the Big Sky, it was a crazy night, with Montana and Weber State both losing at home in overtime. That leaves Northern Colorado as the lone undefeated team. … Montana State and Northern Arizona also won.
NIC: The Cardinals picked up another victory.
Chiefs: Spokane traveled to Kootenay and grabbed a 5-1 victory.
Preps: There was a lot of basketball around the area yesterday and we have roundups from girls and boys action.
Seahawks: John covered a football doubleheader yesterday, adding a Seahawks-are-out-of-the-playoffs-already column to his Eastern Washington coverage. … So what else do you want to know? Just about everyone is blaming the offensive game plan devised by Schottenheimer and approved by Pete Carroll. But if the Hawks had just made a few more plays, maybe things would look different this morning. … There are a couple key defenders whose contracts are up. Will Frank Clark and/or K.J. Wright be back next season? … The Hawks will need a new kicker.
•••       
• This seems like a good morning to go back to bed. No football to worry about – well, there are a couple of NFL playoff games but the Hawks are done, so … – and none of the local college basketball teams are on TV. Besides, the wind is blowing, there is rain in the forecast and who wants to do the laundry? A nap sounds great. Until later …
Local journalism is essential.
Give directly to The Spokesman-Review's Northwest Passages community forums series -- which helps to offset the costs of several reporter and editor positions at the newspaper -- by using the easy options below. Gifts processed in this system are not tax deductible, but are predominately used to help meet the local financial requirements needed to receive national matching-grant funds.
Subscribe to the sports newsletter
Get the day's top sports headlines and breaking news delivered to your inbox by subscribing here.
---