A&E
Spacey appears in court for sexual assault case
Mon., Jan. 7, 2019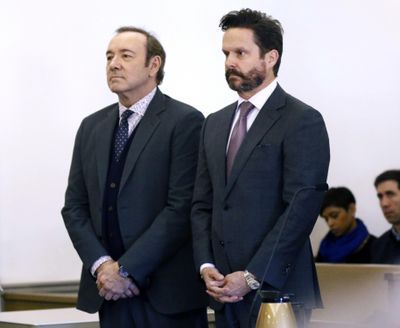 Kevin Spacey appeared briefly in a Nantucket, Massachusetts, courtroom Monday, nodding slightly but staying mum amid proceedings for a sexual assault case.
The actor was expected to plead not guilty to charges of indecent assault and battery, but did not enter a plea as dozens of media members looked on in a court room a Boston Globe reporter described as "laughably packed."
The arraignment comes more than one year after he was accused of groping the teenage son of a local news anchor.
Spacey, 59, was hit with the felony charge late last month, the first since the Oscar-winning actor's career was upended by more than a dozen accusations of sexual misconduct.
His attorney Alan Jackson told the judge Monday he hoped that cellphone data from Spacey's alleged victim to his girlfriend up to six months after the alleged assault would be preserved.
Spacey was ordered to have no direct or indirect contact with his alleged victim, and is next due in court March 4, though his appearance was waived.
The former "House of Cards" star had argued that he should not have to appear in court Monday because his "presence will amplify the negative publicity already generated in connection with this case," but a judge ruled against the request.
Though off-season for the sleepy vacation town, Nantucket's court was packed Monday morning with media outlets lining the outside of the building in below-freezing weather as they awaited the actor's arrival.
Boston news anchor Heather Unruh has said that Spacey grabbed her son's genitals at a Nantucket Island club in July 2016, causing him "tremendous anger and anxiety."
Her son, then 18 years old, was working as a busboy at the popular Club Car.
She took the allegations to police and filed a report in 2017, after, she said, her son felt comfortable coming forward in the wake of similar allegations by at least a dozen men, including actor Anthony Rapp.
"By reporting the sexual assault, my client is a determined and encouraging voice for those victims not yet ready to report being sexually assault. My client is leading by example," Unruh's attorney Mitchell Garabedian said Monday.
Spacey faces up to five years in prison if convicted.
The actor has kept a low profile since the damning accusations against him first surfaced in October 2017.
He broke a year-long social media silence the day the charges broke that featured him in character as "House of Cards" president Frank Underwood.
In the bizarre video, he asked viewers not to "rush to judgment without facts," and informed them he would not "pay the price for the things I didn't do."
Spacey was fired from "House of Cards" following the flood of predatory allegations.
He remains under investigation by Scotland Yard for three separate sexual assault allegations from the mid-2000s. In September, Los Angeles prosecutors declined to file criminal charges against him on two alleged crimes, citing an expired statute of limitations.
Local journalism is essential.
Give directly to The Spokesman-Review's Northwest Passages community forums series -- which helps to offset the costs of several reporter and editor positions at the newspaper -- by using the easy options below. Gifts processed in this system are not tax deductible, but are predominately used to help meet the local financial requirements needed to receive national matching-grant funds.
Subscribe to the Spokane7 email newsletter
Get the day's top entertainment headlines delivered to your inbox every morning.
---