News > Spokane
Maybe Bing deserves a Spokane birthday bash
Tue., Jan. 8, 2019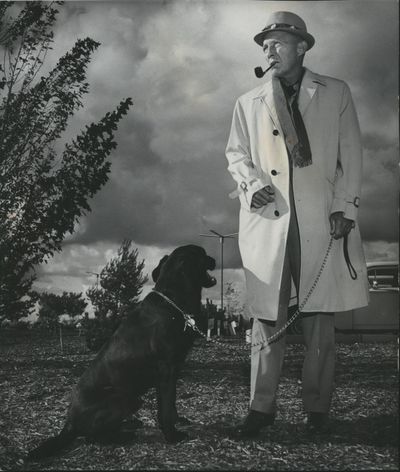 Today is Elvis Presley's birthday.
Because I once lived in Memphis, that sometimes makes me wonder.
Should Bing Crosby be a bigger deal in Spokane than he seems to be?
Oh, I realize Bing is and always will be an iconic figure here in the city where he grew up. Rightly so. He is a long, long way from being forgotten, here or elsewhere.
But here's the thing. Elvis is practically an industry in Memphis. And though my memories of how that Tennessee city regarded the late singer are of the long-ago variety now, I remember that celebrations of his life were almost inescapable there.
Some of the reasons might be obvious.
Though both singers died in 1977, Elvis was much younger and closer to the height of his fame at that time.
His fan base was/is younger.
Though he spent a lot of time in Los Angeles and Las Vegas, Elvis never stopped living in Memphis. Crosby had a lake place in Idaho, but Southern California was his adult home.
For those in Britain or Nova Scotia planning a pilgrimage, Memphis is easier to get to.
Because Elvis lived in Memphis as an adult, there are more people still alive there with relevant brush-with-fame stories.
And so on.
I'm not really sure what a heightened level of Crosby appreciation would look like here in Spokane. Beyond the acknowledgements our city already has in place, I mean. Everybody pretending to smoke a pipe on a designated Bing Day? Everybody dressing like Father O'Malley from "Going My Way"?
Maybe it would suffice if more people read the biography of the crooner by Gary Giddins. (The first volume has lots of Spokane stuff.)
Or perhaps we should just be satisfied to let time march on. Spokane has occasionally been accused of living in the past, after all.
Speaking of living in the past
Last year a friend gave me an authentic Expo '74 necktie from The Crescent – "100% Imported Polyester."
What a wonderful gift. It's a rich brown and adorned with multiple images of the distinctive Expo logo. I treasure it.
The thing is, I really want to wear it. But I haven't donned a necktie, except for funerals, in ages.
So I thought I'd ask readers if they had any ideas.
To what quintessentially Spokaney event or on what Lilac City occasion could I wear my Expo necktie?
Send me your best idea. There might be a coveted reporter's notebook in it for you. Though, since I would be mailing it from home, I suppose I would have to pay for the postage. So don't hold me to that.
Just wondering
Does every extended family have someone who is unanimously considered to be the absolute worst driver in your particular gene pool?
What's your attitude about people carrying on conversations with individuals who are on the commode?
What Inland Northwest married couple are furthest apart on the caring-about-sports spectrum?
Do you remember an America where people on the same bowling team could have voted for different presidential candidates and still been friends?
What would tidying-up spiritual guide Marie Kondo say if she took a look inside your dwelling? (No, I don't know how to say "Son of a …" in Japanese.)
Squirrels update (coffee is for closers)
I mentioned last month that we had started leaving nuts outside for our resident squirrels.
So, you might have wondered, what was the impact on our micro-ecosystem?
Well, I can't be sure. Rodent is another language I don't really speak. But when we do not put peanuts or pistachios out, I think the squirrels do an uncanny impression of Alec Baldwin's famous scene laced with F-bombs in the movie version of "Glengarry Glen Ross."
What they don't tell you before you retire
It turns out a lot of people are going to feel free to give you advice. Well-intentioned, I'm sure.
But I would be interested in hearing from other retirees about their experiences with this.
Sure, "Find something to do" is sound counsel. But did these people seem to assume you had not already thought of that yourself?
Did some of the unsolicited advice you received seem to demonstrate that the speakers do not know you at all?
Do other people's ideas about the ideal way to spend your new abundance of free hours sometimes sound like your idea of hell?
If you loved your job, isn't it rather pointless to hear advice from someone who assumes everyone hates work?
Contact the writer at srpaulturner@gmail.com.
Local journalism is essential.
Give directly to The Spokesman-Review's Northwest Passages community forums series -- which helps to offset the costs of several reporter and editor positions at the newspaper -- by using the easy options below. Gifts processed in this system are not tax deductible, but are predominately used to help meet the local financial requirements needed to receive national matching-grant funds.
Subscribe now to get breaking news alerts in your email inbox
Get breaking news delivered to your inbox as it happens.
---