News > Idaho
University of Idaho grad student goes 'beyond the known world'
Jan. 8, 2019 Updated Tue., Jan. 8, 2019 at 8:56 p.m.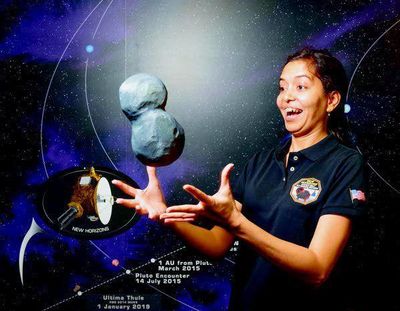 The spacecraft New Horizons made history Jan. 1 when it scanned a now famously snowman-shaped object more than a billion miles past Pluto in a region of space known as the Kuiper Belt.
Dubbed Ultima Thule – or "beyond the known world" – it is the farthest object from Earth ever explored. Among the scientists gathered at Johns Hopkins University's Applied Physics Laboratory in Maryland on New Year's Day was University of Idaho's physics graduate student Rajani Dhingra.
"We had the nerdiest New Year party in the solar system," Dhingra joked.
Dhingra said she is a part of a group of about 30 scientists on a team investigating the geology and geophysics of Ultima Thule. The images she studies with her team were supplied primarily by a piece of equipment onboard New Horizons called the long-range reconnaissance imager, or LORRI. The spacecraft hosts an array of other instruments, including a spectroscopy camera and particle and dust counters.
It takes about six hours for a signal to travel the 4 billion miles from New Horizons to Earth, Dhingra said. She said this is not only because of the incredible distance the information must travel but, because the transmitter aboard the spacecraft is only about 150 watts – less than the energy some light bulbs consume. The current image of Ultima Thule is rough and some of the object's features are still a mystery to researchers, but Dhingra said she is looking forward to receiving data that will bring the image into sharper focus – likely toward the end of January.
The Kuiper Belt is a vast region of space occupied by large celestial objects that begins in the neighborhood of Pluto and is similar to the asteroid belt between Mars and Jupiter, only much larger. While asteroids are made of mostly rock and metal, Kuiper Belt objects are usually composed primarily of "ices" such as frozen methane, ammonia or water. The Kuiper Belt is home to three dwarf planets, including Pluto, which Dhingra called "the king of the Kuiper Belt." Dhingra said scientists are so fascinated by these objects because they give insight into the conditions of the early solar system.
"These objects were planetesimals – or things that formed our planets – and now they're frozen exactly like that," Dhingra said. "We are basically looking four billion years ago in time when we're studying these objects."
Dhingra said she is looking forward graduation in the spring and defending her thesis regarding Titan, Saturn's largest moon, but she will also continue to work with the Ultima Thule project for the foreseeable future. The dream, she said, is to someday land a job at NASA.
"This is a first, I've not done anything like this before, this is my highlight of the new year (and) this was my highlight of 2018," Dhingra said. "… I'm excited for all the new science that we're going to see, and I'm excited for just being a part of this team here and participating in it."
Local journalism is essential.
Give directly to The Spokesman-Review's Northwest Passages community forums series -- which helps to offset the costs of several reporter and editor positions at the newspaper -- by using the easy options below. Gifts processed in this system are not tax deductible, but are predominately used to help meet the local financial requirements needed to receive national matching-grant funds.
Subscribe now to get breaking news alerts in your email inbox
Get breaking news delivered to your inbox as it happens.
---