News > Spokane
Whitworth students travel to Vietnam for studies on war
Tue., Jan. 8, 2019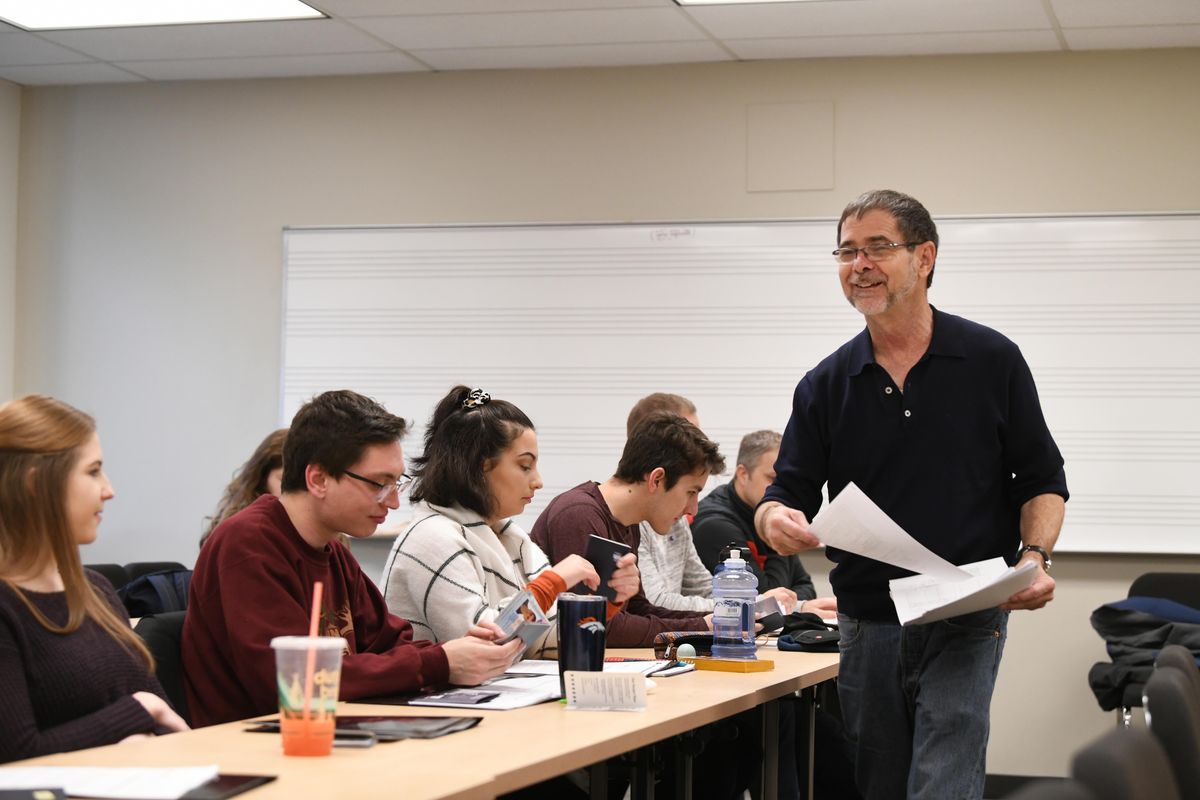 Whitworth professor Dale Soden passes out last-minute reading material and visa applications Friday, Jan. 4, 2019, to his class traveling to Vietnam. The students will be looking at the geopolitical and long-lasting impacts of the Vietnam War. (Jesse Tinsley / The Spokesman-Review)
Several Whitworth University students weren't sure what to expect when they left Sunday for a three-week tour of Vietnam and an exploration of the legacy of a war that divided their own nation a generation before they were born.
"I've been wondering, will they hate us?," said junior Astrid Le Roy, one of 10 students who will spend the next three weeks traveling in Vietnam with history professor Dale Soden.
Like so much in modern-day Vietnam, it depends.
"Ironically, they're very pro-American," Soden said. "That's in contrast to those in the U.S. who were very bitter" after the American pullout and the subsequent victory of the communist North Vietnamese and Viet Cong in 1975.
More than four decades after the end of the war, Vietnam remains an enigma to most Americans. Soden's group will try to unravel some of those mysteries by exploring museums and some actual scenes of conflict: battle sites and prisoner-of-war camps.
They will survey a landscape and a people who are still healing from conflict that began during World War II.
Part of Whitworth's "Jan Term" program, the trip is more of a fact-finding mission than a vacation. While other Whitworth students will be studying art in Rome or anthropology in Hawaii, Soden's group hopes to dig into the more recent past and its meaning for the future.
"This trip sounded the most intriguing to me," said Lauren McGeorge, a junior from Metaline Falls, Washington, who recalled that her grandparents had friends in the war "but didn't talk much about it."
Now they hope to gain better insight into the conflicted state of America of the 1960s and 1970s as the war raged on their television sets and protests mounted at home.
For many, the war came alive again last year with a documentarymade by Ken Burns and Lynn Novick and the death of Senator John McCain, a Navy pilot who was shot down over North Vietnam and spent 5½ years as a prisoner of war, including time in the notorious "Hanoi Hilton."
Soden's students will go there, too.
For the Whiworth students, Vietnam was a war fought by their grandparents, who 50 years ago asked the same questions that are still being debated: What does it mean to be a good soldier? What does it mean to be a good patriot?
"How can you criticize a war without too harshly criticizing the ones who were fighting it, and still give respect to them as patriots?" asked Alex Mowery, a political science major from Boulder, Colo.
Soden, who was in college during the height of the war, hopes to frame the experience "as not from the standpoint of good guys and bad guys, but can you put yourself in the shoes of a leader or a soldier."
Those include not only former American presidents Lyndon Johnson and Richard Nixon, but North Vietnamese leader Ho Chi Minh and American Lt. William Calley, who was convicted by court-martial of murdering 22 unarmed Vietnamese in the My Lai Massacre of 1968.
My Lai also is on the itinerary.
"That will be an interesting day, that whole question of how can you put yourself in the shoes of William Calley," Soden said. "These were difficult circumstances for anyone."
Local journalism is essential.
Give directly to The Spokesman-Review's Northwest Passages community forums series -- which helps to offset the costs of several reporter and editor positions at the newspaper -- by using the easy options below. Gifts processed in this system are not tax deductible, but are predominately used to help meet the local financial requirements needed to receive national matching-grant funds.
Subscribe now to get breaking news alerts in your email inbox
Get breaking news delivered to your inbox as it happens.
---