Sports > High school sports
Mead gymnast Lexi Weller overcomes disability to earn scholarship
Jan. 9, 2019 Updated Thu., Jan. 10, 2019 at 10:47 a.m. It's the ultimate feel-good story: A kid who didn't know if she had a place in sports turns into a college-bound scholarship athlete.
The path that Mead gymnast Lexi Weller took to the University of Oregon's acrobatics and tumbling team was more winding than most.
Watching her perform a floor exercise or on the vault, Weller's athleticism, strength and speed are on full display, all attributes necessary to thrive as a participant in the relative new sport at the collegiate level.
What's not evident is that she can't see out of one eye.
Childhood disability
The optic nerve in Weller's left eye didn't develop properly, leaving her legally blind in that eye.
She only has spots of vision and color through fields of darkness. She can't see well enough through those spots to tell if they are blurry or in focus.
Weller wouldn't be able to read or drive if she had to rely on her left eye.
"Sometime I describe it like little tunnels I can see through," Weller said on Saturday following an invitational meet at the Mead Gymnastics Center, where she won the floor exercise and placed seventh on vault.
"I wouldn't be able to function with just the sight through that eye."
Her family found out about the problem when Weller was approximately 18 months old. They were in an elevator going to the pediatrician for a routine visit when an eye doctor in the building, Dr. Christina Nye, entered and noticed that her left eye was wandering.
Dr. Nye called to Weller's primary care and inquired about her, relating what she had observed in the elevator. Until that point, no one knew there was a problem.
"My parents didn't suspect anything," Weller said.
Doctors expected her to have no vision in the eye at all, but as Weller's communication skills developed, she was able to describe her extremely limited field of vision to her doctors. She wore a patch as a kid to try to help strengthen the underdeveloped eye, but she's only acquired some peripheral vision and the blurry spots.
"I don't really think about it anymore," she said.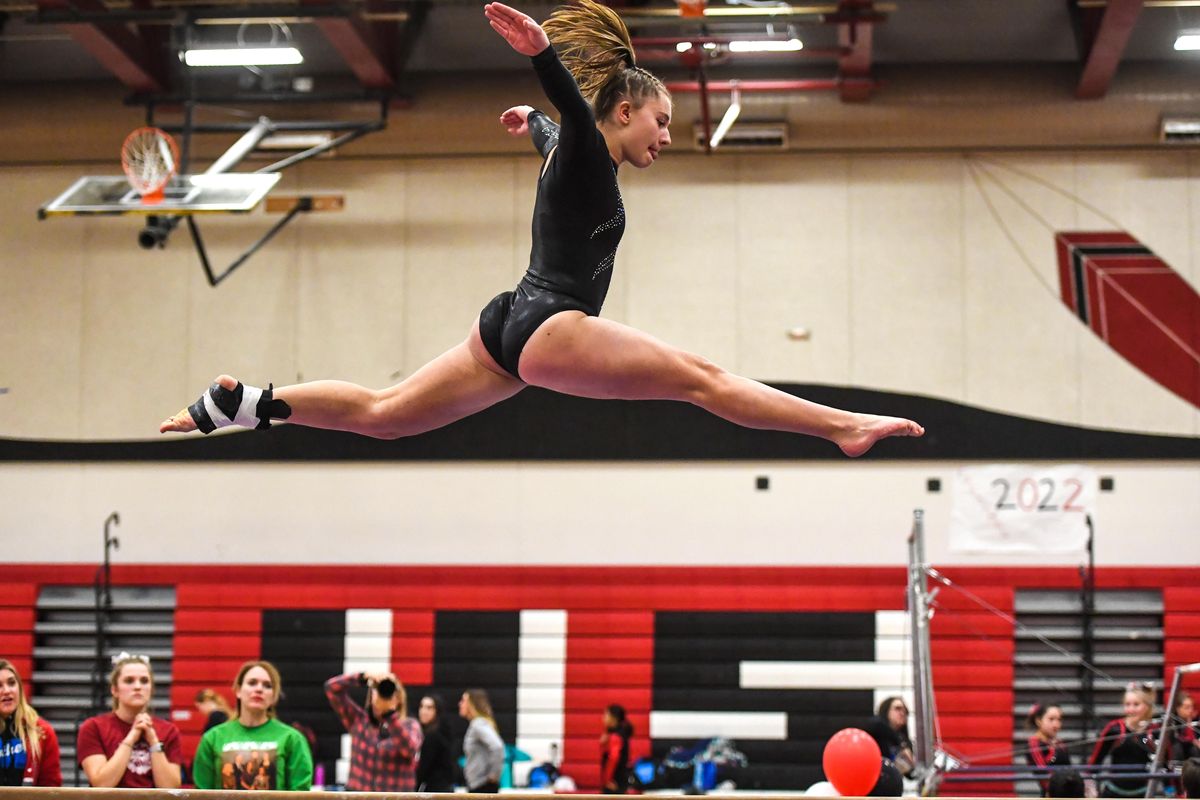 Mead gymnast Lexi Weller flies above the balance beam during competition at North Central High School, Thursday, Dec. 13, 2018 in Spokane, Wash. (Dan Pelle / The Spokesman-Review)
Finding her way
It's easy to watch Weller in the gym and envision her as an elite softball, basketball or soccer player with her speed and strength. She said she sometimes feels like she missed out on things as a kid.
"For the most part, it affected me more when I was younger," she said. "I tried a bunch of different sports, ball sports, all that where you need hand-eye coordination – which I'm not very good at.
"So I grew up my whole life thinking that I wasn't athletic or I wasn't able to do sports."
In sixth grade, Weller went to a cheer practice of a friend and thought it was something she might find interesting.
"I thought it was super cool, so I gave it a try and it clicked," she said. "I gained confidence from there."
That friend, Hanna Bjerkestrand, is now an assistant gymnastics coach at Mead.
Through competitive cheer, Weller picked up tumbling. That's when the gymnastics coaches started noticing her.
"I don't think Lexi ever envisioned herself being a gymnast," Mead coach Laurie Chadwick said. "She'd done cheer and liked to tumble and we kind of recruited her hard to come to do gymnastics because she has a lot of physical ability."
Chadwick said it's been a remarkable transition.
"She's only done gymnastics since (the start of high school), so she has progressed very quickly in all of her skills in all events. She's one of our best all-arounds on our team in everything, not just in tumbling and the floor."
"Gymnastics helped a lot with my tumbling," Weller said. "I didn't start tumbling seriously until three years ago. That's when my confidence got built up."
Weller was first-team All-Greater Spokane League in the floor exercise last year as a junior and hopes to make state in the discipline this season.
"Her strength is her strength," Chadwick said. "That's why you see in her routine a lot of the skills that she has are strength-based. There's more tumbling than in some of the other kids' routines. We do the minimum on the dance parts."
Weller said the strength and speed aspects come naturally, but she's more challenged by the dance aspects on the floor.
"I feel like most of it is a mental thing," she said. "You have to be able to keep yourself calm and cool while you're trying to do it, but at the same time you have to think about all the little things you have to do like pointing your toes and dancing gracefully, which is hard for me sometimes because I run off my power.
"I'm not a very graceful gymnast, I would say. It's just having to focus on everything all at once."
The more Weller competed, the more confidence she gained in her dance elements.
"I used to be nervous to do stuff then I realized, 'Who cares?' I'm gonna throw it and see what happens."
Gaining confidence
That confidence boost has helped her in the other disciplines, where her lack of sight provides more challenges.
"When she first started, she was terrified of (balance) beam," Chadwick said.
"We figured out that it's hard for her to spot some of the skills – meaning to look where you're landing it – because she can't see out of that eye."
Chadwick said they modify routines on the beam for her to compensate.
"She doesn't ever say, 'I can't do something,' because of her disability," Chadwick said. "But she does remind me every once in a while, 'Remember, I can't see that way.' "
Weller's beam routine doesn't have a lot of high skills in it, according to her coach, but it has the basics of what she needs to compete at the high school level.
"And then (uneven) bars, just for her to even be doing an optional bars routine, having only done gymnastics for three years, now her fourth year, is pretty incredible," Chadwick said.
Chadwick said Weller has been fearless – and relentless – in learning new things in an attempt to master them.
"She's a hard worker," Chadwick said. "She's competitive. She wants to do her best every time she steps out on the floor."
Through that determination, a self-described klutz has excelled in a sport known for grace and precision.
"Each year as I got stronger and stronger, it got much easier and I became more confident with my skills," Weller said. "Once you're more confident with your skills, it's easier to make them prettier.
"When I started I was kind of a spazz. I was all over the place. You could tell there was potential, but I didn't quite have a grasp on it. I feel honestly a lot of it was confidence and strength as my skills got better."
Weller still makes fun of herself when describing other athletic pursuits.
"We're doing racquet sports (in P.E.) now and I'm horrible. I'm funny bad," she said. "Sometimes when I'm not in my element I feel very unathletic."
College pursuits
Weller said she never considered how gymnastics could lead to a college scholarship.
"I never saw it coming," she said.
When contemplating her options for the future, Weller decided she didn't want to do sideline cheer.
"That's a lot more cheering and less athletic," she said. "I didn't think it would push me enough."
She also admitted that college gymnastics wasn't her path either.
"I'm not at that level for college gymnastics," she said. "They're all like ex-Olympians."
Weller pursued the acrobatics and tumbling path after one of her cheer coaches mentioned an athlete she trained earned a scholarship in the sport from Hawaii Pacific.
"I do competitive cheer and gymnastics and it's like a combination of the two – with the stunts from cheer and the tumbling from gymnastics," she said.
Once exposed to the idea of the new sport as a way to provide for college, Weller was all on board.
"I thought it was the perfect in-between," she said.
Weller contacted several schools, but Oregon drew her interest. She contacted the coaches and sent a tryout video in the spring of junior year.
After a recruiting phone call, she went to camp in Eugene, where coaches saw her in person. She followed up by training and producing specific skill videos for the coaches to evaluate, then went for her official visit.
She was offered at the visit and gave an oral commitment immediately. She officially signed her letter of intent on Nov. 14.
"I feel very lucky," Weller said. "I had no idea going into (the recruiting process) whether I would be able to make it. I feel lucky. It's very exciting."
"I don't think that she ever really thought, it wasn't in her mind to be a college athlete," Chadwick said.
"We've helped her out a lot and taught her how to set and look and those kinds of things for the different techniques, but a lot of that comes from her personal desire and pure work ethic."
Local journalism is essential.
Give directly to The Spokesman-Review's Northwest Passages community forums series -- which helps to offset the costs of several reporter and editor positions at the newspaper -- by using the easy options below. Gifts processed in this system are not tax deductible, but are predominately used to help meet the local financial requirements needed to receive national matching-grant funds.
Subscribe to the sports newsletter
Get the day's top sports headlines and breaking news delivered to your inbox by subscribing here.
---