News > Education
Decades-old bomb disposal robot presents challenge for Sacajawea engineering class
Fri., Jan. 11, 2019 After hearing the challenge, Brooklyn Jenson and her Sacajawea Middle School classmates couldn't grab their calipers fast enough.
The public-service appeal came Thursday morning from Spokane police Officer Toby Bryer, who told Kim Taylor's advanced engineering class that the public could use their help.
As it turns out, some of those old bomb-disposal robots are all thumbs. They can blow up a building but struggle to turn a doorknob.
They're also too expensive to replace, leaving many law enforcement agencies around the country looking for innovative solutions.
Bryer offered a demonstration of the unwieldy 500-pound robot, which has served the Spokane Police Department and the local FBI office for two decades. Its remote-controlled hand is strong enough to rip a doorknob from its bolts, but that's not the idea.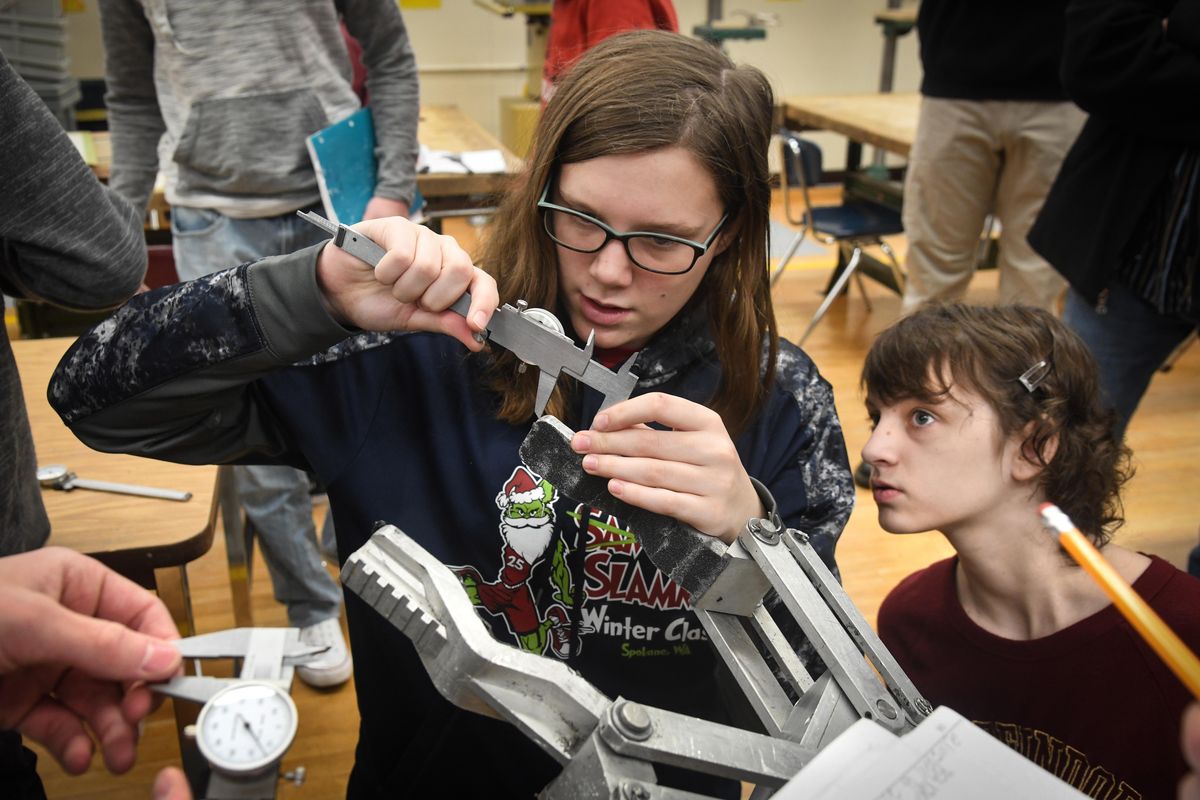 Sacajawea Middle School students Brooklyn Jenson, left, and Kaitlyn Hawker, measure the gripping pieces on a Spokane police department bomb robot, Thursday, Jan. 10, 2019. The advanced engineering students will be designing (using computer-aided design and drafting) and printing (using a 3D printer) parts that the SPD/FBI bomb squad can use to dramatically improve grip on its bomb disposal robots. (Dan Pelle / The Spokesman-Review)
"We've had incidents where you're left with a doorknob and the door is still closed," Bryer told the class.
Then came the challenge: Perhaps the bright students in Taylor's class could get a grip on the problem?
Moments later, 20 nimble pairs of hands grabbed their notebooks and measuring devices. Jenson took the lead as five others huddled around.
All were focused on the task: to engineer some sort of sleeve that would improve the robot's grip and dexterity. Measurements will lead to hand sketches, computer-aided designs and eventually to the 3D printer in Taylor's class.
The final product must be flexible, durable and waterproof. No pressure, Taylor explained: Students will have about a week to complete the project.
"They really don't have a choice," Taylor said.
However, the students felt challenged instead of intimidated.
"It's just the feeling that, like, you're helping the community," Jenson said. "I've had an interest in engineering for quite a while."
That interest has been stoked by Spokane Public Schools' emphasis on its STEM (science, technology, engineering and math) program. During a conference last summer, Bryer displayed the robot and received an invitation from Taylor.
Not everyone will focus on the robot. Others in Taylor's class are busy with other community service projects, including play equipment for Spokane Guilds' School. In a back room, Taylor shows off a small slide crafted from PVC pipes and wood.
"We've done a lot of different things for the community," Taylor said.
Local journalism is essential.
Give directly to The Spokesman-Review's Northwest Passages community forums series -- which helps to offset the costs of several reporter and editor positions at the newspaper -- by using the easy options below. Gifts processed in this system are not tax deductible, but are predominately used to help meet the local financial requirements needed to receive national matching-grant funds.
Subscribe now to get breaking news alerts in your email inbox
Get breaking news delivered to your inbox as it happens.
---