Sports > Gonzaga women
Gonzaga's Zykera Rice reaches for the sky on, off court
Jan. 11, 2019 Updated Fri., Jan. 11, 2019 at 10:45 p.m.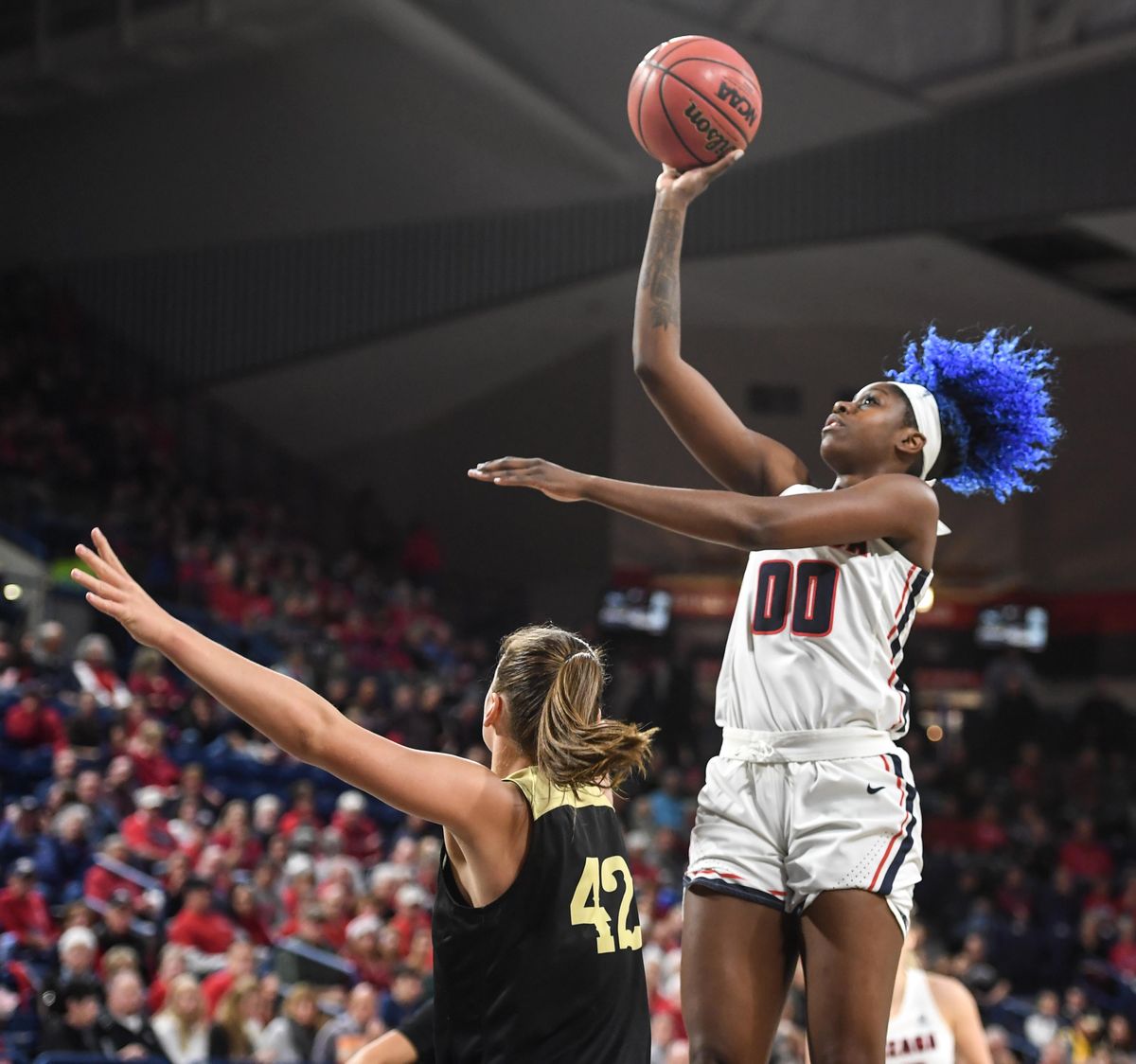 Gonzaga forward Zykera Rice has the soft touch over Idaho forward Natalie Klinker on Dec. 20 in the McCarthey Athletic Center. (Dan Pelle / The Spokesman-Review)
Last week, Zykera Rice set the record straight about her blue do.
It's only hair, folks, a fashion statement and nothing more.
"And it's my favorite color, so I just tried something new and I liked it," the Gonzaga senior said.
On game days at the Kennel, it rises almost straight up from the top of Rice's head, often brushing the rim as she pulls down another rebound for one of the top teams in the nation.
But to focus on the hair is to miss the point: Rice can light up a room with her laugh as much as her locks – electric blue hair to match her personality.
"She's definitely not trying to blend in," said GU coach Lisa Fortier, who recruited Rice out of Tacoma four years ago. "She's the best person on our team with being friends with everyone.
"She has the personality that you want to hang around. Everybody feels like she knows them."
It wasn't always that way. The transition from high school was especially hard for Rice, whose roots are deep in the south Puget Sound.
On the court, the former point guard would never again hoist eight 3-pointers a game, as she did when Fortier first watched her at Clover Park High School.
Early in her GU career, she also struggled to find playing time on a forward-heavy roster, but didn't complain.
Most of all she struggled to adapt to a town with a less-diverse population.
"It's been tough," Rice said. "It felt like there were not that many people to connect to, when you come from a place where you have a connection.
"I'm still adjusting after four years, but there's a big difference from my freshman year. I see more people like me."
And even when she doesn't, Rice sees people who can at least relate to a young African-American athlete.
The biggest has been assistant coach Craig Fortier, who does more than work with GU's frontcourt players.
"Craig has been one of the biggest reasons I've been able to be comfortable here," Rice said. "He's been my connections for lots of things.
"There are things that people in the black community would be aware of … I can see something funny like that on Twitter, and I can send it to Craig and he'll understand."
After last week's win over Pacific, Rice and Fortier stood under a basket, hugging.
"You just hope to have a positive impact," Craig Fortier said. "But I think this is the kind of place that values and promotes those relationships."
At the same time, Rice notes that teammates Jill Townsend and Chandler Smith, who were raised on cattle ranches in central Washington, probably wouldn't understand a Twitter reference to the 1990s movie "Poetic Justice," which focuses on the life of a young African-American poet.
Then again, Rice spent a weekend last summer at the Smith ranch in Brewster, Washington.
"And I rode horses," Rice said. … "I'm all about relationships and meeting people where they are."
In the fall of 2014, she introduced herself to the Gonzaga program as a 17-year-old recruit who was reaching for the sky in every sense.
By graduation day at Clover Park, she amassed enough college credits for an associate's degree.
And she could dunk a basketball while playing the point. Rice drew scholarship offers from Cal State Bakersfield, Fresno State, San Diego State, Santa Clara and Eastern Washington.
During her official visit to GU, she played half a dozen pickup games against the Zags. She held her own, then opened some eyes during a "jump-off" against 6-foot-4 Sunny Greinacher, all-West Coast Conference forward.
Who won?
"She grabbed the rim," Rice told the Tacoma News-Tribune. "I did, too, but in less steps."
A few hours later, Lisa Fortier offered a scholarship and Rice accepted.
"I think her mother was surprised," Fortier said.
In the fall of 2015, the Zags were coming off a Sweet 16 appearance in Fortier's first year as head coach. Rice played immediately, appearing in 17 games for an injury-plagued squad.
That was a surprise, "considering that when I got here I couldn't even run plays," Rice said.
The following year she played less than expected, as Kiara Kudron and Elle Tinkle returned from injury.
But Rice didn't complain.
"Some people are really unhappy (about playing time), and I hear from their parents and them, but that was never the case with Zykera," Fortier said.
"I understood my role and just made sure that I did everything I could with the minutes I was given, and it got me here," Rice said last week.
A starter last year as a junior, she benefited from the attention opponents gave to high-scoring Jill Barta.
Still, Rice averaged 11.7 points and 5.3 rebounds while leading the Zags in shooting at almost 50 percent.
With Barta gone, Rice has emerged as the main option in GU's half-court offense. She's the top scorer (13.4 ppg) and rebounder (6.8 rpg) for a team that's 15-1 overall and ranked 14th in the nation in this week's Associated Press poll.
"She should have been all-conference last year, and she dang well better be this year," Lisa Fortier said.
Two weeks into the West Coast Conference season, Rice has won both player of the week honors while averaging 17.5 points in four conference games.
"You can't defend her on the high post, and she's so vertical and athletic," Fortier said. "And we still treat her like a guard sometimes, the way she drives from the high post."
So far, it's been a senior year to remember, but Rice knows it will end in a couple of months.
She hopes to play in Europe, "hopefully, on a team where they speak just enough English where I have to learn the language," said Rice, a graduate student.
That will be the easy part.
Asked what she'll miss most when she leaves GU, Rice grabbed a tissue and said, "I'll be friends with these girls for the rest of my life."
Local journalism is essential.
Give directly to The Spokesman-Review's Northwest Passages community forums series -- which helps to offset the costs of several reporter and editor positions at the newspaper -- by using the easy options below. Gifts processed in this system are not tax deductible, but are predominately used to help meet the local financial requirements needed to receive national matching-grant funds.
Subscribe to the sports newsletter
Get the day's top sports headlines and breaking news delivered to your inbox by subscribing here.
---