Sports > Gonzaga basketball
TV Take: 'Saturday Showcase' lived up to billing, even if it took awhile to find the right channel
Jan. 12, 2019 Updated Sat., Jan. 12, 2019 at 11:43 p.m. It was a matchup ESPN2 labeled its Saturday Showcase. It was all that.
The West Coast Conference's two best teams, circa 2019, met Saturday night in the University of San Francisco's venerable War Memorial Gymnasium, with the visiting Zags coming out on top 96-83.
And a couple of new faces were there to document it for the network's viewers, Dave Feldman on the play-by-play and Chris Spatola with the analysis.
What they saw …
• The broadcast duo got to see the entire game, but viewers who weren't quick on the remote may have missed the beginning.
With Cincinnati's overtime win over Connecticut running long on ESPN2, the game began on ESPNews, though there wasn't much in the way of viewer notification early on. It wasn't until the first media break that the game continued on ESPN2.
• It wasn't a game anyone wanted to miss, even for a minute. The largest lead – until right at the end – came in the first half, when fifth-ranked Gonzaga built a 31-21 edge with 6 minutes left before intermission. But the Dons (14-3, 2-1 in WCC play) rallied and tied it at the half.
The second half was punch/counterpunch.
But it was Zach Norvell Jr. and Geno Crandall who delivered the biggest blows. With the score tied at 81, first Norvell and then Crandall nailed 3-pointers.
"What a big shot," Spatola said after Crandall's open 3-pointer. "When game pressure gets put on, that's how you win 24 (conference) games in a row on the road. There's game pressure in a moment like this and Gonzaga steps up.
"They are champions."
• The final blow was a block by – who else? – Brandon Clarke, who rejected Nate Renfro's driving layup with a minute left, getting the Zags the ball back with an 89-83 lead.
That led to a familiar chant, one you don't hear much on the road.
"We are GU."
• It seems Spatola, who works in the studio often with Sean Farnham, has a few words and phrases he enjoys using.
Twice in the first half his commentary consisted of "woo" and one other time his description included "gosh."
But his favorite phrase, at least in the first 20 minutes, was "in a game like this, your best players have to be your best players." He used that twice without really explaining what it meant.
And his favorite comparison? He kept comparing San Francisco's Frankie Ferrari to former Santa Clara and NBA star Steve Nash.
He was either "Steve Nash-lite" or "he's a Steve Nash clone." He made the comparison three times.
Ferrari is good enough, with four assists, 21 points and all of USF's on-court direction, to stand alone, without referring to a player who is in the Basketball Hall of Fame.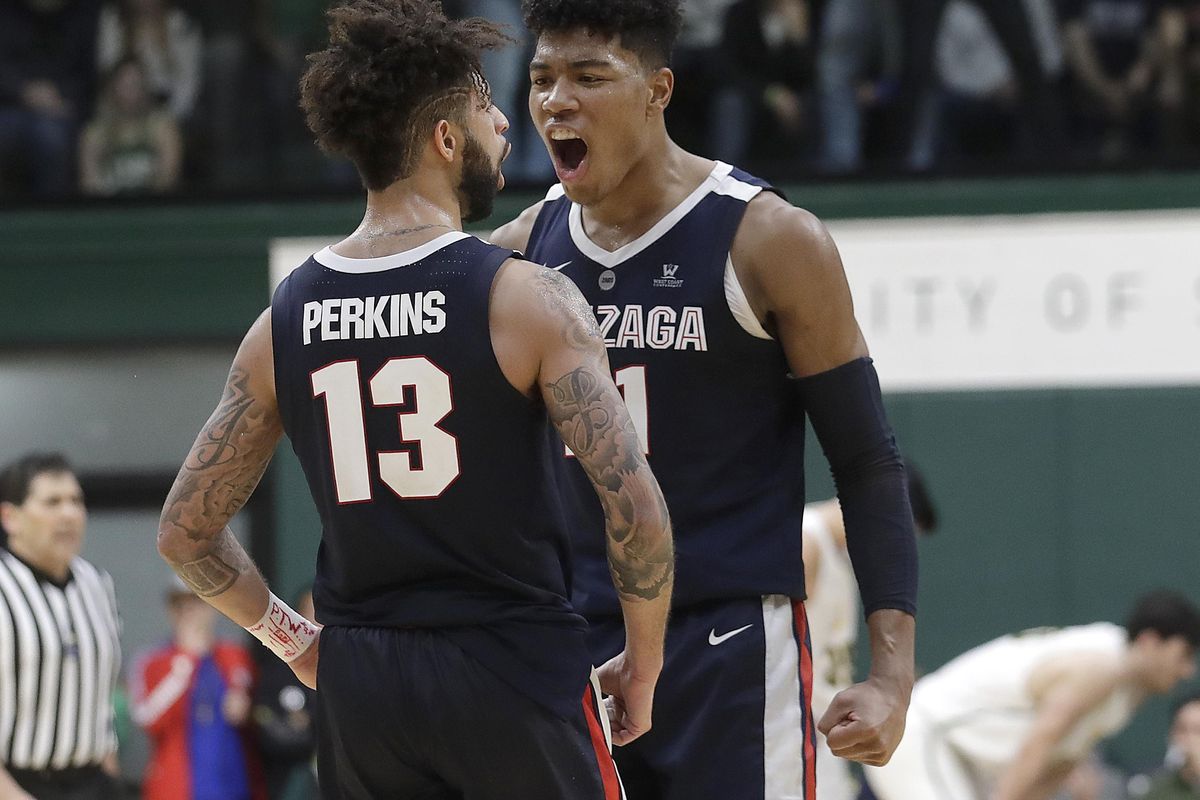 Gonzaga guard Josh Perkins (13) celebrates with forward Rui Hachimura during the second half of the team's NCAA college basketball game against San Francisco on Saturday, Jan. 12, 2019, in San Francisco. (Jeff Chiu / AP)
What we saw …
• Life on the road can be tough, especially in conference. The Zags (16-2, 3-0) had played 17 games this season and had made more free throws than their opponents had taken.
Not in this one, at least not when it mattered.
Halfway through the second half, USF had made eight free throws and GU had shot nine.
But two of USF's bigs, Matt McCarthy and Jimbo Lull, had four fouls each, forcing coach Kyle Smith deeper into his bench.
And talent on the bench is Gonzaga's strength, especially up front.
Killian Tillie is that third big these days and he was impressive on both ends. He missed just one shot all night, scored 14 points, grabbed six rebounds and blocked three shots before fouling out with about 7 minutes left.
The three Gonzaga inside players, starters Clarke and Rui Hachimura and reserve Tillie, combined for 59 points.
• A key play in the game could have been a foul call by Jimmy Casas, the third official in a crew that included veterans Verne Harris and David Hall.
With 5 minutes, 24 seconds left, Ferrari had Clarke switch on him beyond the arc. The point guard faked and then jumped into the Gonzaga big. Casas called Clarke for his fourth foul.
"I don't know about that," said Spatala, a former Duke assistant. Then, after watching the replay he added, "You bail Ferrari out there (and) you punish the defender for making a good play."
Ferrari made all three free throws and gave USF its first lead of the second half at 75-74. Ultimately, though, it did not matter.
• What may matter, later, were the Zags' final points.
They came with 7 seconds left, GU with a 10-point lead and the game over.
Except Josh Perkins lifted a lob toward Clarke, who dunked and was fouled hard by Ferrari.
Feldman said he didn't think Mark Few would like the play. He was right.
Spatola didn't either.
"And San Francisco is not going to like it either," Spatola said as boos rained down.
"To me, you don't do that. It's a rough play by Ferrari, but if I'm in his spot, I'm not letting someone throw an alley-oop with 7 seconds left."
Local journalism is essential.
Give directly to The Spokesman-Review's Northwest Passages community forums series -- which helps to offset the costs of several reporter and editor positions at the newspaper -- by using the easy options below. Gifts processed in this system are not tax deductible, but are predominately used to help meet the local financial requirements needed to receive national matching-grant funds.
Follow along with the Zags
Subscribe to our Gonzaga Basketball newsletter to stay up with the latest news.
---