Sports > Outdoors
Three years later Spokane avalanche survivor shares what he's learned
Sun., Jan. 13, 2019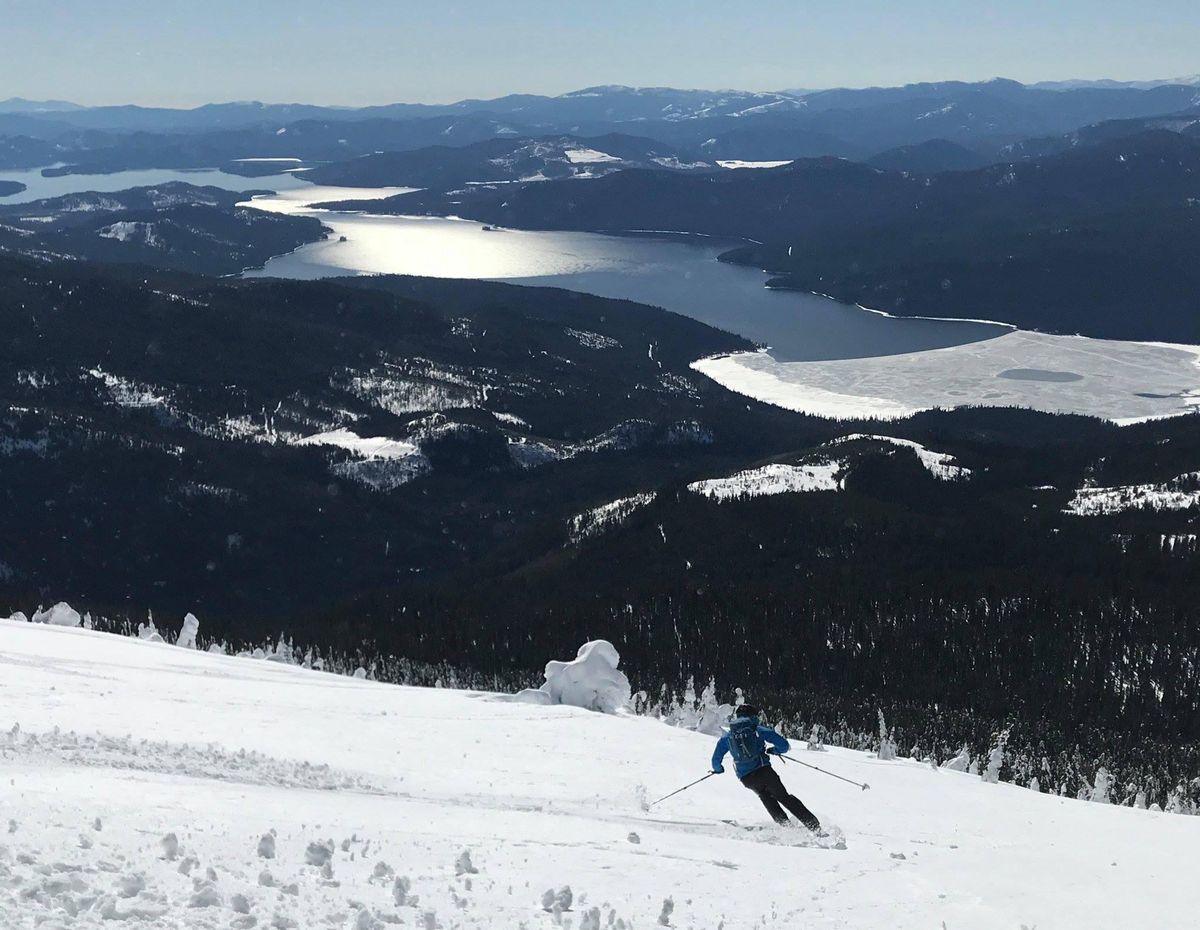 Mike Brede survived an avalanche in 2016. Since then the Spokane backcountry skier has continued to ski, although he approaches the sport more cautiously. Here he skis above Priest Lake in 2018. (Courtesy / SR)
Three years ago today, Mike Brede was bleeding profusely, chilled to the bone and near dead.
The experienced backcountry skier was skiing south of Lookout Pass above the St. Regis Basin with two friends when he triggered a wind slab that stepped down to a layer 30 inches deep and 300-500 feet wide. He was swept up in an avalanche.
That was despite being a well-trained, well-prepared winter backcountry adventurer.
The force of cascading snow broke his pelvis and shredded his lower leg. Brede barely survived the ordeal with a combination of skill, bravery and good luck perfectly aligning. His story was told in The Spokesman-Review in 2016.
He was rescued, as darkness fell and a storm blew in, by the helicopter rescue company Two Bear Air.
"I was only 2 miles from I-90, but Two Bear was the only option," Brede said in an interview Thursday. "No one else could get to us, even though we were 2 miles from a four-lane highway. I think we could hear traffic. We could hear the trucks coming over I-90."
Brede survived, and about a year after the accident (and intense physical therapy) he cautiously returned to the backcountry.
"I was super nervous," he said. "My wife was pretty uncomfortable. We talked and we were willing to try it. There was no reason not to try," he said of that first day back out. "We had our tour plan for the day. Just stick to the trees, just meadow skipping. Everyone was comfortable about turning around if anyone felt they weren't emotionally ready for it."
As the day went on, he said he started to find the joy in skiing again.
"You start to appreciate the things you used to love about being outdoors," he said. "The light fluffy snow, the beautiful views, the wind on your face."
Since then, he said he's found new ways to enjoy skiing. He still regularly goes into the backcountry. He's skied 17 months in a row without driving more than 2.5 hours from home.
But his relationship to the sport, which is inherently dangerous, changed.
"During my recovery, I had a lot of time to think and consider if I even wanted to continue back country skiing," he said. "I came to the realization that I really enjoyed being out in the wintertime, and exploring and just having a really good time with friends. Those were my main goals moving forward."
The beauty of the natural world, especially in winter, was a big driver for his return. He recalls seeing sun dogs, a kind of halo that flanks the sun in cold alpine conditions.
"There are just all sorts of crazy things that you see being outdoors and I wasn't ready to limit my time outdoors to the summertime," he said.
He's spoken with other avalanche survivors and the responses to nearing death vary. Some, like Brede, head back out. Others "gave up the sport and moved away from the mountains completely."
The accident still changed him. He's more cautious about where he goes and who comes along. Although he still will travel in avalanche terrain, he finds himself contentedly exploring places like Mica Peak where there is no avalanche danger.
As for skiing partners, he's picky.
"You really depend on these people and when you do mess up, they are your only life lines," he said.
Although reliving the day he nearly died is painful, Brede said some of the lessons he learned are worth imparting on other backcountry travelers.
First, it's imperative that people have the skills, training and tools. On the day of his accident, Brede had a beacon, shovel, probe and an ABS Vario Airbag. He credits the airbag with saving his life.
In addition to the avalanche-specific gear, he and his two partners had QuikClot. That was vital to stemming the bleeding, and they used it all.
Another lesson Brede shares is less obvious. Know the rescue plan. Know which agencies can or will rescue in the area you're skiing. For instance, Brede knew that Two Bear Air worked in the area. That saved invaluable time.
"It's not going to be quick. Mine was four hours, plus or minus," he said. "You should realize that there is a possibility that nobody can come and get you and that should be part of your rescue plan, too."
Since the accident, some of Brede's friends have started carrying collapsible sleds that can be used to pull an injured partner out of the back country if another rescue method isn't available.
Finally, Brede emphasized planning. Before his fateful trip, he'd printed maps out for his partners and left a detailed map of his route with his wife.
"I've always been really into maps and cartography," he said.
While doing beacon checks at the trailhead, he recommends discussing the route, risks and possible rescue options.
Brede is preparing for the arrival of his first child, a boy. He still has emotional and physical scars from the accident – for instance, he can't put his socks on without a sock tool because he can't cross his leg over his knee.
Part of the accident's legacy is a heightened, bodily understanding of the power of nature.
"I do have this underlying awareness and fear that something like that can happen. I'm not sure I had that fear before the accident," he said. "I think it's a good thing to have a fear of Mother Nature. She's pretty unforgiving."
Local journalism is essential.
Give directly to The Spokesman-Review's Northwest Passages community forums series -- which helps to offset the costs of several reporter and editor positions at the newspaper -- by using the easy options below. Gifts processed in this system are not tax deductible, but are predominately used to help meet the local financial requirements needed to receive national matching-grant funds.
Subscribe to the sports newsletter
Get the day's top sports headlines and breaking news delivered to your inbox by subscribing here.
---