Advocates, vets say animal care services are a growing need for homeless, low income population Polly Lambert, 21, said she hasn't had a stable home since she was 14.
She couch surfed as a teenager, stayed in shelters when she could and now lives in a tent with her fiance. She said one constant in her life, however, is animals. She usually has a dog with her at all times.
"It keeps you here in reality," she said.
Lambert said her dog, a 12-year-old Australian shepherd named Ginger, was once a show dog but was abused and ended up in a shelter. In the year since she adopted Ginger, she said the dog saved her from several suicide attempts.
"I think most of the people out here would have given up a long time ago if they didn't have their dogs," she said. "Including me."
Dr. Denise Pilgeram, a veterinarian who runs the low-cost clinic at Union Gospel Mission, said people often see pets as a luxury, but for many of her clients, they're a necessity.
She said some patients have overcome addiction, have a disability or are victims of circumstance and an animal is what motivates them to take care of themselves.
"That's what keeps them going," she said.
She said one pet owner who came to the clinic named the animal after an antidepressant medication. Others, who are unable to make eye contact and have difficulties communicating, will speak to their pets when they have difficulties explaining their animals' issues to her.
She said serving the homeless is her first priority, but the clinic also frequently serves people who are on a fixed income and cannot afford to get their animal neutered, vaccinated or cannot pay for other basic medical care and testing. The clinic also gives pet supplies and donated medications to people who may not always be able to afford the basics for their animals.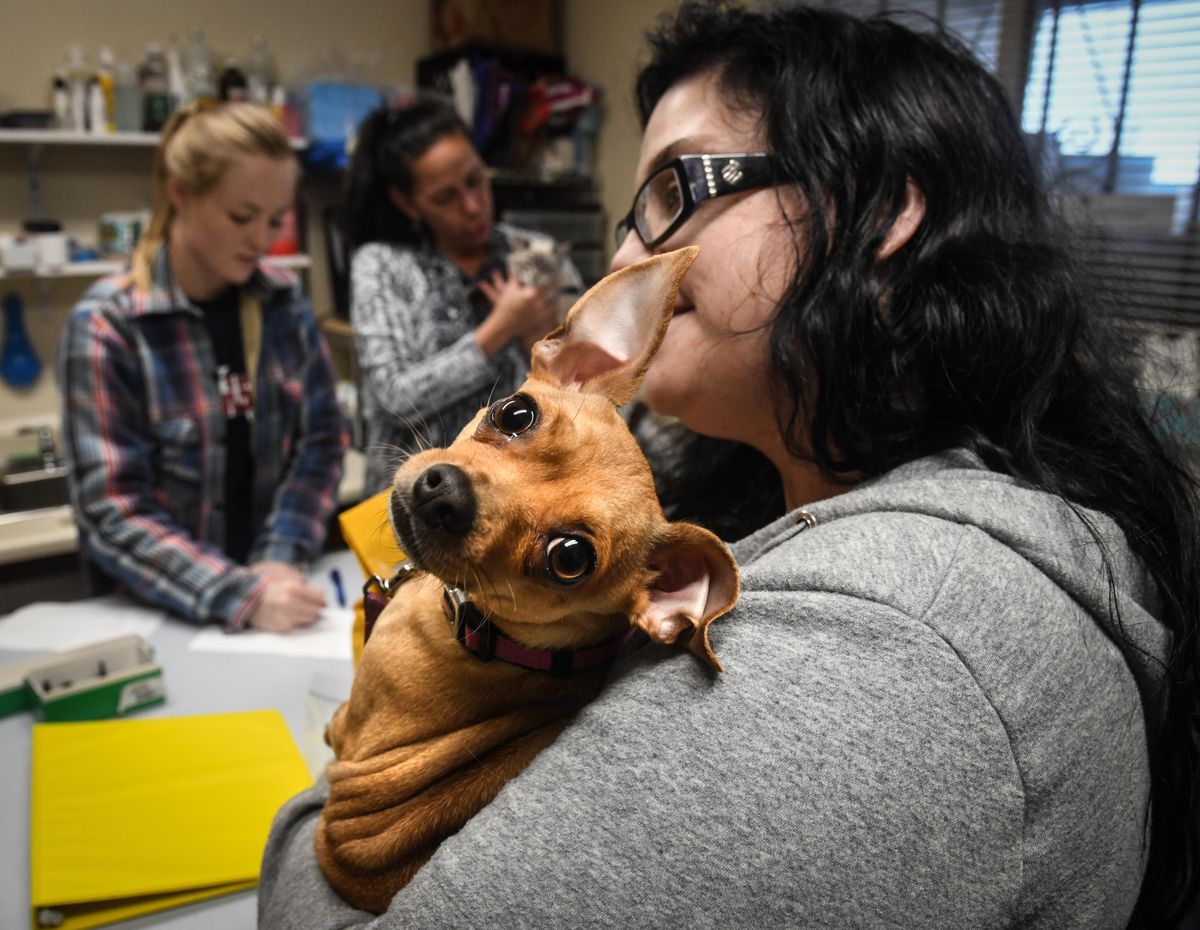 Pilgeram said the clinic, which is open three Wednesdays a month, usually sees about 15 patients a day. Many arrive early in the morning to make sure their animals will be seen.
Pilgeram said the Union Gospel Mission has asked her to relocate to a new facility sometime later this year, but she still intends to offer veterinary care for people experiencing homelessness or who might not be able to afford to pay for basic animal medical care.
Kari Chapman, the chair of the Homeless Connect Organizing Committee, said the need for health care and basic services for animals that belong to the homeless is a growing issue. At the annual Homeless Connect Resource fair last year, which provides legal, veteran, housing, food and other services, the line for animal services and health care was at least 100 people and the on-site vet was busy all day long, she said.
She said most of the animals she sees at events like Homeless Connect are usually companion animals, which help people manage PTSD, anxiety and other mental health issues. She said this year she expects the event to be busier than most because of the increase in people staying in the city's shelter system.
She said the event, which will include pet supply donations from the Humane Society, Unconditional Love and no-cost veterinary services, is from 10 a.m. to 3 p.m. on Jan. 30 at the Salvation Army Community Center, 223 East Nora Avenue.
Lambert said shelter can be difficult to find for people experiencing homelessness if they have animals. The House of Charity is one of the only permanent shelters that allows pets; many of the other shelters only allow service animals.
Sarah Yerden, assistant director of communications for Catholic Charities, which operates the House of Charity, said most of their buildings allow dogs and House of Charity allows most animals because they try not to limit homeless people from getting shelter.
Most of the city's new network of warming centers, which have gone online one by one over the course of the winter, allow animals to stay overnight. Once the Ermina Avenue center is completely online on Jan. 16, there will be space for 275 people across four winter warming centers.
Michael Shaw, director of the Guardians Foundation, which is coordinating three of the city's warming centers, said there have been only a few animals in the shelter every night. He said animals staying in the shelter should be service animals, but if they see a person with a shivering chihuahua in their coat that doesn't appear to be a service animal, they won't turn them away. If an animal is not leashed or disruptive, however, they most likely would not be allowed to stay.
"If they show up with two unleashed pit bulls," he said. "That's probably not going to happen."
Lambert said often, when she sees how people look, or interact with the homeless, it seems dehumanizing, but when a homeless person has an animal, their interaction with people on the street changes.
Lambert said when she's downtown with her dog, she often sees people who normally wouldn't make eye contact or want to talk to a homeless person, stop and ask her about her dog.
"You feel like you're still human because of that and it makes your day better," she said.
---