Sports > MLB
Bone cancer claims Mel Stottlemyre at age 77
Mon., Jan. 14, 2019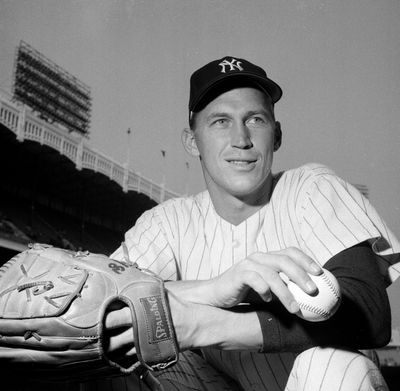 Mel Stottlemyre, who came out of the tiny Yakima Valley town of Mabton to become a star pitcher for the New York Yankees, has died of bone-marrow cancer at age 77.
Stottlemyre won 164 games in 11 seasons with the Yankees and made five All-Star teams. He had three 20-win seasons for the Yankees and led the majors in complete games and innings in 1965.
He was also the pitching coach for the New York Mets team with phenom Dwight Gooden that won the World Series in 1986, and later added four more World Series rings as Joe Torre's pitching coach with the Yankees.
Stottlemyre served as Mariners pitching coach under John McLaren in 2008. And his son, Mel Stottlemyre Jr., was Mariners pitching coach from 2016-18.
Mel Stottlemyre Sr. was initially diagnosed with cancer in 1999. He underwent intensive chemotherapy and a stem-cell transplant on Sept. 14, 2000. That led to a long period of remission, but the cancer returned about eight years ago, and he fought it ever since.
"We all know he's a tough man," Mel Jr. told The Seattle Times in 2016. "He watched his son die from cancer, and that gave him a will to live. To this day, he still fights. That's all he knows.
"You're hopeful, you stay optimistic, but I'm a realist, too. I do understand what we're up against. But I keep fighting with him."
The Mariners released a statement saying they are "saddened by the passing" of Stottlemyre.
Mariners President & CEO Kevin Mather said in the statement: "Mel was an outstanding pitcher, earning his place among the best Yankees pitchers ever, and won five World Titles as a pitching coach, as well as the thanks and respect of a legion of pitchers he coached from youth baseball to the Majors.
"But more than that, he was truly one of the great gentlemen of our game. I was honored to get to know him when he was our pitching coach, and was always pleased to see him in Seattle or in the ballpark when his son, Mel Jr., coached for us. Our thoughts are with his wife Jean, sons Mel Jr. and Todd, and his grandchildren."
As well known as Stottlemyre was in his home state, he also carried a legacy in New York baseball.
Stottlemyre made his major league debut in August 1964, providing a big boost in the pennant race. The 22-year-old rookie started three times against St. Louis great Bob Gibson in the World Series, eventually losing Game 7 on two days' rest.
The right-hander showed he could excel at the plate, too. He got five hits in a game during his first year.
On July 20, 1965, Stottlemyre came up with the bases loaded in the fifth inning against Boston righty Bill Monbouquette. The Red Sox drew in their defense all over the diamond. Stottlemyre hit a line drive between left fielder Carl Yastrzemski and center fielder Jim Gosger and didn't stop running until he became the second pitcher to hit an inside-the-park grand slam.
After 11 years on the mound for the Yankees, Stottlemyre moved into the second phase of his career, teaching what he had learned. Working with the likes of Gooden, David Cone and Roger Clemens, Stottlemyre emerged as a top pitching coach.
"Mel was more than a pitching coach to me. He was a dear friend. Everything I accomplished in the game was because of him. He taught me so much more than balls and strikes," former pupil Dwight Gooden said in a statement.
Stottlemyre oversaw the Mets' staff that won the 1986 title during a decade in Queens and earned four rings as Yankees manager Joe Torre's pitching coach during a decade in the Bronx.
"Mel was a role model to us all and the toughest man I have ever met," Torre said in a statement. "Sometimes a manager hires a friend to be their coach but with Mel, as with (Don Zimmer), he was my coach who became a dear friend and someone who became very special to me."
Local journalism is essential.
Give directly to The Spokesman-Review's Northwest Passages community forums series -- which helps to offset the costs of several reporter and editor positions at the newspaper -- by using the easy options below. Gifts processed in this system are not tax deductible, but are predominately used to help meet the local financial requirements needed to receive national matching-grant funds.
Subscribe to the sports newsletter
Get the day's top sports headlines and breaking news delivered to your inbox by subscribing here.
---