A&E > Food
Take me to the Riverbank: New restaurant at Northern Quest puts beer front and center
Tue., Jan. 15, 2019 The menu items at the new Riverbank Taphouse at Northern Quest Resort and Casino are meant to be shared.
But you might not want to.
The caramel popcorn with savory togarashi seasoning offers sweetness and crunch, followed by a slow, lingering heat. It's addictive.
The Cougar Gold cheese dip comes with roasted mini naan. And, really, is there ever enough Cougar Gold to go around?
The new pub and eatery, located just off the casino floor, is designed to make it convenient for friends to refuel, refresh and relax. Most – garlic bread, sliders, hummus – don't even require utensils.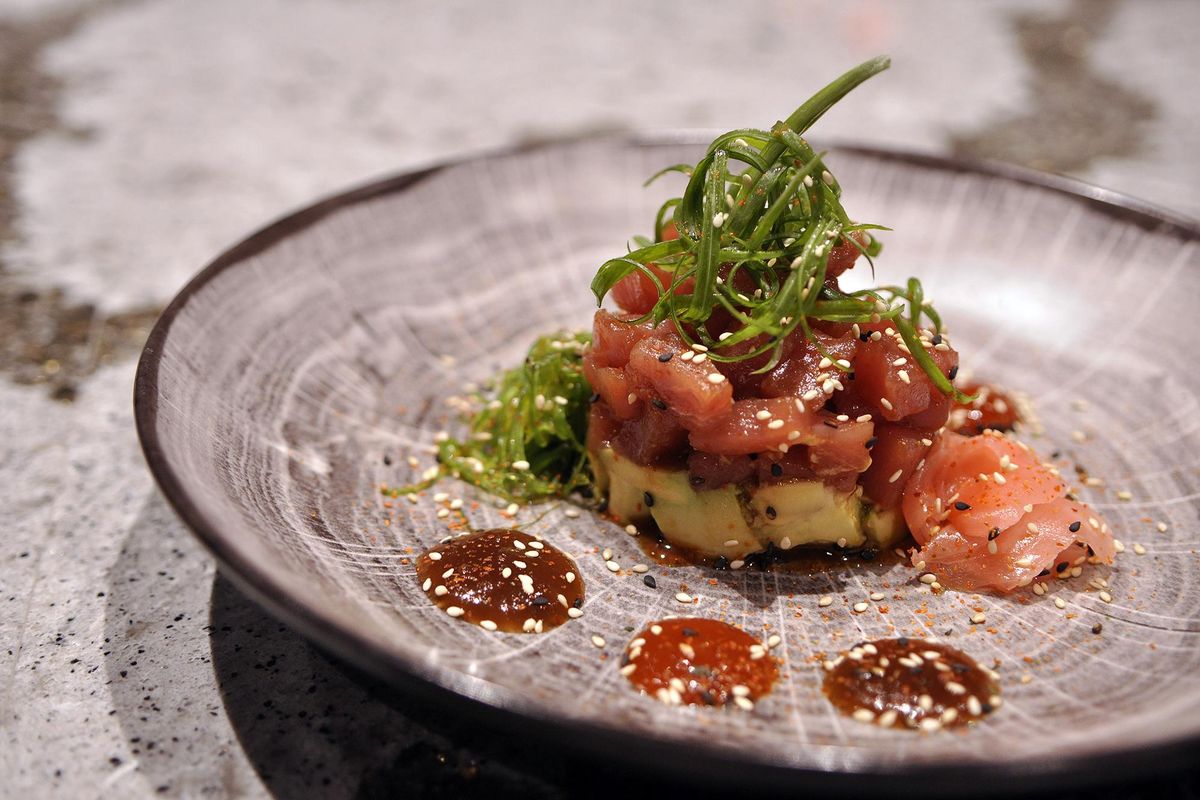 The ahi tuna tower is one of the early favorite at the new Riverbank Taphouse at Northern Quest Resort & Casino. (Adriana Janovich / The Spokesman-Review)
You don't even have to stop gambling if you don't want to; nine gaming stations are built right into the bar top.
"The idea is they're all shareables," said Frank Comito, executive banquet chef at Northern Quest. "So there's no salads, there's no burgers, there's no sandwiches, there's no steak."
There's no deep-fryer, either.
The menu is streamlined, with only 14 items.
The classic hummus is made in-house. Comito's particularly proud of it. "I like this," he said. "It's a little creamier than other places. If you mix it with a little of the whipped feta it's amazing."
The whipped feta is combined with cream cheese, olive oil and lemon. Most of the vegetables – cauliflower, beets, green beans – are pickled in-house.
Prices start at $5 for a cone of that house-made popcorn you won't want to share. "It's got that slow burn," Comito said.
At $19.50, the "mega" pretzel is the most expensive menu item and a signature dish. It will make you thirsty.
And, Comito said, it "just looks cool."
The oversized offering comes with prosciutto, coppa, salami, Gruyere, pepper jack, stone ground mustard and house-made pickles – all tucked inside the pretzel loops.
Note: There's a less-loaded version for $10 that comes with beer cheese dip but not the rest of the accoutrements.
Or, you can take your pick of flatbreads. The brie, fig and onion featured fig jam, melted onions and arugula. There's also a sausage and roasted mushroom offering with Parmesan and a tangy red sauce. The Caprese comes with basil pesto, fresh mozzarella, roma tomatoes, garlic confit and fresh basil.
Rounding out the menu are brat sliders with beer pickles and red kraut, Parmesan garlic bread with beer cheese dip, roasted mushrooms with Gorgonzola-garlic butter, house-smoked nuts, roasted olives and a poke tower with avocado, pickled ginger, sesame seeds, togarashi, green onion, unagi (eel) sauce and wakame (edible seaweed).
Pete Di Santis heads the kitchen at Riverbank and calls the food here "fresh, shareable, fun, creative." Comito's his boss. His favorite menu items are the poke and the popcorn. The Parmesan garlic bread, he said, is an early top-seller. The mega pretzel is "in the top five."
There are four cooks at Riverbank and 18 front-of-the-house staffers.
The restaurant is non-smoking. Guests who want to smoke and dine can, though – on the indoor "patio" space separated from the gaming floor with fencing.
The restaurant itself is expansive. There's room for 233 people, including that "patio" area out front. The space formerly held a nightclub. It closed in mid February last year. Renovations to transform the space into a sleek taphouse took nearly a year.
"They took everything down to the bare bones," Comito said. "They completely stripped this place."
A kitchen was added. "There never was a kitchen in here before," Comito said.
It's semi-open and features a custom, computerized Marra Forni pizza oven that cooks here use to fire pizza at 600 degrees – although it can reach a temperature of 950, according to the manufacturer's website.
"It gives us a nice, quick crisp," Comito said, noting, "We're trying to make the food as fast as we can so you don't have to sit and wait."
You might want to linger, though.
Di Santis describes the space as "relaxing but hip." Comito calls it "high-end."
The design is modern and elegant yet casual. The space is done in white, light gray and charcoal with a mix of textures and grains. It's definitely contemporary, with a chalkboard-like beer menu board just inside the main doors, high ceilings and stone counter tops with shimmery flecks. But there's a hint of the pre-Prohibition era, too – in rustic/industrial/vintage-looking light fixtures and tufted banquettes.
A few black-and-white antique images from the tribe hang on the walls. Black-and-white films – "Casablanca," the "Thin Man" movies – play on loop on two large TV screens near the bar. Nearby, a community table seats 16.
Riverbanks offers 52 taps for craft brews, hard ciders and wines. Craft sodas and cocktails are also available. Spirits offerings are comprehensive. A whiskey flight of four samples is $15.
Signature 2-ounce cocktails run from $9 to $14 and include classics – Manhattan, old-fashioned, Sazerac, Moscow mule – as well as fresh takes on old favorites. Look for a ginger julep and spicy verde Paloma as well as one of the bar's more interesting offerings: a rhubarb shrub made with Hendrick's gin, rhubarb, fresh lime juice, apple cider vinegar, ginger liqueur, simple syrup and fresh ginger.
The tap system is custom-built. Pints are $5 or $6. A sampler flight, with four pours, is $8. Of the 52 taps, 42 are beer and two are cider.
Wines on tap – there are eight – are $9 to $12. Bottles and bubbles – you need something sparkling to celebrate a big win – are also available.
Local journalism is essential.
Give directly to The Spokesman-Review's Northwest Passages community forums series -- which helps to offset the costs of several reporter and editor positions at the newspaper -- by using the easy options below. Gifts processed in this system are not tax deductible, but are predominately used to help meet the local financial requirements needed to receive national matching-grant funds.
Subscribe to the Spokane7 email newsletter
Get the day's top entertainment headlines delivered to your inbox every morning.
---