News > Spokane
100 years ago in Hillyard: Mayor says Spokane residents can't hold dances in his city to avoid flu restrictions
Wed., Jan. 16, 2019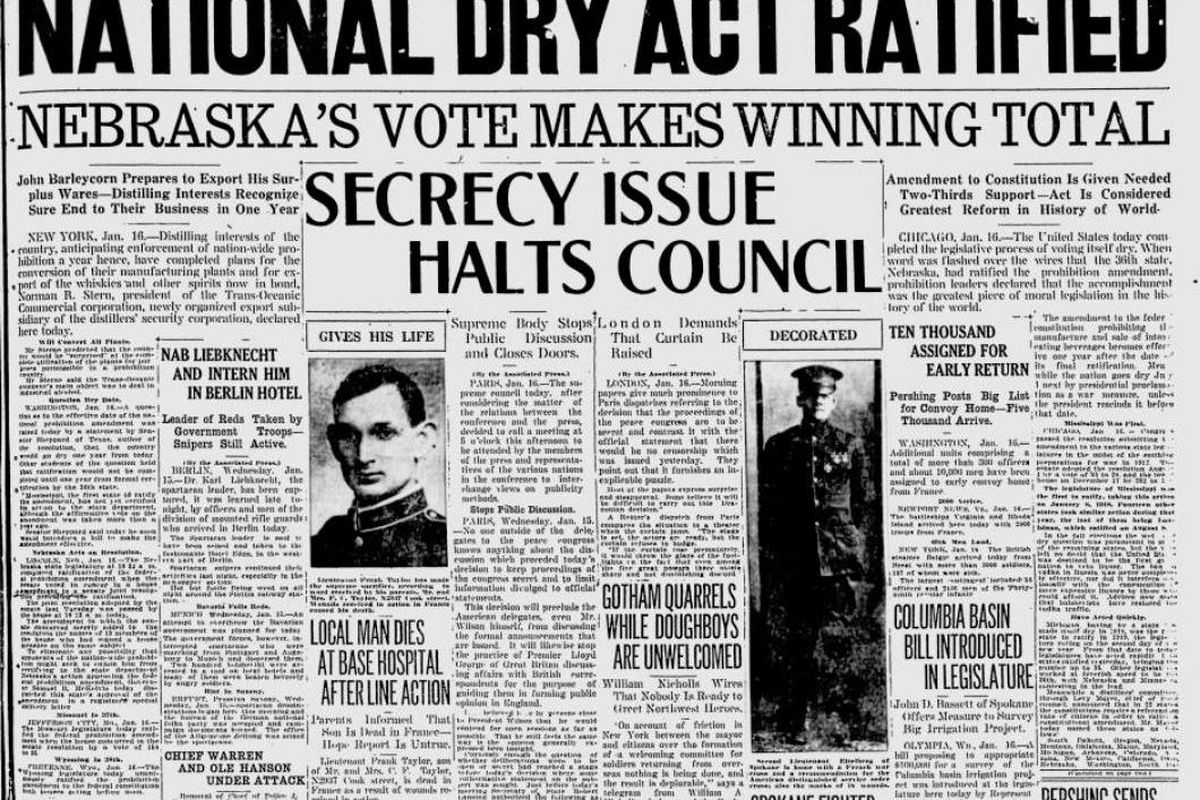 Prohibition was formally approved nationwide when Nebraska became the 36th state to ratify the Prohibition amendment to the Constitution, the Spokane Daily Chronicle reported on Jan. 16, 1919. The newspaper also reported the death of World War I soldier Lt. Frank Taylor. He had died of of his wounds in a French base hospital. (Spokesman-Review archives)
The mayor of Hillyard (still a separate municipality in 1919) proclaimed a ban on public dances held for the benefit of Spokane people.
Public dances were still banned in Spokane because of the flu epidemic, but some people were getting around the ban by holding dances in Hillyard.
"As many as 200 persons have been coming out here from Spokane to attend dances of late," said Hillyard Mayor Thomas E. Kehoe. " … While the influenza prevails in Spokane, we do not consider it wise for so many people to gather here for dancing."
From the alcohol beat: Prohibition was formally approved nationwide when Nebraska became the 36th state to ratify the Prohibition amendment to the Constitution.
This was front page news, but would have only minimal effect in Washington, which had statewide prohibition since the first day of 1916.
From the casualty beat: The war in Europe had been over for two months, but parents were still receiving bad news by telegram.
Mr. and Mrs. C.F. Taylor of Spokane were informed that their son, Lt. Frank Taylor, had died of of his wounds in a French base hospital on Oct. 12, 1918.
This was shocking news, since he had written his parents on Oct. 4 and said he was "well and feeling fine."
"We still have hopes that the report was false," said his sister. However, the news came in a War Department telegram.
Lt. Taylor had been working for John W. Graham & Co. in Spokane, when his Washington National Guard unit was deployed overseas.
Local journalism is essential.
Give directly to The Spokesman-Review's Northwest Passages community forums series -- which helps to offset the costs of several reporter and editor positions at the newspaper -- by using the easy options below. Gifts processed in this system are not tax deductible, but are predominately used to help meet the local financial requirements needed to receive national matching-grant funds.
Subscribe now to get breaking news alerts in your email inbox
Get breaking news delivered to your inbox as it happens.
---